>
Dive Destinations
>
Malaysia
>
Lankayan Island
Diving in Lankayan
Wrecks and Reefs in Borneo
...Highlights: whale sharks, turtles, great macro life/ marine diversity...
...Lankayan's diving environment: healthy reefs, wreck diving, beginner and advanced divers, off the beaten track...
Lankayan may not promise the heart-stopping underwater action of high profile neighbours Sipadan or Layang Layang but if you seek a little slice of paradise on a remote tropical island with plenty of easy scuba diving over pristine reefs, this could be the place for you. Being much less crowded and with a desert island feel to it, the island has only one resort.
It is one of the few destinations worldwide that offers macro diving, wrecks and coral reefs - a concoction any scuba addict would find hard to pass up. Show more
Dive Site Descriptions for Lankayan
Goby Rock - One of the 40+ sites surrounding the Lankayan Island Dive Resort, this reef is a clear example of the positive effects of marine protected area projects. Just 10 years ago this region was heavily over-fished and now there is a strong chance you will be diving here with white tip reef sharks patrolling the reef edge. Show more

How to Dive Pulau Lankayan
Lankayan Island Dive Resort is the only resort on the island and no liveaboards visit the area. This means that from your beachfront chalet you have an unrestricted view of the vast blue seas and you have acres of empty beach perfect for a romantic stroll or a naughty late night/early morning skinny dip!
Special local rates apply here for Malaysians, Singaporeans and expatriates living in those countries with work permits.

Lankayan Island Diving Season
Lying just a few degrees north of the equator, Sabah enjoys an equatorial climate which means it's sunny all year round. The usual air temperature range is from 23°C to 31°C, on very hot days it may rise up to 33°C. The resort never closes because conditions are relatively stable and good for scuba diving throughout the year. For further reading on the climate from nearby Sandakan, visit the Weather & Climate

website.
Visibility is usually very good here. However, after heavy rains outflow from the rivers on the main island of Borneo can cause a reduction. The rainy season in northern Borneo is approximately December to March. In recent years the rainy season in Sabah has not been particularly wet nor the dry season particularly dry and, in any case , the region is sheltered from typhoons and the major monsoon rains.
Surface conditions and currents are usually calm and gentle around the island, making the diving easy and the boat rides a breeze, but occasionally currents can kick up a little and the sea's surface can become a little choppy.
For those with whale sharks on their mind try to visit during the months of April and May to increase your chances. Although far from guaranteed, this is the mostly likely time for them to appear. Underwater turtle encounters are year-round at Lankayan but you also have the chance to witness hatchlings being released into the sea particularly from June to September. Many of the other creatures of interest here are present all year round, such as giant clams, jawfish and baby blacktip reef sharks.

Where is Lankayan and How Do I Get There?
Review our map below of Sabah, showing the location of Lankayan Island. Here, you will find information on how to get to Lankayan.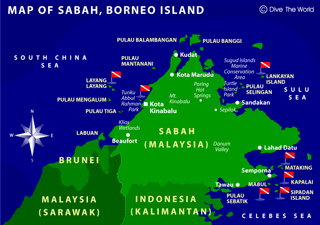 Reef Summary
Depth: 5 - 30m
Visibility: 3 - 25m
Currents: Moderate
Surface conditions: Calm
Water temperature: 26-30°C
Experience level: Beginner - advanced
Number of dive sites: >40
Distance: ~50 km (1½-2 hours) north east of Sandakan
Recommended length of stay: 5 - 7 days

Useful References