>
Dive Trip Reports
>
Scubaspa
Maldives Liveaboards Diving Tour Trip Report
Diving with MY Scubaspa Ying
Click on an image to enlarge

Diving in the Maldives had been on my wish list for many years and I was lucky enough to experience it this year (May 2017). I had seen pictures of idyllic islands, bungalows on stilts, pristine clear waters and white powdery sands. Many friends and colleagues had told me diving tales from the Maldives, so I knew I was in for a treat, even if I saw only half of what they had seen.
I thought of the Maldives as one of those destinations that always delivers and was aware the Scubaspa Ying was an absolutely beautiful looking boat. As it turned out, the week I had lived up to every expectation. Manta rays, eagles rays, whale sharks, exciting reef hook dives with big fish action and thrilling night dives meant this was an amazing few days of diving. As for the boat, I had never seen such luxury. It was more like a floating palace where the guests of honour were pampered and looked after like royalty!
Diving around the atolls of central Maldives
One highlight of diving the Maldives for me was a trip to a cleaning station. Mantas are an almost guaranteed sighting here, as they partake in this symbiotic relationship with cleaner fish. We visited Rangali Madivaru in Ari Atoll and had a great encounter with a solitary reef manta (3m wide). As it made repeated passes over and next to me it was hard not to be mesmerised by the grace and beauty of this gentle giant. On one occasion it got so close that it hit me with its wing tip.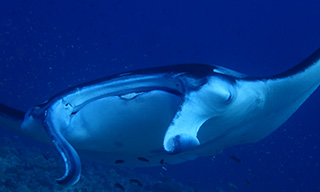 When we visited Moofushi to observe mantas we were accompanied by many other dive groups. We were told how to behave and position ourselves before going in so as not to upset the mantas and to give everyone chance to see them.
It was a shame that each dive operator had a least one diver that ignored the advice, and ventured too close, followed quickly by their respective dive leader dragging them back. Fortunately, the mantas were not spooked on this occasion.
Again, another great chance to see manta rays, these magnificent albatrosses of the water.
If reef sharks are your thing, then the deeper channel dives are the place to go. I experienced a few dives (Miyaru Kandu & Golden Wall in Felidhoo Atoll) that allowed me to see a large number of reef sharks during the day. These were moderately difficult dives as they were at 25m and in a reasonably fast current. Each time we had to descend fairly quickly to the reef, hook on and then get prepared for the show. Straight away we were treated to a continuous flow of grey and white tip reef sharks mixing with jacks and tuna. They were typically 3-10m from us. It was amazing to see these sharks swim slowly across the current with no visible finning to counter the flow.
Alimathaa Jetty is a popular dive site on any Maldives liveaboard diving tour. We entered the water just as the sun was setting and immediately descended next to a large nurse shark busying itself head first into an isolated reef. Unbeknown to us this was just a prelude to what was to come. Within 10 minutes we found a crowd of divers. The area was filled with trevallies and more sharks than you could count. Everywhere you shone your torch you could see 10 to 20 nurse sharks - each between 5 and 8 feet long. They were squeezing past you, under you, over you, without a care in the world. If that wasn't enough, large sting rays also glided around you, foraging for food in the sandy bed. They were all completely oblivious to the 40 divers who sat mesmerised by the once in a lifetime show. I have since learned that this is a feeding dive and that bait is put beneath large rocks to encourage the sharks to do some dramatic foraging, so although this was an exciting experience, my excitement is tempered by knowing that this was not an entirely natural display.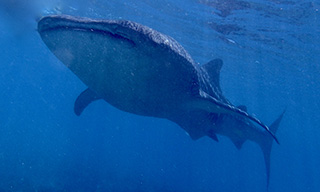 Another highlight of the trip was seeing a whale shark. We joined a group of other dive operators in the Maamigili Beru area of Ari Atoll searching for a whale shark. They are typically seen drifting slowly at 1-2m below the surface so they are not that hard to spot. We all donned our snorkels and got ready to jump. The downside was that 60 other divers were all doing the same. Once the signal came it was like the start of a triathlon. Fins, masks, snorkels all went flying. Only the strongest swimmers had chance to get a good view and get up close. Fortunately I was lucky enough to be in the right place at the right time so I got a great view without having to swim too much. She was about 8-9m long and swam in a very slow, calm and graceful way. It was a wonderful experience to see such a large animal in its natural habitat - even if it was a hectic experience for the humans.
Other dives varied in quality and life but we always managed to spot at least one shark. The reefs are not very colourful but there was plenty of fish life and turtles. Snappers, triggerfish, anthias, groupers, sweetlips, leaf fish, napoleons, morays, and octopuses were in abundance. So were the hunters; trevallies, jacks and tuna. We saw a school of 30 eagle rays on one dive and 6 on another! We also saw a lonesome mobula ray drift by in the blue.
During the week we stopped off on 3 islands. The first was a sandbank where we chilled out with a mobile bar. The second was a pretty, deserted island with palm trees. Here we had a beach BBQ and drinks. The last was a busy little island that locals lived on. We had a quick 1 hour stop where we could wander around the shops and see a bit of local life.
During our Maldives liveaboard diving tour the weather was great. The air temperature was around 32°C and the water was 29-32°C. There was barely a breeze on most days but, as it wasn't that humid, it still felt comfortable. There was hardly a swell on any day even though it was the start of the monsoon season. It rained during the night on 2 occasions, but the boat was hardly affected.
The Boat Features and Facilities
Scubaspa owns 2 identical boats: Scubaspa Ying and Scubaspa Yang. They both traversed the central atolls in the week I was there but in opposite directions. Travelling alongside the Ying was a small motor boat which we used for trips to secluded islands and a large diving dhoni (also used as a life raft).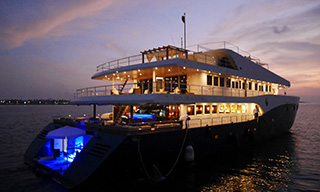 As I flew in over the Maldives, the kid in me started to feel a genuine excitement – I couldn't help but smile. What I had imagined was real. I landed at Male and was greeted by a Scubaspa chauffeur who walked me to the dhoni close by. A short 10 minute trip and we'd reached the Scubaspa Ying which reminded me of an oligarch's yacht. It was as wonderful as the photos showed on the Dive The World website.
As I had a day to kill waiting for the other divers to arrive, Matt the boat manager showed me around the boat. The boat has a capacity for 44 guests and 29 staff. There's maximum limit of 22 divers and the rest can do treatments in the 3 spa rooms. On this particular week the boat was half full with 20 divers from Korea, Australia, Russia, Ukraine, Switzerland and England. During the week the general atmosphere was laid back, quiet and calm.
Our itinerary included 3 dives a day. The first dive was at 6:30, then breakfast, followed by a dive at 10:30, lunch, then another dive at 15:00. If there was a night dive (of which we did 2) then the 15:00 dive was moved to 18:00.
Food
The food was plentiful and fantastic. Breakfast was a plethora of fruit, cereal, pancakes, eggs (anyway you wanted them), meats, as well as coffee and tea. Lunch was salad, tuna steak, beef, chicken, white fish, vegetables, fruit. Dinner was variety of curry, pizza, pasta, sushi, steaks, chicken, vegetables, to name a few. Coffee and tea was only free in the morning but water was free all day. The soft and alcoholic drinks were quite expensive but I suppose that was expected – they were all imported major brands. They specialised in wine with bottles ranging from US$ 40 to a staggering US$ 1,600. The waiters were very attentive and did everything to make our experience the best they could. I was a bit fussy with my dietary requirements and they made a special effort to pander to my every need.
The Cabins
My room was nothing like I was expecting from a liveaboard. It was more like a high-quality hotel. There was plenty of room and the en-suite was great too. Don't expect to have hot water in the morning – I think it works on solar to warm it up during the day. The window was 3m wide and provided a great view, but it was sealed. It would have been nice to have been able to open this and let some air flow through but I had to use the air conditioning unit instead. The air con worked really well but was a bit noisy. If I turned off the air con the room temperature shot up to 33°C in the middle of the night. Perhaps a ceiling fan would have helped a here. Other rooms on the lower decks had portholes and these could be opened.
Spa Treatments
As I was on the ScubaSpa I thought I'd try a spa treatment in addition to the scuba. They had dedicated a whole deck for this pleasure with a few luxurious treatment rooms. The masseur asked me to pick a treatment from the menu. I had a choice of Balinese, Swedish, Thai, plus many I couldn't pronounce, including those with hot stones and shells. I could indulge in a body, foot, hand, face, or head massage as well as a pedicure and manicure.
The choice was too much so I asked her to recommend one that didn't tickle. I then experienced a wonderful relaxing Balinese massage for about 1 hour. I've never had one before so wasn't sure what to expect. But after 30 minutes it had relaxed me so much that I fell asleep and had to be awoken at the end. I'm sure those who choose to do the spas rather than diving would have a wonderful time and leave feeling like a new person.
The Diving Procedure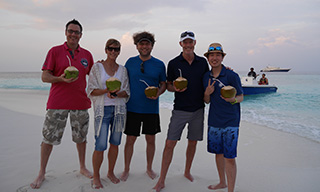 The dhoni (specialised dive boat) could accommodate 22 divers and it was nearly full on our week. There was plenty of room for all the divers to kit up or chill out on the top deck. The dhoni was nearly new, well equipped and contained the air compressor. Nitrox was free but a large (13 litre) tank cost extra. It was easy to get in and out of the water. Egress was via a ladder and there were plenty of staff to assist us get back to our seats. The dive crew were all very helpful, provided bottles of water, and looked after our every need.
Having spoken to the rest of the divers they all said that it was the highest quality liveaboard they had ever been on. It wasn't cheap but it was great value for money based on the quality, accommodation, food, and the attentiveness of the staff and dive team. What was also nice to see was that all the crew got to eat at the same time as us and enjoyed the same food. On other boats you get the impression that they are treated as second class citizens which is never nice to see when you are being treated like royalty.
Coming home
Once the boat was back in Male it was a quick 10 minute dhoni ride back to the port. Then a 2 minute walk to the airport. I had organised my flight to be on the same day but 6 hours later, so I stayed in a nearby hotel where I could chill out until nearer my departure time.
Summary
Overall, I had a great time and met some fabulous new friends. I would highly recommend Scubaspa to anyone visiting the Maldives. A big thanks to all the staff on the Ying for making my time a truly memorable experience.
Written by Elliott Hey, May 2017


---
CUSTOMER TESTIMONIALS OF DIVE THE WORLD
... Good rates and generally accurate information regarding dive trip information. Pip was very helpful finding the liveaboard for my schedule and needs. ... -- Raul Ocampo, Philippines. [More customer reviews]