>
Dive Trip Reports
>
Kangaroo Explorer
Great Barrier Reef Diving Trip Report
Hop Aboard the Kangaroo Explorer
Click on an image to enlarge

When Big Ken and I realised we had a few days on our Australian holiday trip which could be allotted to diving from Cairns, we knew it was something we had to do. It isn't every day/year/decade that you are within touching distance of the Great Barrier Reef. "Get on to Dive The World, Louise" he said, pointing a meaty finger at me and I did, straight away!
Since we were quite short on time and also a little budget-conscious, we couldn't really think about going on one of the longer trips that take in the Ribbon Reefs, The Cod Hole (with those massive Potato Cod!!) and Osprey Reef. For now we would have to content ourselves with a few days on the Outer Barrier Reef, which, let's face it, is a pretty good result anyway!
So after an evening of (literally) drinking in the fun and lively atmosphere of Cairns, we were all set for a few days of scuba diving on the daddy of all reefs - and it wasn't to disappoint ...
Diving on the Great Barrier Reef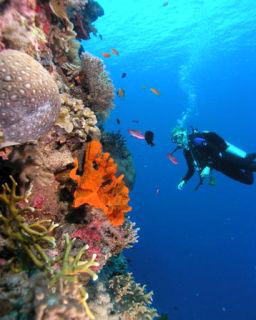 The passengers on most Kangaroo Explorer trips consist, I am told, of a mix of divers and snorkelers. On our trip there was a ratio of 2:1 divers to snorkelers. They offered the non-divers the PADI open water course or introductory dives. The certified divers could have their independence to explore the reef after an initial review dive with the instructor.
The divers who were looking to improve their skills could avail of the PADI advanced adventure course and Ken did. He had to shave off his Movember moustache first because his mask wouldn't seal properly over his manly ginger bristles. His course included night dives, deep dives, navigation and fun dives with an exciting plastic card at the end to add to the collection!
It is here that we should probably include a list of the Great Barrier Reef creatures we encountered but to be honest our icthyological skills are about as good as our skills for spelling 'icthyological' without consulting a dictionary. All we know is that we saw lots of beautiful, colourful reef fish swimming over and around lots of healthy, sun-drenched coral. I am sure it wouldn't make good reading if I listed out "yellow ones", "blue ones" and "silvery ones". There was lots of table coral and quite a few sponges too. We had some fun turtle action which was great.
If I have one complaint it was that the boat stayed on the same site for the whole day and didn't move around from one site to the next. After a couple of dives I did find myself thinking that it would improve the experience considerably if there were to just move the boat a little to somewhere else on the reef. It is not as if the Great Barrier Reef isn't big enough! If you plan to do a day or 2 diving then it is great. Any more than that and you might start thinking that you are over-doing the same spot.
The Boat
Kangaroo Explorer is a comfortable 3-tiered, air-conditioned catamaran that caters for 36 holiday makers. The spacious boat has a sociable sundeck on top with canopy to accommodate the fairer-skinned and with board games available. I spent more time here than out in the sun working on my freckles. Still on the top deck, there is a library with a great selection of oceanographic literature.
The middle deck has another, quieter sundeck towards the bow and at the stern are the free-to-use wetsuits and stinger suits. The cabins are located on the middle and lower decks. The cabins are well kitted out with a toilet and shower en-suite.
The beds in our cabin were comfortable, consisting of a double with a single above as a bunk. You wouldn't exactly call them luxurious, but for a couple of nights they are fine. The storage space was ample, with wardrobe and drawers. We had no method of locking our cabins but I believe there was a communal safety box for securing valuables.
The Food
There only seemed to be 1 young man working quietly in the kitchen and the food he produced was impressive. Breakfast includes the usual suspects of egg, baked beans, bacon, hash browns, cereals and toast. Tea and coffee are available all day, with an open bowl of fresh fruit, if hunger or thirst strikes between meals.
Lunch and dinner are always different from one day to the next. During our Great Barrier Reef trip we enjoyed chicken, lasagne, potato bake, risotto and fish, which was great. There is an ample supply of vegetables and salads. The health conscious and vegetarians are well catered for.
Dinner was always followed by a refreshing dessert for example the memorable freshly made sponge cake or raspberry jelly. There were large drinking water dispensers in the dining area and on the sundeck so guests are able to stay fully hydrated.
The Diving Procedure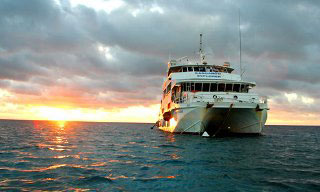 The days begin early after 3 consecutive personal wake up calls at 5:45 am. After a quick briefing of the site, we are all in the water usually by 6:30 am for dive number 1. Dive 2 and 3 follow breakfast with 4 and 5 following lunch. Sometimes the 5th dive was a transition dive at dusk or a night dive around 8:30 pm.
The boat has a safety rule stating a maximum of 4 dives per person per day. This allows for some down time to dry out, read or soak up the sun.
As agreed, with fellow divers, Kangaroo Explorer is perfectly designed for diving with guests rolling out of bed and into the water with minimal hassle. Tanks are filled between the dives in place so the tank attached to your BCD is always full when you make your way on to the dive deck.
Would We recommend It?
We had a great trip and the other people on board all seemed to be having a blast too. However, they were not experienced scuba divers. I wouldn't say I was either, but I think compared to most of those on board I was quite experienced. So for anyone who wants to do a course, especially the open water and the advanced courses, I would say that this is a perfect option.
Also for those with limitations on their experience, time or budget, this is a great way to get an affordable flavour of the Great Barrier Reef. It will probably be some time before we make my way back to Australia again. I imagine the next time we visit on vacation we will make sure that we are free of such constraints and can make it on one of the more expensive Australia liveaboard trips to where the best of the Great Barrier Reef can be dived. It looks amazing.
Ken and I had a fun-filled time, met some nice people, did some diving and he got his advanced certification. So Kangaroo Explorer was perfect for us, and if you are in "the same boat", then I recommend you go on the same boat!
Written by Louise Macaulay and Ken Mackenzie, December 2011


---
CUSTOMER TESTIMONIALS OF DIVE THE WORLD
... The website provides a lot of helpful information about destinations, diving season, dive sites, conditions for diving; accommodations, prices, etc. Very helpful staff - with information and answering my questions on time; the replys and reservation were made without delay; a lot of accessible information provided not only for professional divers but for beginners as well ... -- Nadya Valcheva, Bulgaria. [More customer reviews]