>
Dive Trip Reports
>
Sai Mai in Koh Tarutao
Phuket Liveaboard Diving Trip Report
Koh Tarutao in Southern Thailand to Langkawi in Malaysia
Finally after many years a new liveaboard destination arrived for Thailand, a trip that takes you all way to southern Thailand and into Malaysia (Langkawi Island). Having been on many Thai liveaboards, although I always enjoy myself, there is sometimes nothing new. This cruise promised to be different. This trip promised remoteness, new destinations, a border crossing and a real sense of discovery.
Would it prove any different to the normal Phuket liveaboard trip?
What Makes this Sai Mai Trip Different?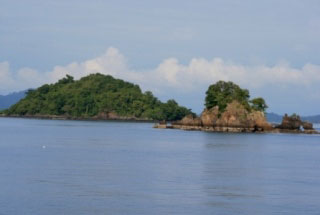 This cruise onboard the MV Sai Mai allows guests to visit some of southern Thailand's best dive sites plus beautiful untouched islands and beaches outside the mass tourism routes. The itinerary includes highlights like Racha Noi in Phuket and Phi Phi Island, plus the twin attractions of Hin Daeng and Hin Muang. Such sites are well established as offering the region's most exciting diving, where colourful reefs, school of fish and larger creatures like mantas and whale sharks explain their popularity.
However, after these excellent sites, your journey, like ours will carry on south to Langkawi in Malaysia. After the immigration procedures to enter Malaysia, we spent the day sightseeing, beginning with the cable car up to the highest point of the island (700 metre above sea level), then shopping in Khua Town. Being tax free, there are some very good deals to find.
The great diving then continued with Koh Lipeh being our next stop, an island recently developed for tourism with simple night life on the beach. We explored the sites of the small archipelago formed by Lipeh, Koh Ba Tang the smallest island, Koh Rawi and Koh Adang. The whole area is a national park. A land excursion took us to a fresh water lake behind a beach on Koh Adang where a troupe of monkeys were enjoying the water. We too enjoyed a fantastic swim in the sea and refreshed with pure rain water coming from the forest that covers all this side of the island.
During the night we cruised to an undiscovered destination, Koh Rok, which was pure paradise - a densely forested island with white sand beaches, clear waters, pristine coral reefs. I believe only few places can offer so pristine and healthy a reef, that from 2 metres below the surface gently descends to 30/40 metres. The island's topography protects the reef from waves and tides so the hard corals form in stratification, one on top of the other, creating a stunning visual effect.
Finally we dived Bida Nok and Bida Nai in Koh Phi Phi before going ashore and partying on our last night reminiscing about the interesting diving trip we had just completed. We then motored during the night back to Phuket, comforted by a little booze and the satisfaction of remembering our adventures.
The Boat
Sai Mai is not a big liveaboard but is very well built and organised. This year (2008) it has been refurbished and repainted. The boat accommodates only 8 passengers, 5 boat crew (captain, cook, deck hand, engineer and a stewardess) and 2 diving crew (tour leader and divemaster).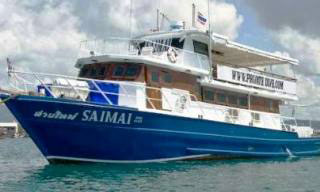 Orientation on the boat is easy and you immediately feel comfortable on the upper deck where all socialising and 'events' happen. On the main deck there is a twin bed cabin and the dive crew cabin. Also a common toilet (mainly used by crew as customer have their own in each cabin). The main deck front part is taken by the boat crew accommodation and the galley. It is good to know that the crew has good accommodation available and this is separated from the guests' area.
The lower deck is where the other 3 cabins are. A twin bunk bed in front is probably the best cabin on the boat but if you are tall you will prefer one of the others. Then 2 double/twin cabins. These cabins can sleep a couple or 2 friends as they offer a double bed (king size) and extra third bed. All cabins have private toilet, air con and ventilation. The cabin area can be accessed via comfortable large wooden stairs. The distance from the engine and generators makes this area well insulated from noise and very comfortable to sleep in.
In the case of a private charter (as for this trip) there can be up to 10 guests, with the 2 double cabins used as triple bed cabins. The twin bunk bed on the main deck is the biggest but much noisier than the others. This is also the only cabin with a window.
The upper deck is where everyone hangs around during the day, featuring a huge table with chairs which allows everyone to sit for meals or during the day. There is a large area with mats to lie down on and the sun deck is toward the bow. The wheel room is on the main deck leaving the upper deck an area completely available to guests and this is very comfortable as there is no need for crew to come up here during navigation.
Another strong point of the liveaboard is that there are 3 x 15 litre steel tanks available as well as nitrox, so you can maximize your time underwater, which is worth it when visiting these top spots.
Food
A special mention should be made of the food. It is always abundant with 3 meals a day, plus afternoon snacks. You will enjoy a very good breakfast every day and this, as with all meals, is served on a table on the upper deck. The menu is a combination of Thai cuisine and western dishes, often with clear or curried soup. Remember that soft drinks and beers need to be paid separately. They say that special requirements can be easily accommodated upon request. However, as I had no special requirements (except large quantities) I cannot say that I experienced that.
Getting There and Other Useful information
The first day pick up is around 12:00 noon as you will need to pass through Thailand immigration at Chalong pier. This is easy and smooth as the boat crew will take care of all procedures. Remember also to check with the Malaysian embassy in your country if you need any special visa to enter Malaysia. Also check before you leave as to what kind of visa you entered Thailand on and whether you will need a re-entry permit.
Finally
Everyone knows the Sai Mai is a good quality liveaboard and runs professional liveaboard trips in Burma and Thailand. Given its small capacity it is perfect for full charter or for those who would rather avoid the cattle-herding boats. Our tour to Langkawi was interesting and much more than just a dive trip. We enjoyed the sense of adventure, discovering less known places, scuba diving in remote spots, visiting Langkawi and doing land excursions in places where the big tourist numbers don't go. All in all a very enjoyable cruise.
For further information on this boat, read our Sai Mai Burma dive trip report.
Written by Diego Bianchi, December 2008


---
CUSTOMER TESTIMONIALS OF DIVE THE WORLD
... [The sales person] who we dealt with was very patient in answering our never ending questions and very prompt in his email replies and organising our holiday at such short notice. When our first choice accommodation was not available for the whole length of our stay, he made some very good suggestions ... -- Nadia Lanman, UK. [More customer reviews]