>
Dive Destinations
>
Thailand
>
Koh Ha & Koh Rok
Your Guide to Koh Ha and Koh Rok
Diving Adventures in Thailand
...Highlights: turtles, great macro life/ marine diversity...
...Koh Ha/Koh Rok's diving environment: caverns, advanced divers, off the beaten track...
This Thailand diving region is located in the southern Andaman Sea between the Phi Phi Islands and Hin Daeng - Hin Muang. Mostly, the area is visited by liveaboard cruises.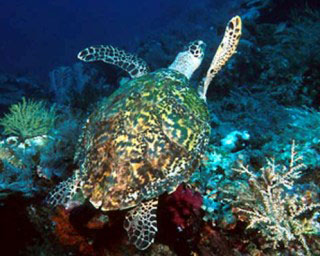 Koh Ha, which means '5 islands' in the Thai language, is a tiny cluster of islets located 25 km west of Koh Lanta Island. It has some excellent caverns that divers can penetrate.
The channels that separate the islands are over 50 metres deep and the water is usually clear with good visibility.
25 kilometres south of Koh Ha is Koh Rok, which are twin islands known as Koh Rok Nai and Koh Rok Nok and which are separated by a thin 15 metre deep channel. All these islands are situated within the Mu Koh Lanta National Marine Park and are uninhabited, boasting some stunning unspoiled beaches. The diving at Koh Rok is on a coral reef, one of the prettiest and well-preserved for diving in Thailand.
Dive Site Descriptions
Koh Ha - Undoubtedly, the diving highlight at Koh Ha is the series of fascinating caverns which are located at Koh Ha Yai, the largest of the group of islands. The caverns have large entrances and are safe to enter. You can surface inside and see the ancient stalactites which hang from the cave ceiling. Sunrise is a magical time to dive here as the sunlight creates a gorgeous emerald colour.
Another big attraction here are the swim-throughs. You can access the main cave by entering the swim-through to the right of the main cavern entrance. Once through the entranceway, drop down a little and then make a sharp left to squeeze out through the exit point. You'll find yourself back in the main cavern's chamber!
Koh Rok - the west side of Koh Rok is comprised of a hard coral reef that slopes gently downwards. There is an abundance of colourful reef fish here as well as plenty of moray eels and octopus. Look closely for the numerous different nudibranchs. Blacktip reef sharks can be seen in the early morning and again at dusk. Watch out for Kuhl's blue-spotted stingrays partially hidden in the sand on the sea bed, the most common type of ray found at Thailand's dive sites.
On the eastern side of Koh Rok you'll find lots of soft corals with large Gorgonian fans and sponges. This attracts plenty of turtles and you can get quite close to them, especially while they're feeding. The point of the island has fairly strong current so pelagic fish are often seen here including mackerels and cobias.
How to Dive Koh Rok - Koh Ha
Check out your diving options in our Hin Daeng and Hin Muang liveaboards or Krabi day trips sections.
Koh Ha and Koh Rok can be visited by some of the Thailand liveaboard safaris on their way to Hin Daeng - Hin Muang.
It is also possible to take a scuba daytrip boat from Krabi to dive at the islands of Koh Ha. These full day trips run every Thursday.
The Koh Ha and Koh Rok Diving Season
The dive season for both Koh Rok and Koh Ha is from November and April when the weather is at its best and the seas are usually calm. Visibility can reach 30m and the water temperature reaches 29-30°C from February through to April.
The other months of the year are under the influence of strong winds blowing in from the Indian Ocean, bringing rain and waves, which negatively impacts the diving experience. Visibility sometimes drops to 5-10m and the sea cools a little to 27-28°C. The islands are nowadays officially closed during this time of year. Visit HikersBay

for more information on the climate and sea conditions around NEARBY Koh Lanta.

Where are Koh Ha/Rok and How Do I Get There?
Review our map below of Thailand. Here, you will find information on how to get to Phuket or Phi Phi Island, and then on to Koh Ha-Koh Rok.
Reef Summary
Depth: 5 - 20m
Visibility: 10 - 30m
Currents: Gentle
Surface conditions: Can be choppy
Water temperature: 27 - 30°C
Experience level: Beginner - intermediate
Number of dive sites: 6
Distance: ~80-110 km southeast of Phuket (4-6 hours), 35-65 km southeast of Phi Phi (1-2 hours)
Recommended length of stay: 2 days
Useful References


---
CUSTOMER TESTIMONIALS OF DIVE THE WORLD
... I would like really to thank you for your previous help and coordination. Every thing went just fine and I had a pleasant stay. I am very satisfied with your service ... -- Hussam Yahya, Jordan. [More customer reviews]