>
Reefs & Parks
>
Thailand: Marine Parks
>
Koh Lanta
Mu Koh Lanta Marine National Park
For Hin Muang and Hin Daeng Diving
Established in 1990, by order of the then Prime Minister Khun Chaun Leekpai and the Wild Animal and Plant Foundation of Thailand, Mu Koh Lanta National Park became the 62nd national park of Thailand and covers an area of 134 km² or 83,750 rais. It includes Koh Rok, Koh Mai Ngam Tai, Koh Ta La Beng, Koh Lanta Yai, Koh Ngai, Koh Tu Kon Lima, Koh Rok Nok, Koh Rok Nai, Koh Hin Daeng and the nearby islands of Koh Klang, Koh Lanta Noi and Koh Lanta Yai.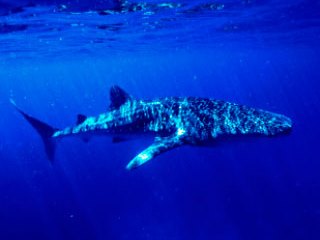 The main activities in the park are walking, snorkeling and scuba diving, especially at the world renowned dive sites of Hin Daeng and Hin Muang. Situated just 20 km from Koh Rok, the twin pinnacles offer steep walls covered with pink, purple and red soft corals and house an incredible variety of marine life. Being the lone coral outcrops in deep open sea, the site attracts large numbers of pelagic fish. Jacks, fusiliers, tuna and barracuda can be seen. Schools of grey reef sharks are curious and will often approach divers for a closer look. The sight has one of the world's highest incidences of whale shark sightings.
Coral reefs are also the main attraction at Koh Rok Nok and Koh Rok Nai. The colourful beaches are located on the eastern part of Koh Rok Nai and the south eastern part of Koh Rok Nok. There is a ranger station here and camping is possible. Ao Man Sai Beach on Koh Rok Nok is a long beach with a mixed species of beach forest, mangrove and rainforest. The sea in this area is very shallow. If you walk into the forest here, you will find a big banyan tree with roots drooping from its branches to form a big curtain 5 to 6 metres wide.
Flora and Fauna
Wildlife
Wild animals are classified into 6 groups:
Mammals consists of 20 families, 30 genus and 38 species. Species which used to inhabit the Lanta islands but are now gone are wild deer, common barking deer, fishing cat and tiger. The sea cow (dugong) is a conserved species and the Marshall big ear crow bat is also rarely seen these days.
Birds on the islands total 58 families, 130 genus and 185 species. Most easily spotted in the national park are Brahminy kite, bridled tern and emerald dove while, the most difficult to find are orange-breasted trogon, Siberian thrush, and the little spiderhunter.
Reptiles include the water monitor lizard, reticulated python and cobra.
Amphibians include the giant mountain frog and the ornate froglet. The first lives in streams, and the second in ponds. Others amphibians in the forest are polypedates leucomystax, small toads and the difficult-to-find dorria frog.
Fresh water fishes can be found in the fresh water ponds of the islands, while sea fishes can be found along the coral reefs and rock beaches. Coral species include staghorn coral, fungia fungites, anemone coral and star flower coral, among others. More than 200 hard corals and 108 reef fish have been cataloged.
Vegetation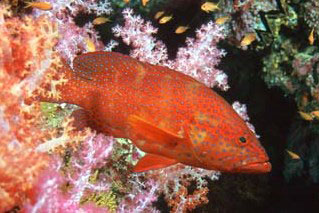 There are a lot of fertile forest resources and varieties of vegetation which are classified as follows:
Rainforest covers 19.42 m² of Lanta Yai Island. Upper level trees and middle level trees are an average height about 15-25 metres. The palm tree and cane wood species are the low level trees here. Important species include fan palm, calamus erectus Roxb., calamus caesius Bl., and calamus peregrinus Furt.
Mangrove forest can be found in Mai Ngam Island, South Mai Ngam Island and Ngu Island. These islands are not big and most of the area is covered with the mangrove forest. Mangrove trees are tall with an average height of about 5 metres. Plants here include avicennia alba, rhizophora apiculata, rhizophora mucronata.
Beach forest covers the small areas connecting the beach and rainforest of Ngai Island. Important plants include the Bengal almond, derris indica and beach morning glory.
Climate
Most rainfall is in September at 391.4 mm and the lowest in January at 6.5 mm. In September there is 21.6 days of rain and in February, an average of 1.6 days of rain.
The national park is officially closed (Rok Nok Island, Rok Nai Island, and Hin Muang - Hin Deang Rock) in the rainy season from 16 May - 15 November, when rough seas can make reaching the islands hazardous.
Around Koh Lanta Island
The National Park HQ is located on Laem Tanod at the southern end of Lanta Yai Island, which has a beautiful beach and a good jungle walking trail. The end of Koh Lanta Yai is triangular in shape, with its tip protruding into the sea, and it has prominent sugar palms, while the other side of the island is high cliff covered with rainforest. National park-operated tourist bungalows are located at Laem Tanod along with food shops and restaurants.
The main beaches on the west coast of Koh Lanta Yai are:
Klong Dao Beach, with a spectacular 3 kilometre stretch of white powder sand. This area hosts most of the up-market resorts. It's calm waters are especially safe for children to swim in. Here you'll find the best choice of restaurants and bars, and service closest to western or international standards. A picturesque fleet of local long-tail fishing boats use the natural rock harbour as a base.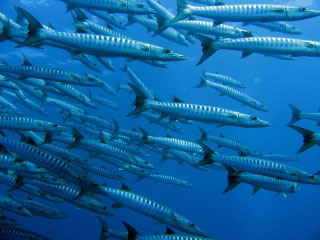 Long Beach, or Phra Ae Beach, has fewer resorts spread out over a great distance, mainly clustered at the northern and southern ends. The north and centre have some charming small resorts and a few new up-market resorts with air-conditioned bungalows, while the southern end offers budget resorts and some of Koh Lanta's most famous party bars.
The further south you head, the less tourists you will find on the beaches. The road south from Klong Hin becomes narrower and offers some beautiful coastal views. In rainy season this becomes 4WD country. Visitors are rewarded by a series of beautiful small beaches with a few well-spaced resorts surrounded by natural forest and jungle. Kantiang Beach is a spectacular stretch of white sand with clear waters and excellent swimming. There is a trail to a waterfall near Klong Jark Beach, a few kilometres before Koh Lanta's most southern resort beach, Ao Mai Pai, or Bamboo Bay. The road continues south to Koh Lanta National Marine Park Headquarters.
Mu Koh Lanta is a predominately Muslim area and has seen a lot of tourism growth in the last few years, but it is currently managing to retain its traditional charm and great natural beauty. For long a popular haunt of backpackers, the tourist facilities have expanded and now offer a wide range of accommodation. Almost all the resorts are small and most are family run. Most are built using natural, ecological materials and blend well into their surroundings, as tree cutting is strongly restricted in the park. However the 20,000 residents outnumber the tourists at all times. The traditional economy of fishing, coconut and rubber plantations, rice paddies, prawn farming and fruit are now supplemented by growing tourism.
The island's original inhabitants are a clan of sea gypsies with a tribal culture dating back more than a thousand years. These seafaring Chao Leh (as they are called in Thai) retain their language and many ancient customs and ceremonies. They are fishermen and keep the island supplied with fresh eating fish and seafood including shrimp, crayfish and oysters.
These are predominantly steep sloping limestone islands. Average height is 100 metres with a maximum height of 488 metres above sea level. Rainforest in the central areas gives way to sand beaches, mud beaches and mangroves.
Useful References

---
CUSTOMER TESTIMONIALS OF DIVE THE WORLD
... I have used Dive The World before. Competitive, good web site that is informative, staff are friendly and responsive to enquiries ... -- Steve Wood, UK. [More customer reviews]