>
Dive Destinations
>
Thailand
>
Hin Daeng & Hin Muang
Your Guide to Diving at Hin Daeng-Hin Muang
Red Rock and Purple Rock
...Highlights: whale sharks, manta rays...
...Hin Daeng/Hin Muang's diving environment: wall diving, caverns, advanced divers...
Diving in Hin Daeng and Hin Muang are, for many divers that are familiar with Thailand, the best there is outside of the Similan Islands. Mostly these 2 huge, remote, deep water rocks are discussed in terms of the frequency of sightings of manta rays and whale sharks but they promise a lot more besides.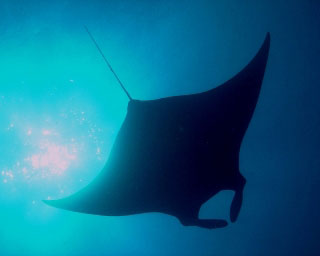 With exceptionally colourful soft corals, vast schools of trevallies, as well as barracuda, rainbow runners, reef sharks, scorpionfish, and countless species of reef fish, Hin Daeng and Hin Muang are 2 dive sites which provide an excellent and convenient option for shorter liveaboard trips.
The area lies to the south of Phuket in the southern Andaman Sea and within Thailand's Mu Koh Lanta National Marine Park. Currents can be strong but both dive sites offer plenty of shelter on the leeward sides of their boulder walls. However, Hin Muang in particular can be more challenging in current for inexperienced divers as the rock acts to increase the current speed over its upper surface.
Dive Site Descriptions
Hin Daeng (Red Rock) - This is a submerged boulder pinnacle where, looking at the bare rocks above water, you would have no idea that it is such a beautiful dive site below water. Healthy soft corals in various shades of red are all around here and plenty of small scale action goes on. One of the most impressive sights is that of a silver wall of trevally cruising past.
However, diving at Hin Daeng is not always about paying attention to the foreground since there are frequent sightings of graceful mantas swooping by and overhead. There will be no mistaking the presence of a whale shark should you be lucky enough to be there at the right time since the tank banging and mood of excitement will alert you to the arrival of this most awesome fish.
Hin Muang (Purple Rock) - Here you will find Thailand's highest vertical wall, bejewelled with vibrant purple soft corals. One side of the submerged rock levels out at around 60 metres and the other disappears into the abyss. Vast carpets of anemones cover shallower sections of the reef while sea fans cling precariously to the steep walls.
Hin Muang is good for big fish, but also for macro life. Don't be surprised to see a photographer focusing on some tiny critter on the rock, happily oblivious to a manta ray soaring overhead. Grey reef sharks and leopard sharks are often seen patrolling the depths. Hin Muang is a larger dive site than Hin Daeng but due to its relative greater depth, most of it lies in waters beyond the reach of the Thai diving masses and so it tends to be less crowded than its neighbour.
How to Dive Hin Daeng - Hin Muang
Check out your options to dive at these twin colossal rocks of the Andaman Sea in our Hin Daeng-Hin Muang liveaboard cruise section.
You can take a liveaboard dive safari; either a trip covering all the best of Thailand's west coast which also includes sites in the Similans and Richelieu Rock, or alternatively you can take a shorter trip which focuses on this southern area and includes the best diving around Phi Phi Island and Koh Ha.
Note that we currently do not offer day trips to Hin Daeng and Hin Muang.
The Hin Daeng/Muang Diving Season
Diving in Hin Daeng and Hin Muang is between November and April when the weather is at its most stable. During the rainy season (May-October) the Western Monsoon, together with the rain, can bring rough seas. These dive sites are in the open sea, so rough sea conditions might really put divers at risk.
The water temperature ranges between 27-30°C throughout the year, warmest around February to April. The visibility is usually good (range 20-30m) and is only negatively affected during the monsoon season. Visit HikersBay

for more information on the climate and sea temperature at nearby Koh Lanta.
The best time of the year for encounters with manta rays and whale sharks is between the months February through April, also the sea is at its calmest and fewer divers are around.

Where are Hin Daeng and Hin Muang and How Do I Get There?
Review our map below of Thailand, showing the location of Hin Daeng. Here, you will find information on how to get to Phuket or Phi Phi Island, and then on to Hin Daeng-Hin Muang.
Reef Summary
Depth: 5 - >40m
Visibility: 15 - 40m
Currents: Can be strong
Surface conditions: Can be rough
Water temperature: 27 - 30°C
Experience level: Intermediate - advanced
Number of dive sites: 2
Distance: ~100 km southeast of Phuket (5 hours), 90 km south of Phi Phi (2½ hours)
Recommended length of stay: 1 - 2 days
Useful References


---
CUSTOMER TESTIMONIALS OF DIVE THE WORLD
... The website is a very useful tool for comparing liveaboard services and prices. Communication (both by email and in person at the shop) was very good and efficient. The staff was very friendly ... -- Andrew Grech, Malta. [More customer reviews]