>
Dive Trip Reports
>
Sai Mai in Burma
Liveaboard Your Guide to Diving in Myanmar Trip Report
Sai Mai Cruise to Burma's Mergui Archipelago
When I first arrived in Thailand back in 2000 I spent 4 months working on liveaboard boats diving the Mergui Archipelago but had not been back since so I was very much looking forward to this trip.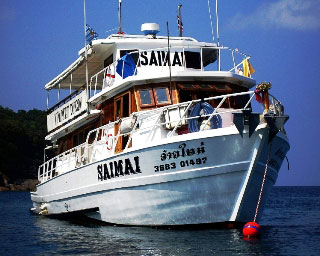 MV Sai Mai departs from Tap Lamu Pier just south of Khao Lak in Thailand and after the 1.5 hour transfer from Phuket Island, I boarded the boat with 5 other guests at 6 pm. I was quite surprised to learn then that 2 other guests would not be delayed until 2 am so we would not be able to sail until then. This didn't affect the next day's diving in any way and I had several hours to settle into the boat and have a good look around.
Back in 2000 Sai Mai was one of the most luxurious liveaboards in this area and, although since then newer and bigger boats have entered the scene, Sai Mai still retains an elegant style with a very solid, seaworthy feel. Lots of dark varnished wood in the saloon and in the cabins gave a warm cozy feel.
The Diving in Thailand
The night crossing to Thailand's Koh Bon was smooth despite strong winds. Sai Mai is a stable boat that rides well through choppy waters. In the morning as there were already 3 other boats at the dive site, our cruise leader Waldi was in no rush to jump in for the first dive, preferring to take our time and wait until the other divers had left the water. I was very pleased by this, I see no reason why dive days have to start at the crack of dawn.
We descended on Koh Bon's western ridge into 30+ metre visibility and schools of rainbow runners sweeping by. We had literally been underwater 20 seconds when a black and white shape appeared out of the blue in front of us and a large manta ray glided slowly past; what a start to the trip! 30 minutes into the dive we got our second manta ray. This one was larger with different white markings and a missing tail. Unlike the previous encounter this manta glided past but then came back again and again, allowing the photographers all the time that they needed to get the perfect shot.
After a dive at Koh Tachai we moved on to Richelieu Rock, Thailand's best dive site. The current was pretty strong as full moon was in 2 days time. We spent the whole dive on the east side of the rock which has plenty to offer. Richelieu was as beautiful as ever, covered with soft corals and anemones. The highlight was a tigertail seahorse. The only downside of Richelieu these days is the number of divers that go there every day, and I was happy to think that my next dive would be on a deserted Myanmar site, far from the crowds.
The Diving in the Mergui Archipelago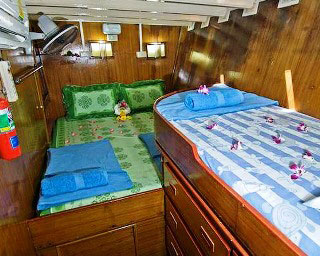 • Watch our Myanmar diving video

There would be no night dive tonight as we had to motor 50 nautical miles to get to Ranong so that we could complete immigration formalities and cross into Myanmar the next morning. We now had a long sail ahead of us to get to our first Myanmar dive site because the Burmese islands close to the border are not open to dive boats. We passed miles of deserted tropical islands with not another boat in sight. The Mergui Archipelago is made up of over 800 islands, many of them uninhabited. As we passed beautiful and empty white sand beaches we all wondered aloud, if we returned here in 20 years would these beaches all have resorts on them? We felt privileged to see them like this.
Descending down the north face of High Rock, I was amazed at the amount of fish; schools of blue lined snapper covered the wall. There were huge shoals of silversides, and trevally were harassing them, making the shoal move as one giant mass, in and out from the reef. Moray eels were everywhere, often several to a hole. I saw fimbriated, white-eyed, giant and yellow margined morays. Visibility wasn't great here but suspended matter in the water was the food that the reef was feeding on. We did the night dive here too and it was just as impressive as the day dive. The orange cup corals had all opened up in brilliant colour, and millions of dancing Durban shrimp eyes reflected back off torches. I saw decorator, hermit and round crabs.
24th December, Christmas Eve would be our first full day of diving in Myanmar and we planned to stay around the Three Stooges, or Three Islets depending on which guide book you read. The first dive was the middle of the 3 islets known as Shark Cave. I remembered this site as one of my favourites but was warned that there are not as many sharks here as there used to be. Like most dive destinations in the world, sharks have been overfished in Myanmar. Despite that, Shark Cave was still an excellent dive with masses of fish, and we did see a large nurse shark in the tunnel.
The rest of the day we spent hunting in the cracks and crevices for critters. We saw 2 white tip reef sharks, and all the usual suspects were here including very large flutemouths, pipefish, cuttlefish, a huge scorpionfish and leatherjackets. One of the great things about this trip was that all the divers were experienced, so the tour leader could plan night dives on good sites.
On Christmas day our liveaboard reached Black Rock. This was as far north into the Mergui Archipelago as we would be going; our Myanmar tour guide, who we were required to have on board with us, was there to make sure that we didn't venture off the prescribed route. Black Rock is small rock outcrop and a long way from any other land. It is therefore a natural magnet for marine life and expectations were high as we entered the water. The visibility was much improved here and, although not crystal clear, it had that clarity that I associate with big pelagic fish sightings. Looking out from the rocky wall was a stunning sight as schools of rainbow runners and longfin batfish swam by. A white tip reef shark, a grey reef shark and a hawksbill turtle were also spotted. The currents were strong but slackened through the day, and as the visibility improved we could gaze out into the blue water and see blue fin tuna and trevally. I recommend that you plan your Myanmar liveaboard trip for around 1 week after the full moon to get the best conditions and see the reefs at their best.
Our next stop were the North Twin and South Twin islands, and we could see from the bubbling water above the pinnacle that currents would be strong. And so it proved to be with much of the first dive spent working our way up around the boulders in the shelter of the current.
Visibility was excellent as finally the strong winds had died down. Highlights of the dives were a friendly cuttlefish that we bumped into on several occasions, and 2 small white tip reef sharks. The islands' reefs are full of colour, with purple and orange soft corals, brown disc anemones, blue magnificent anemones with porcelain crabs, and seafans. Table corals jutting horizontally from the smooth rocks were home to orange anthias and black damsel fish.
Lunch was a real treat today. Yesterday while kitting up I had mentioned to the boat boy that I liked spicy food, especially Pad Grapao Moo Kai Dao (pork fried with basil, chilli and garlic, served on rice with a fried egg on top). He must have mentioned this to the chef because today a plate of exactly that was served up especially for me and it was delicious. That's what I call customer service!
And so we were moving on again, on our way south to MacLeod Island. The 3.5 hour trip was a delight. Sitting on the shaded side of the boat we watched a string of uninhabited islands go past to our east. Flying fish skimmed across the glassy water. We were even joined by a pod of dolphins until they quickly got bored of playing at our bow and vanished from view.
Next we moved to Western Rocky, which is the Mergui Archipelago's southern most island. We dived the pinnacles to the east of the main rock first. The current had disappeared and the visibility was superb. The highlight for me was watching 2 male cuttlefish fight over a single female.
They say "leave the best 'til last" and that's exactly how it worked out here; these were exciting dives. Western Rocky has a 30 metre tunnel running from the south side of the island to the north side . In the tunnel the fish life is bigger than anything outside. I was impressed and slightly intimidated by the huge lobsters that were all over the walls, until I saw the shark and that nearly took my breath away. A 3 metre long nurse shark was resting on the bottom in a dark corner of the cave. The shark's body, excluding the pectoral fins was almost a metre wide. As we shone our torches to get a better look, I wondered what would happen if the shark took offence to being cornered and ogled in such a way. The only way out was passed us and it could have swatted us aside with ease. Luckily the shark stayed put and we continued out of the cave onto a beautiful reef.
The nurse shark was still in place on the night dive but gave everyone a start when it turned around to face the other way. This was a great night dive. On the southern wall huge brown spiny lobsters, out from their crevices, displayed their full body length. Towards the end of the dive, 2 of our divers were harassed by a baby white tip shark that bit at their fins, seemingly disorientated by our lights. The divers later confessed that they spent the safety stop nervously wondering where the baby shark's mother was.
Visiting a Town in Myanmar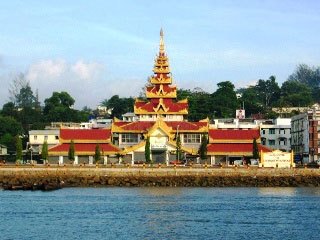 After Western Rocky we now motored another 50 nautical miles back to Kawthaung to re-enter Thailand. Victoria Point, as it was called in colonial days, is quite an impressive sight on arrival with several golden temples and Buddhist statues dominating the landscape. As your liveaboard gets closer though you can see that this is a relatively poor town, although wealthy by Myanmar standards. When I first came here 8 years ago there was limited electricity, but now there appears to be a better standard of living with many people riding around on new Honda motor scooters. We had an hour to explore the town, and some people walked up to the temple. I'd been there before so after a quick look round the market to buy some of the local rum (less than US$ 2 per litre), I dragged a couple of guys to a waterfront restaurant for a quick Myanmar beer. Then it was back on the boat and on to Richelieu Rock where we would spend the night.
We knew we were back in Thailand as there were lots of other scuba divers in the water with us which made us appreciate the Burma reefs even more. Koh Tachai was a much better dive this day than a week previous when currents had been extreme. We saw schools of bluefin trevally, rainbow runners and.oh yes, a 4 metre wide manta ray that swam with us for 15 minutes! There were lots of happy smiling faces on the boat after that dive.
The final dive of the trip was another great night dive on the Bunsoong tin miner Wreck close to Khao Lak. We saw a huge barracuda, a honeycomb moray eel, lots of lionfish and scorpionfish, crabs and large lobsters. One of the joys of this trip has been the quality of the night dives so this was a fitting end to a wonderful trip.
Life on board Sai Mai
The MV Sai Mai was originally designed to take 10 divers but now only takes 8, so there is lots of space on board and service is very personalised. The open air saloon on the upper deck is the social hub of the boat and it's where food is served. There is a TV, DVD and stereo system with a choice of movies and music. There is also a selection of books and magazines in English and German languages as well as a very comprehensive marine life library that includes dive site descriptions and maps, fish, corals, crustaceans and nudibranchs. This is also the area where smokers are free to indulge their addiction, and if you are a serious anti-smoker you should be aware that all the staff and crew are smokers.
At the rear of the upper deck are 2 comfortable cushioned areas, perfect for crashing out between dives and a nice place to sleep if you prefer the open air to the cabin. At the front of the upper deck is the sun deck with 3 plastic sun loungers and a bench seat.
Food is tasty, a mix of European and Thai. There was always a lot of food, no one goes hungry on this boat. Pre-breakfast, served before the first dive, is toast and marmalade plus fresh fruit. After the first dive a full breakfast is served which always consists of sausage, ham, salad, toast and eggs of some sort; no cereals or fruit juice. Occasionally there is a plate of fried potatoes or coleslaw. Tea, coffee and hot chocolate drink are always available. There is no fresh milk or filter coffee.
Lunch and dinner are similar in style. A typical meal includes a Thai curry soup like Gaeng Kiaw Waan Gai (Green curry chicken) or Tom Kha Gai (Coconut milk curry), steamed rice, spaghetti Bolognese, tempura prawns and a mixed vegetable dish. I am told that any dietary requirements can be catered for.
Cookies and fresh fruit are available throughout the day, and snacks are served after the third dive such as tuna sandwiches, French fries and chicken nuggets. The 2 fridges are well stocked with Thai and imported brand beers, plus Coke, Diet Coke, Sprite and iced tea.
Sleeping and Diving Arrangements
Sai Mai has 2 double bed cabins on the lower deck plus 2 twin bunk bed cabins, 1 on the lower deck and 1 on the main deck. The main deck cabin has large windows but all the lower deck cabins are windowless. The double cabins are spacious with an extra bed in each, allowing Sai Mai to take 10 guests for full boat charters. The cabins are all air conditioned, and the lower deck cabins also have fans. Cabins are made-up daily. A towel is provided for each guest but you may wish to take another towel with you as they are not replaced during the trip. The en-suite bathrooms are spacious by boat standards, with large mirrors and hot water showers. Soap is provided but there is no shower gel or shampoo.
The dive deck is functional, with storage under tanks for equipment and hangers for wetsuits. Nitrox is available at an extra charge for certified divers, and nitrox certification can be gained on the trip. 12 litre aluminium tanks are standard but 15 litre steel tanks are also available for 250 baht (about US$ 5.50) per day extra. Some divers on this trip choose to take the 15 litre tanks as air fills were a little stingy. I had 200 bar on only 1 dive on Christmas day (thanks Santa!); every other dive was 185 or 190 bar. Also note that torches for night are not included in the trip price and are 250 baht extra per dive.
The 2 dive guides, Waldi and Norman, are knowledgeable and helpful, both below and above the water. The Sai Mai boat crew assist with donning and doffing equipment. All dives on our trip were done from the liveaboard's dive platform in 2 separate groups, and the captain is expert at bringing the boat alongside divers so that no surface swims are required. Although Sai Mai does have a 4 metre dive tender, I was surprised that it was never taken off its davits and put in the water. Even though it was not needed on this trip I think that it should have been ready as surface support in case of emergency.
Get the 'Low-Down' Before you 'Go-Down'
In summary, Myanmar's Mergui archipelago offers excellent scuba diving for those who want to get away from Thailand's more crowded dive sites, but if you go to Burma expecting to see lots of big sharks you may be disappointed. Coral life is healthy and fish life is diverse. Divers keen on macro critters and photography will love it. Night divers will also be very impressed as the night dives in Myanmar are superb. One feature of this area is the large distance that has to be covered between sites. We did a total of 540 nautical miles on our trip. The scenery that you pass is stunning, made all the better because you are alone.
MV Sai Mai is excellent value for money when you consider the distance covered, and if you compare it to shorter Similan trips. Add to that the experienced dive staff and the small group numbers and you have the best value Myanmar liveaboard.
For further information on Sai Mai read, our Sai Mai southern Thailand and Malaysia dive trip report.
Written by Paul Flaxman, December 2007


---
CUSTOMER TESTIMONIALS OF DIVE THE WORLD
... Your website is very easy. How to be easier to use? More destinations and more liveaboard/resort choices to select. Booking was a breeze, simple, straightforward and very responsive- can't think of anything to improve further :) ... -- Ardi Tandiono, Singapore. [More customer reviews]