>
Dive Destinations
>
Thailand
>
Koh Tarutao
Your Guide to Koh Tarutao
The Old and Mysterious Islands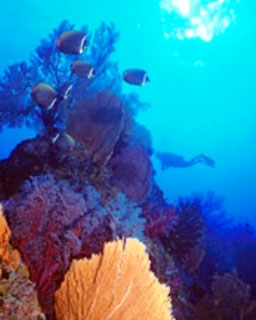 Mu Koh Tarutao National Marine Park is Thailand's oldest national park. Formed in 1974 and located in the Andaman Sea near to the Malaysian border in southern Thailand, it is about 55 km northwest of the Malaysian tourist island of Langkawi.
Koh Tarutao is actually made up of several islands with gin clear water and the area is still largely unknown on the established tourist routes. Explore the underwater world around these islands for some of the best snorkelling spots and diving in Thailand.
The waters are rich in coral reefs and crustaceans, and are home to about a quarter of the world's tropical fish species, including lionfish, angelfish, butterflyfish, groupers and trumpetfish. Dolphin encounters are common and the rare dugong is here too.
Dive Site Descriptions
Koh Lipeh
There are plenty of dive sites in the small archipelago of Koh Lipeh that forms the southern Thai border with Malaysia. There are shallow channel dives with small boulder formations and then more challenging and deeper formations such as Lighthouse South Tip.
Koh Lipeh's reefs are in good condition and during each dive you can enjoy beautiful hard coral formations and the many reef fish species. Kuhl's blue-spotted stingrays are plentiful in the area, and diving at the tips of island it's possible to encounter pelagics. Due to its sandy bottom composition, it is better to avoid full and new moon when diving in Koh Lipeh as the currents can be strong and reduce visibility.
Eight Miles Rock
This submerged pinnacle takes its name from its position, being just 8 miles south of Koh Lipeh Island. Its location makes it a good place for pelagic fish as it is exposed to strong currents.The pinnacle drops away to over 50 metres in depth with the shallowest part about 12-14 metres from the Andaman Sea surface. Soft corals grow in the sheltered areas such as the deep southern channel, where large potato groupers may come up to inspect you, and passing pelagics as big as mantas and whale sharks can be spotted here.
The offshore location of Eight Miles Rock makes it exposed to very strong currents and diving here is really suitable only to advanced divers with safety balloons.
How to Dive Koh Tarutao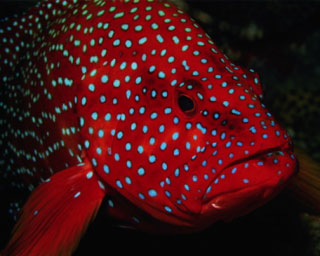 There are only a very small number of liveaboard diving safaris that make their way down to Koh Tarutao.
The normal cruise route is to take in Koh Ha, Koh Rok, Hin Daeng and Hin Muang before reaching Tarutao and then proceeding on to Langkawi in Malaysia.
The Koh Tarutao Diving Season
The 2 seasons that influence the diving in the area are the 'wet' and 'dry' seasons. Dry season is from November to April and this is the season for diving in Koh Tarutao, though the best time is from February to April. Wet season starts in May with the monsoon bringing plenty of rain and the seas become unpredictable.
Water temperatures are between 27 and 30°C year around, with the lowest being during the wet season. Visibility (often around 25-30m) also drops during those months, reaching its lowest at 10m.

Reef Summary
Good for: Large animals, reef life and health, snorkelling and advanced divers
Not so good for: Wrecks, beginner divers and visibility
Depth: 5 - 40m
Visibility: 10 - 30m
Currents: Can be very strong
Surface conditions: Can be rough
Water temperature: 27 - 30°C
Experience level: Intermediate - advanced
Number of dive sites: >10
Distance: ~180 km south of Phuket (9 hours), 30 km west of Satun
Access: Thailand diving liveaboards from Phuket
Recommended length of stay: 3 - 4 days
Useful References


---
CUSTOMER TESTIMONIALS OF DIVE THE WORLD
... Terrific and prompt service from Enrico! His warm, reliable and friendly assistance and support was outstanding ... -- Bernadette Baynie, Australia. [More customer reviews]