>
Dive Trip Reports
>
Saphir
Liveaboard Diving Cruise in the Red Sea
The St. John's Southern Tour with MY Saphir
Click on an image to enlarge

I descended with my 2 dive buddies into the blackness of Umm Arouk - our torches light up the arena to uncover a magical kingdom of coral turrets dotting the fairytale-like landscape. We began to explore the area, tracking around each turret, searching for the Red Sea's famous nocturnal creatures such as Spanish Dancers.
What we didn't expect to see abruptly enter our field of vision was the biggest great barracuda you could imagine. At first sight I thought it was a shark. This big bruiser was close to 2m long and looked mean and less than pleased to see us. He was obviously on the look out for his supper and didn't want or need the aid of our torches shining in his face.
He flexed his elongate body in the idiosyncratic fashion that barracudas have, and he shot off around the other side of the next pinnacle. We were to greet him several times during the dive and it never failed to take my breath away.
We had finally arrived at our main destination on this 7 night diving cruise on board the MY Saphir Red Sea liveaboard after a long haul south - the St. John's reef system, close to the Sudan border ...
Diving St. John's, Fury Shoals, Zabargad and Rocky Island
Due to the depth of the sites, the St. John's route is for scuba divers with at least 50 logged dives. The trip typically begins at Port Ghalib with a check out dive at Abu Dabbab. This is a site with 3 wide pinnacles and a small liveaboard wreck. There are some bommies, gullies and passages to explore. We saw a turtle, barracuda, Napoleon wrasse, blue-spotted stingrays - not bad for a check out dive, I thought. The visibility was great here - well over 30m throughout the trip.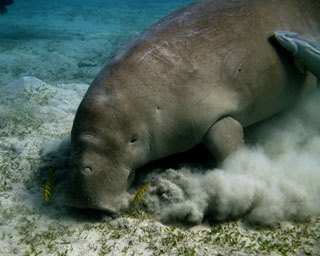 Then it was on down the coast to Habili Rhadir, a site conveniently en-route to St. John's. Again, I was very pleasantly surprised with the quality of the site which I thought might simply be a transit site. The site has a steep slope down the east side of a submerged reef. There re some superb soft coral formations, lots of anthias, damsels and pullers. If the current was stronger; if the current was a little stronger then this would have pulled in more hunters.
We reached the southern most point of our journey on night 2, and then began at a more leisurely pace back north. We began with a dive each at the marine parks of Rocky and Zabargad before cruising onto the main area of focus of the trip - St. John's.
St. John's is famed and adored for its healthy reef systems, its warren-like tunnels in the shallows, and its currents that bring predator action. Many of the sites require diving around the steep walls of reefs that climb from the depths to the ocean surface, in search of sharks and other big fish. Then, ascending to shallower depths to admire the corals, reef fish and explore the underwater passageways.
We saw several grey reef sharks and plenty of hunting fish such as mackerel, jacks and barracuda, but the most popular encounter was with a pod of 7 bottlenose dolphins that breezed past us at Habili Ali. It is always terrific to see dolphins in their natural environment and these were curious enough of our group to turn around a couple of times and give us several inquisitive passes. Perhaps they thought we were some cousin species, less evolved and unable to swim or hold our breath very well.
Then we began to make our way back north, and our first stop was at Foul Bay to explore the terrific site of Umm Chararim, which means "Mother Caves" in Egyptian. As far as recreational diving is concerned, I think the site is perfectly named as it's hard to imagine a better site for tunnels and caves.
We spent a whole dive just exploring the tunnels, never going over the same spot twice. The tunnels are very shallow and let in a lot of sunlight through holes in the ceiling to light up the scene. Some entrances are large whilst others are low and narrow. It makes for a great distraction from the coral reefs in the area.
Finally, on our last day of the liveaboard trip, we made a dive at the famous Elphinstone in a vain search for some sharks. We then headed back to Port Ghalib for a final dive as Marsa Tahrir, not surprisingly renamed quite recently from Marsa Mubarak. Here we experienced the highlight of the whole tour - a dugong feeding in the shallow sea grasses next to the reef. What a privilege it was to see this rare creature in its own environment. The dugong's downcast face seemed to echo my own sentiments - how sad that this mammal is under great threat worldwide due to habitat loss; it would be a tragedy to see their demise.
Visibility was generally excellent throughout the trip, reaching 40m at some sites. Water temperature never dropped below a sultry 30°C (warmer than the northern Red Sea); perhaps a little too warm for the best shark encounters which prefer slightly cooler waters.
• Watch our diving in the Red Sea video

The MY Saphir
This Red Sea liveaboard dive boat is owned and managed by the Heaven fleet. Its best feature is its size; 35m is a lot of space for just 16 guests and this is evident throughout the boat - in the saloon, sun decks, dive deck and platform. This makes it a great boat for relaxing on.
The other main feature to note is the highly attentive customer service of board. The Egyptian crew really go out of their way to make your stay a pleasurable one, whether its on deck helping you into your wetsuit and fins, being on hand with a juice at the end of your dive, bringing you drinks at meal times, or dealing with special requests at meal and snack time.
Most guests come from the German-speaking countries of Germany, Austria and Switzerland and this was true of this trip. However, all the staff do speak English as well as German and both the staff and all the guests, who were all very friendly, made an effort to communicate in English as much as possible.
Diving Facilities
The dive service works very well. There is one guide who dives with the more experienced guests and a dive instructor that looks after the less experienced. Briefings are given in German and an abridged but acceptable version in English.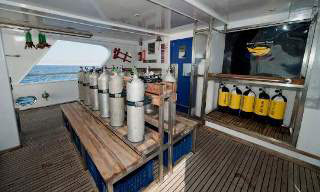 The dive deck and very spacious and can comfortably handle 16 divers and the dive platform is even larger. Guests choose their own spot on the deck for the cruise and use numbered hooks and shelves to hang and store clothing and personal belongings while diving, making it easy to locate your stuff after you've been in the water. Each diver also has a crate to store their loose gear.
The platform has 2 fresh water showers and a large steel rinse tank. The dive deck has a battery charging and camera table, a room for the nitrox membrane system, and a bathroom.
There are 2 motorised dinghies and the liveaboard staff are really helpful with your equipment and getting in and out of the water. A drink of juice is always ready for you after each dive, which is a nice touch.
Liveaboard Facilities
The saloon is a great size and can easily handle the maximum of 16 guests. There is a TV, video and music system, as well as board games and plenty of books. There is also a free wi-fi facility on board but this is only possible when in the Port Ghalib area where there is a signal available. It is air-conditioned but does still get a little warm and perhaps some fans would improve circulation in the room.
The open-air social area and sun deck on the upper deck is also spacious with plenty of sun loungers and a hammock available. There is no drinks dispenser on the upper deck but there is a free-flow juice and drinking water dispenser in the bar in the saloon on the main deck.
Dining Service
All meals are served at the table by an exceptionally friendly attendant called Mohamed. No special request seemed too much for him to deal with. The menu follows a weekly schedule. Breakfast is European-style cold meats, cheese, eggs, fresh tomato and cucumber, juice, coffee/tea, that sort of thing; or fresh fruit, cornflakes or toast if you prefer.
Lunch is 3 course and dinner is 4 course, and there is an afternoon 'coffee break' accompanied by a snack which might be cake or pastry of some sort. Meals are Western European cuisine, but there is an 'Egyptian Night' on the final evening of the dive cruise. Some of the guests felt they'd have liked to have seen more Egyptian fayre on the menu but I suppose one can't make everybody happy all of the time.
Tea, coffee, fruit, drinking water and juice from the dispenser are included in the cruise price. Soft drinks, beer and wine are paid extras on this liveaboard.
I'm sure that most vegetarians would be happy with the choices on the menu as many of the dishes are compatible. However, the options for vegans are currently very limited.
Cabins
The best feature of the cabins is their size - even the standard cabins are a good size; the Honeymoon cabins are large enough for you to be able to walk around the double bed. All cabins are in pretty good condition too, with 2m long beds and they have high ceilings and individual control air-con. Twin bed, double bed and bunk bed cabins are all available. All beds are at least 2m long.
Each has a private bathroom with a separate shower cubicle. Every guest is provided with a bathrobe and a towel (changed once during the week). However, do make a plan to bring your own shower gel/soap as these are not provided on this boat.
Getting There
The trip departed from Port Ghalib - 3 hours in a car shuttle south of Hurghada. They provide a lunch box for the journey though it was not vegetarian as requested. Thankfully this was rectified for the rest for the trip.
On most liveaboard dive boats in the Red Sea the first and final night are spent on board in the marina. However, the Heaven fleet recognise that guests are here to dive. So if all guests arrive in time the boat will depart and you can dive on the day of arrival. On our trip, some guests unfortunately arrived late from Hurghada so we departed port at 6:30 am the following day. This way we at least managed to make 3 dives on our journey down to St. John's.
Bring some cash to settle up any bills on board as the boat currently does not have the facility to pay by bank card.
Heading Home
And so we arrived back in Port Ghalib at the end of a very satisfactory trip. All the guests were more than happy with the MY Saphir boat (average trip score 8.25 out of 10) and the level of service that Heaven provided.
The reefs of St. John's and the tunnels and caves of the southern Red Sea had delighted most of the guests. I'd like to think that I will return again to this part of Egypt but I think I'd choose a time of the year (outside of European summer time) when the water is slightly cooler and the chances of the famed shark encounters are greater.
Written by Sheldon Hey, October 2012

---
CUSTOMER TESTIMONIALS OF DIVE THE WORLD
... Booking was good. The best thing is getting trustable access - the reliability that you are dealing right. There are a lot of operators and boats, it is not easy to contact them, plus there are scammers. It is a relief to know that after making a big payment one we arrive there to an unknown country, things will go well. ... -- Mauricio Bermudez Pereira, Brazil. [More customer reviews]