>
Dive Trip Reports
>
Andaman Tritan
Liveaboard Your Guide to Diving in Similan Islands
Trip Report: A Race Apart?
Click on an image to enlarge

After 8 years of working in the scuba industry in Phuket and the Similans, diving was starting to feel more like a business to me and it had lost some part of its charm, but I was invited on board the Andaman Tritan (formerly known as DiveRace) and from the moment I stepped on board I was treated like any other guest.
The trip started with a minibus ride which was on time despite Phuket's regular traffic jams, and we enjoyed a nice, comfortable bus journey all the way to Tab Lamu, Khao Lak, our point of departure. Everyone was relaxed and the guests, most of whom were couples, began chatting and joking with each other.
On arrival at Tab Lamu, we all hopped on board the liveaboard, were assigned our cabins and assembled our gear before our tour leader Gareth gave us the comprehensive boat briefing. Then we enjoyed a very tasty dinner with which everyone seemed pleased, even the vegetarians who had given advance notice of their requirements and seemed very happy with their meal.
The Diving Highlights
06.30 am: A long bullhorn blast got everyone up out of bed to see what was going on. Gareth was running around and using the horn as a wake up call for the morning briefing! It was nice to see Gareth interacting with all of the guests during the dive site briefings and not simply being dull and going through the motions. This made the trip more fun for everyone and created an atmosphere where all the guests could have a laugh and joke with all the crew. This dive trip was DiveRace's last of the season so they had rescheduled the route from north to south.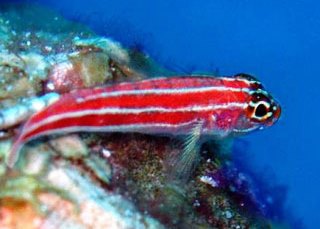 We started with an easy check out dive at Koh Ta Chai reef, a site north of Ta Chai pinnacle and an easy gently sloping reef very similar to Racha Yai Island but with some minor differences. The first thing I saw when I looked in the water was a leopard shark sleeping next to the mooring line, so I descended quickly to have a good look at it, then went on with the current with turtles, octopus, lionfish and morays among the creatures we met on the first dive.
Dive 2 and 3 took us to Richelieu Rock, where everyone was hoping to see the big stuff but I was happy checking out some nice nudibranchs, clown fish and schools of black tail barracuda. Richelieu Rock is not recommended for beginner divers as the current was strong and visibility not the best. But it was ideal for macro photo at that time due to the conditions.
For the night dive enthusiast be warned, since DiveRace is one of the few liveaboards that doesn't offer night dives as standard, but a late afternoon dive instead. For those who want a night dive they must show advanced certification and proof of experience with night dives, but there will not be a divemaster guiding and the guests have to skip the afternoon dive since they work on a maximum of 4 dives per day.
However, we enjoyed some excellent scuba diving each day and ran into a wide variety of fish and other marine life. On day 2 we visited Koh Tachai pinnacles and did 2 dives at Koh Bon and an afternoon dive on the Similans. It was here among the Similan Islands that we spent the next 2 beautiful days checking out many of the sites that are popular among the liveaboard tour operators here including Deep Six, East of Eden, Anitas Reef, Elephant Head Rock, Boulder City and Christmas Point.
• Watch our Similan Islands diving video

I buddied up with a Singaporean divemaster who had dived in the Similans before so we set about looking for macro stuff like nudibranchs, longnose hawkfish and pipefish. My macro lens may have been enough for some nice shots of the above, but only my wide angle lens would do for the jacks and trevally that were cruising around attacking the small fish almost at every dive, and for the sweetlips and the schools of yellow snappers we encountered on several occasions.
Other sightings included 2 big Napoleon wrasse; 1 at Koh Bon and 1 at East of Eden and schools of friendly batfish on Ta Chai Pinnacle and Boulder City. We were allowed to make dives up to 60 minutes, giving me a good opportunity to get some nice photos. Some of the guests were newly certified so everything for them was amazing. Some enthused that they felt as if they were diving in a salt water aquarium with lot of fish swimming all around them. This is indeed what the Similan region is, a big aquarium with a wide variety of marine life, from the smallest sand goby to huge mantas and the mighty whale shark.
The DiveRace Liveaboard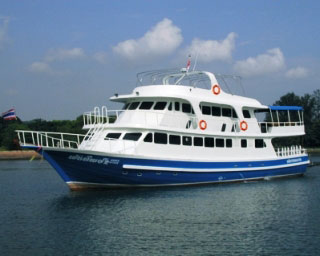 I spent most of my time on the top deck with other guests, talking about our dives, the marine life we had encountered, or sleeping on the sundeck to improve my gorgeous tan! During the day, the sundeck floor could get very hot and almost burned my feet while walking on it. However, it was worth the pain since not many people stayed there and it was more like a private area for the sun worshippers among us. Many guests relaxed in the saloon in the cool environment while watching some of the DVD collection Gareth had with him. The top notch surround system that made the boat rock more than the waves did.
You would be well advised to be careful on the stairs from the top deck down to main deck since they are slippery when wet. They could easily have some anti slip band on them as other boats do, so hopefully by the time you step on board this problem will have been fixed.
The Staff
Our tour leader showed a lot of common sense regarding not following the exact schedule, and that made the trip better for us all. Sometimes you will see more than 10 liveaboard boats on 1 Similan site, and all of them jump into the water at the same time. Since we waited an extra 10-20 minutes it made it more fun for our group. When we got in the water we could see many of the other divers surfacing from their dives and therefore we avoided the 'diver soup' scenario.
Briefings were easy-going with good interaction with the guests, making it more interesting to listen to and relaxing the guests before each dive. The boat boys were very helpful as they are on most of the liveaboards in Thailand. The divemasters certainly knew the sites and what to look for so they were able satisfy all the guests.
Our dive groups were well organised in that there were only ever 2 groups on the dive deck, making it more comfortable for everyone and allowing us to get in the water faster. This is good because when surfacing from the dive, the platform is not crowded and you almost feel that you have chartered DiveRace for yourself.
The surface time between dives was about 2 hrs and 30 minutes with shallower profiles on subsequent dives. During surface intervals there is always plenty of food, snacks and drinking water, tea and coffee for everyone. You will never go hungry or thirsty on DiveRace liveaboard trips!
A Taste of Home Cooking
Here you will taste Thai food as if it was home cooked and not something from a restaurant menu. From my own experience about Thai food, it is always better in small family restaurants made by cooks that haven't been schooled to cook in a certain way. This meant the food on board the DiveRace tasted like home cooked Thai food and there is nothing better!
Breakfast was big enough to keep you full for the whole day, with lunch and dinner the same, and not forgetting the afternoon snack that can be anything from fried banana with ice cream to sticky rice with mango. For those who have special requests for food they received their own creations and seemed well pleased. It is important to mention the request once the trip is booked and not to expect the chefs to cater for all requirements without any advance warning. Overall the menu was a mix of Western and Thai food in the medium to spicy range.
Overall Impressions
If someone was to ask me to join the DiveRace liveaboard again, I would say 'yes', even if the bed was a little hard after 4 nights sleeping on it. The trip is still very good value for money. So too are the crew and the food, and the diving in the Similan Islands certainly did not disappoint. We had a mixed group of people that came from Singapore, Malaysia, New Zealand, USA, UK and Canada.
Unfortunately some of them had underwater horns which can be irritating after couple of dives (especially when it is used every 5 minutes during a 60 minute dive). After a while you learn to ignore it and enjoy the dives. There will always be divers with underwater horn devices, or drying the first stage with blasts of air from a high pressure tank, things that can be avoided if mentioned in the beginning of the trip by the tour leader.
Overall I think that this liveaboard is good value for money. There is room for improvement of course, but this is the case for all the boats, from high budget to low. On MV DiveRace I feel you are getting more than you are paying for, and it is much more for your dollar than on some other boats that only stay in the Similans and are higher priced.
Written by Azad Osman, April 2008

---
CUSTOMER TESTIMONIALS OF DIVE THE WORLD
... Prompt, friendly and helpful replies to all my questions were greatly appreciated. Your website is well-designed and easy to navigate, with detailed information on all aspects of the dive safaris. ... -- Dean, United States of America. [More customer reviews]