>
Dive Trip Reports
>
Kima Bajo Resort
Scuba Diving Trip in Manado
Unmissable Adventure at Kima Bajo Resort
The steep walls and world-class coral gardens of Bunaken Marine Park make North Sulawesi one of the world's best dive destinations. With this information in mind, I was eager to find out if the reality of diving there myself would live up to its remarkable reputation.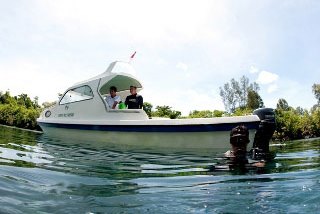 I was lucky enough to be a guest of the Kima Bajo Resort. Built right on the ocean edge in Wori Bay, Manado, the resort is only minutes away from prime spots for scuba diving in Manado and Bunaken Island.
It only took me a day or so to realise these dive sites are definitely not to be missed. Vast areas of excellent visibility, pristine coral reefs and very few other boats in the area to disturb you; these are just a few of the factors all divers dream about. But it was the incredible Sulawesi seas biodiversity and unique underwater encounters that made my trip unforgettable …
The Diving
The Bunaken National Marine Park consists of 5 islands: Bunaken, Manado, Tua, Nain, Montehage, and Siladen. There are 22 official dive sites within the park. Be ready for fantastic wall and drift diving, and countless chances for amazing underwater pictures.
At Depan Kampung, yellow dash fusiliers are scattered everywhere, along with schools of barracudas and jacks, green sea turtles and reef sharks, backed by soft corals that show their colours off magnificently when the light hits them at around 15 metres and above. I'm sure you will enjoy Bunaken Timur as much as I did, offering a chance to see white and black tip sharks, barracuda and groupers. I was even fortunate to enjoy a close encounter with eagle rays! It was fun to let the dive guide show me some of the smaller critters living on the very rich coral that grows on this side of Bunaken Island. I was not disappointed at all by the Bunaken Marine Park, where conditions are generally good, with visibility ranging from 20 to 30 metres.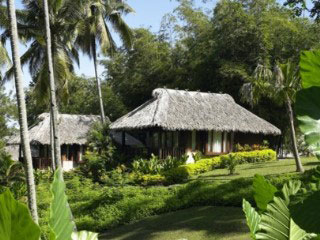 Eco Divers [who have since moved on since the date of this report and been replaced by Yos Dive Bunaken, so some of the details below may be out of date] diving center is located inside the resort and they organise all the scuba activities, making it easy for guests to gather there in the morning. The 3 modern dive boats are built along traditional lines but powered by double outboard engines meaning you will be in the water in less than 30 minutes after departure. Each boat carries a maximum of just 8 guest divers for 2 tank morning trips, returning to the resort for lunch and then back onboard for a 1 tank afternoon trip.
The weather in Manado is very unpredictable and it could rain any time of the year, but even though I experienced a few rainy and overcast days, I found it didn't spoil the diving. In fact being served hot drinks, snacks and fruits when the weather was less than perfect outside, made the boat's indoor saloon seem even more cozy.
Most appreciated by myself and my diving buddies was the way the staff took care of all our scuba diving needs. It goes much further than merely replacing your empty tanks - they also rinse your gear with fresh water at the end of each day and let it dry in a safe area, back at their centre.
More information on: the dive sites of Bunaken and Manado
• Watch our Bunaken diving video
The Resort
To perfectly complement your full days of diving, recuperation can be had aplenty at the Resort Spa. Wonderfully equipped to offer you massages, bath tub relaxation therapy, reflexology as well as yoga and meditation classes. My favourite was a soothing soak in the large jacuzzi. There is a beauty salon offering a full range of treatments. Unfortunately the shop had not been completed at the time of my visit, but they assured me it will be ready by the end of the year.
Close to the beach, the swimming pool is a good place to soak up the sun on the sunbeds provided, or watch the sunset. Non-diving activities include visits to the temples and traditional markets in Manado or a Minahasa Highlands tour to visit the Tondano Lake, which requires booking 1 day in advance.
The Food
When I heard that the chef at the resort is Japanese and specialises in Mediterranean and local fare, my curiosity was piqued. Kima Bajo Resort offers buffet style meals 3 times a day at the wooden built Nibong Restaurant, situated on the top of a hill.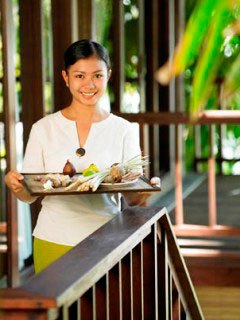 The large selection of dishes showed the chef was definitely up to the task. The wellknown Indonesian specialty of Nasi Goreng, western dishes of steak and mashed potato, and pasta dishes cooked to perfection, are just a few of the meals you can expect to savour. Salad and fresh fruit are available at each meal. Good news for vegetarians is that you will not be expected to survive on salad as the Indonesian cuisine includes many meat-free dishes.
If you have chosen a bed and breakfast reservation, then you can order your lunch (on non-diving days) and dinner from the a la carte menu. Alternatively you could arrange a private romantic dinner or have a BBQ on the beach. The highlight of the menu for me was the Ikan Masak Woku, a traditional fish dish prepared with shallot, leek, local basil, tomatoes, in a chili gravy and accompanied with steamed rice. I was also pleasantly surprised by the tasty Pasta Carbonara.
The resort has the great idea of offering hot drinks and snacks free of charge between 16:00 and 18:00 hrs at the Bunaken Sunset Bar located by the beach. This is the ideal place to witness one of the stunning sunsets after a day of memorable scuba diving from Manado. If the afternoon tea is not particularly "your cup of tea", then wait for the happy hour at 18:00 hrs and you will get 50% off your Bintang beer!
The kindness and friendliness of the staff made my stay even more enjoyable. From the guy that picked me up at the airport to the manager that waived me goodbye, the warm smiles and professionalism are something that should be present at all holiday resorts.
The Rooms
32 rooms are scattered on a small hill facing the sea. The manicured lawn, which is mowed 3 times per week, will give you an inkling of how clean and organised the entire resort is.
I stayed in one of the luxury villas that features a comfortable mattress in a bedroom, leading out to a wooden balcony from where you have a marvellous view overlooking the pier and the 3 diving boats set against a striking sunset backdrop.
Not all the villas have a seaview so booking in advance is definitely advisable if you want one of these. Inside the room I found everything that I would have expected from a resort of this level, including hot water, air conditioning, satellite TV and Wi-Fi. The resort wasn't too busy during my stay, but I welcomed the peace and quiet at night after exhilarating days spent diving.
The property looks brand new to me so I was surprised to hear the manager explaining they plan to renovate the entire place in the near future. It is great to know that they really care about giving the best service and accommodation to their customers.
Getting There and Away
I arrived in Indonesia via Jakarta and then booked a domestic flight to Manado. But almost all the other resort guests that I had the pleasure to meet had flown via Singapore with Silk Air flights. This, in retrospect, seems to be the best option when travelling from western countries.
Is It Worth It?
The Kima Bajo Resort, with its well-built villas wisely secluded well away from Manado and other resorts, enjoys a blissfully remote setting. This is already enough of a reason to say it is worth making the journey to this little slice of diving heaven. Add to that the amazingly pristine dive sites that the Bunaken National Park has on offer, plus the professionalism of a long established business like Eco Divers. When one considers all of these elements, the answer is a resounding, "Yes, it is definitely worth it!"
Written by Ricardo Rossi, June 2010


---
CUSTOMER TESTIMONIALS OF DIVE THE WORLD
... Very informative, went through the content thoroughly but also quickly and effeciently. Website quite straight foward, points you in the right direction ... -- Lester Goold, Australia. [More customer reviews]