>
Dive Trip Reports
>
Sea Safari VI
Liveaboard Diving Tour in Raja Ampat
Cruising the Waves on Sea Safari VI
Click on an image to enlarge

It had been a while since I had been scuba diving, so the prospect of a 10 day trip on board the Sea Safari VI was mouth-watering indeed. I envisaged myself standing on the prow of this Phinisi schooner as it cuts across the blue sea amid a scattering of steep, lush green islands - the classic image of Raja Ampat liveaboard diving.
Would I get to see many pygmy seahorses? Maybe even a hippocampus pontohi? Might there even be a wobbegong or 2 around? Will luck be on my side on this trip and provide an encounter with a walking shark? The answers to these questions and many more that I had in mind would be a resounding 'Yes!'
The Diving in Raja Ampat
Raja Ampat always delivers no matter the time of year or the dive conditions. Admittedly our conditions were not the best and the visibility, particularly in the south, was less than perfect. Having said that the southern dive sites were still very pretty.
There were lots of colours with impressive soft coral displays, including some gargantuan dendronepthya in orange, pink and purple. Big gorgonian fans and sea whips were everywhere on these healthy reefs bursting with life. There was limited big stuff, but some impressive schooling action including jacks, barracuda, snapper, yellow-tailed fusiliers, blue stripe fusiliers. Animals of note included tasselled wobbegongs, octopus, turtles and several pygmy seahorses, particularly hippocampus barbiganti.
I had been looking forward to heading down to the islands south east of Misool, a place I have visited before and had fond memories of. We had mantas and sharks at Magic Mountain, pygmy seahorses galore, some glorious night dives at Gam Island, more mantas and Pegasus at Manta Sandy. The best diving came towards the end of our trip in the Dampier Strait where the visibility was clearer. Here was saw many wobbegongs, hippocampus pontohi and denise, and had a night dive which featured toadfish and walking sharks.
• Watch our Raja Ampat diving video

Dive Procedure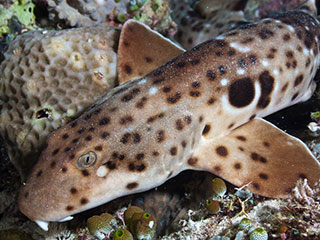 Brief briefings are conducted on the liveaboard's dive deck with dive maps drawn on a white board. The staff transport your scuba gear down onto the waiting tenders while you come with mask, fins in hand, and weightbelt on.
There are 2 tenders which can take about 6 divers in comfort. That means that groups 1 and 2 go off to the sites and are dropped and at one tender returns to take group 3. Access to the tenders is down a gently sloping walkway and is very easy. They are equipped with ladders for egress. After your dive you step back up the walkway and are greeted by the liveaboard crew high fiving and saying 'Good dive. Good dive', even if it wasn't.
There is quite a focus on keeping the scuba divers with camera happy (I avoid using the term photographers because that implies a level of proficiency and competence that most recreational camera-clutchers lack). If you are the sole diver in your group without a camera, enjoy the solitude. I did. The guides are great at spotting the smaller stuff in the south, particularly pygmy seahorses.
Food
There is definitely a focus on Indonesian food on these tours, with rice and noodles and salad usually featuring. You can also enjoy fish options with prawns, squid, clams. Other dishes include sweet and sour chicken, or beef with mushroom sauce. The Indonesian dishes are varied and delicious, such as gado-gado, pecel (rice, vegetables and peanut sauce), pepes ikan (steamed spiced fish in banana leaf) and perkedel (potato or corn croquettes).
There is always a fruit platter on hand to finish off every meal with pineapple, watermelon, canteloupe and papaya.
The Boat
Sea Safari VI is an Indonesian boat, not just in terms of construction, like many of the schooners seen here. It is also Indonesian owned and crewed. It is not uncommon to see Indonesian guests on board and it is also popular with other Asian divers and international clientele. The liveaboard is decorated in Indonesian style, with paintings on the walls and Indonesian and Balinese inspired art. My cabin featured a painting of an old semi-naked Indonesian man tenderly holding his prize cock, presumably preparing for its next fight, as well as Balinese dancers.
Sea Safari VI is a well maintained liveaboard but it is showing its age. However, it does feel like the real deal, not an imitation of a Phinisi schooner, but the genuine article. One point worthy of note is that there is no air-conditioned lounge. The saloon is open air and was a bit too hot to be comfortable in the still sunshine of Raja Ampat.
Cabins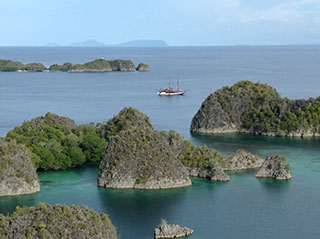 The Sea Safari VI has 10 cabins with en-suite bathrooms. There are 6 Deluxe double and twin bed cabins on the main and upper decks, and 4 Standard twin and double bed cabins on the lower deck. The Deluxe cabins have large windows which open on to an external walkway, whereas the Standard cabins have portholes. The Standard cabins on the lower deck are in fact just as spacious (if not more so) than some of the Deluxe ones.
The acid test for cabin comfort is how well you slept. Honestly I don't think I have slept better on a liveaboard tour before. Even on the nights we were cruising in transit were spent contentedly in the land of nod. Admittedly the seas were glass calm but still, I was impressed with my restful nights on board. I slept so well that one morning I was finning down after a negative entry about 5 minutes after being fast asleep - a bit of a rude awakening!
Conclusion
Despite the less-than-ideal conditions, Raja Ampat still provided several fabulous dives and an impressive number of awesome moments. Finding pygmy seahorses without the help of a guide became a new-found joy. The experience of a Sea Safari VI liveaboard tour was a genuine one. It really felt like I was spending time on a real Indonesian Phinisi schooner with an excellent crew, the kind of local experience not all safaris can deliver.
Written by Gavin Macaulay, December 2015


---
CUSTOMER TESTIMONIALS OF DIVE THE WORLD
... Dive The World provided a wealth of information to understand what was included in the package and other info to help with planning our vacation. Can't really think of any improvements to suggest, I was very happy with the entire process. The best thing was your patience with my questions. ... -- Brandon Mitchell, Australia. [More customer reviews]