>
Dive Trip Reports
>
Mabul Water Bungalows
Luxury resort diving in Sabah, Malaysia
Scuba diving in Sipadan with Mabul Water Bungalows
Click on an image to enlarge

We had not sent anybody from Dive The World to the island of Sipadan in Sabah, Malaysia for quite a while, so when our management team asked if I would like to go, I jumped at the chance.
I have done many liveaboards over the years, but resort diving would be a new experience for me. Liveaboards are a great way to dive, but I must say the thought of mixing some top class diving with relaxing walks along the beach certainly appealed to me. So it was arranged, I would visit the esteemed Mabul Water Bungalows…
A pod of dolphins on our first speedboat ride to Sipadan heralded what would be a fabulous few days of diving. I would go on to encounter many large reef creatures like grey reef sharks, whitetips, a thousand turtles, a school of massive bumphead parrotfish and a vast school of jacks. However, also around Mabul I discovered a new love for critters including innumerable species of nudibranchs, mantis shrimps, juvenile sweetlips, ribbon eels and scorpionfish. The sheer number of different creatures I observed in the short space of a few days was staggering!
The Diving - Mabul and Kapalai
So before I get all gushy about the diving at Sipadan (too late), I would be doing a disservice to Mabul to not give an account of the local diving around the island. It may not be Sipadan, but most would still recognise it as being very high quality diving.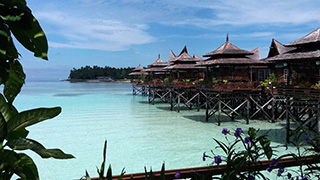 On the day of my arrival I did 2 dives on the house reef. This was an easy start but a good way to sort out my scuba equipment and get my water wings back on. On my second and 5 days I did 4 dives around Mabul and another at Kapalai. The dive sites included a sloping coral reef, a drifting wall dive, a rocky outcrop and the man-made junk under the Seaventures rig (it is on old oil rig that has been converted to an offshore diving base by Seaventures). These sites provided a wonderful range of diving experiences.
The Mabul dive sites are considered to be top class macro sites but I also saw plenty of larger fauna such as turtles, giant morays, triggerfish, parrotfish and sweetlips. There were shoals of reef fish hovering around the sites. Perhaps one of the highlights was watching a large pufferfish using its beak to munch away through the spins of a sea urchin. However, if you are the sort of diver who likes to find smaller things in the nooks and crannies then you will be spoiled for choice. There were nudibranchs, mantis shrimps, lobsters, rays, camouflaged scorpionfish and a multitude of other fauna. Little juvenile sweetlips flitted around the anemones and shrimps darted in and out of their burrows.
These sites are a veritable cornucopia of life, and are only a few minutes boat ride away so between each dive we returned to the resort for a rest. It is nice to be able to stretch your legs on firm land between each dive.
The Diving - Sipadan
Let's move on to the main show. I was fortunate enough to have 6 dives at Sipadan. It is just a 20-minute speedboat ride from Mabul and I had a good feeling about it when we met a pod of dolphins on the way across. As soon as you arrive you go to the island to register at the military office. You also return to the island between dives for rest and refreshments.
There were just 4 of us on the first day. For our first dive we descended onto a site called West Ridge. Visibility was good and the ridge was covered in corals. Reef fish darted around the corals and were beautifully illuminated by the sunlight coming over the ridge horizon. Still after 10-minutes of drifting along the ridge I was feeling a little disappointed. Where were all the big fish I had heard about? I was just steeling myself for something of a letdown when the unmistakable silhouette of a shark rose over the ridge. It swept over the edge and down until the sinewy body gracefully glided right in front of us. It was a whitetip, maybe 1.5 meters long. It was like somebody had turned on a switch. The next moment a turtle drifted into view and was quickly followed by another. Soon there was action wherever you looked. Reef fish teemed around the corals while turtles were rising to the surface or munching amongst the corals and whitetip reef sharks patrolled below. It was a great dive but it was just the start.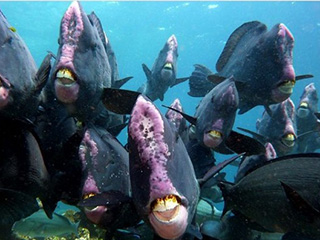 Over the next 5 dives, we visited top rated Sipadan dive sites like Barracuda Point, White Tip Avenue and Coral Garden. The sights and action were so constant that it all blends together into a blurred mass of memorable diving experiences. I saw numerous turtles and whitetip sharks on all 6 dives at Sipadan. At one point I had 8 turtles within 10-meters of me and whitetip sharks gliding ahead. There was more sea life than I could hope to list but, just to give a taste of what you might experience, there were grey reef sharks, schools of batfish, large banded sea snakes, triggerfish, butterflyfish, and schools of bumphead parrotfish.
• Watch our Sipadan diving video
One of my highlights was being engulfed in a school of jacks. These impressive fish comfortably school all around a diver, carefully watching but quite unconcerned, gliding so close but just out of reach. Sometimes you are so deep in the school that you see little else but fish. It is an uplifting experience to be in the midst of so much life.
I came to Sipadan with high expectations and I certainly was not disappointed. It truly justifies its reputation as one of the world's top diving destinations.
The Diving Service
The diving service at Mabul Water Bungalows is relaxed but professional. The divemasters are Malaysian and all seem to be very amenable characters who speak good English.
Delivery to the dive sites is by speedboat. The number of scuba divers on each trip is from 4 to 10 but none of the trips felt crowded. Dive entry is either a back roll into the water or you can just jump off the side of the boat if you are feeling athletic enough. The rollback entry may look a little high but in fact it is very easy.
Dive conditions were generally very good with excellent visibility of 20 to 30 metres. The currents were mostly gentle, although we did occasionally run into a strong current at Barracuda Point at Sipadan, which is to be expected. The weather was very pleasant. There were a few light showers and one overnight storm but nothing that impacted on the diving. Most of the time it was sunny and partly cloudy.
Sipadan Permits
It is the diving at Sipadan that draws diving enthusiasts to travel thousands of miles to come here. However, only 120 Sipadan diving permits are granted each day so you will not be blessed with a visit to Sipadan every day. The resorts can only guarantee you will get one Sipadan permit for every 5 nights stayed. For my 5-night stay I was fortunate to get 2 Sipadan permits and in fact most of my fellow divers at the resort enjoyed the same good fortune. However, you cannot expect you will be so lucky. It really does depend on the demand at the time of your visit, although it doesn't do any harm to ask your divemaster if you can get an extra visit.
The Resort
Mabul Water Bungalows (MWB) and Sipadan Mabul Resort (SMART) are both managed by Explore Asia Tours. So although they are separate resorts they work very much in conjunction.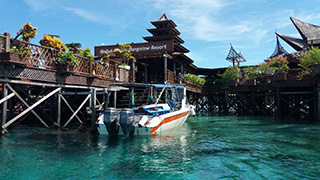 Mabul Water Bungalows, where I stayed, is the more upmarket resort with luxurious cottages on stilts over the sea and a house reef that you can just step into from the deck for a dive or snorkel. SMART has land based chalets that are not quite as luxurious, but are still comfortable enough.
• Watch our Mabul Water Bungalows video
Mabul Water Bungalows is a spectacular sight. A long jetty walkway leads to the resort of wooden bungalows built on stilts over the shallow sea that during the day varies in colour from sandy to rich turquoise. The walkways are decorated with a variety of colourful plants and offer splendid panoramic views.
The spacious bungalows are furnished with contemporary decor, and have air-con, private bathroom, hot/cold shower, and large private balcony. In the evenings you may see turtles swimming around the base of your bungalow.
Every room has satellite TV and there is a selection of English speaking channels including a news channel, a movie channel and a couple of sports channels. There is free wireless internet access across the resort and although it was not a particularly fast connection, it was good enough to stay in contact with the world.
The resort includes a large restaurant, a souvenir shop and a dive center. There is a house reef for diving or snorkelling. You can just go down the steps and straight into the water. There are 3 floating platforms that you can use to jump in from or just take a break.
The Food
Mabul Water Bungalows serves buffet meals. Breakfast starts at 7 am, lunch starts at noon, and dinner is at 7 pm. All 3 buffets are open for 2 hours so you have plenty of time to arrive and eat your fill.
The buffets typically have a selection of around 4 main dishes, with rice or noodles. The main dishes were curries and vegetable stir-fry type fare. Breakfast options include ham, sausage and rice soup. There was also always fresh fruit, bread and cakes. The food will keep you satisfied and nourished but I wouldn't say it is the highlight of either resort. There are options for vegetarians but only a limited selection.
Getting There
The resorts will arrange minivan pick-up from Tawau Airport for the 1-hour drive to Semporna port. There are 3 transfer boats from Semporna to the resorts at 10:00, 12:30 and 16:30. If your flight lands in time to get the first boat then you will make it to the resort in time for some same-day diving. The last flight that you can arrive on and confidently expect to catch the last boat is the 14:40 arrival. (These times are correct at the time of writing).
I was coming from Phuket and it was not possible to reach Tawau in time for the last boat. If you are not already in Malaysia then it is difficult to get to Tawau by the 2:40pm flight. It is a small airport with only a handful of flights each day. Generally you need to fly into Kuala Lumpur or Kota Kinabalu and then get a connection to Tawau. The 2 main airlines servicing Tawau are Malaysia Airlines and Air Asia.
My flight didn't arrive until 5 pm so the resort recommended I stay at the Promenade Hotel in Tawau. It proved to be a very acceptable hotel and excellent value for money. My pick-up arrived at 8 am the next morning for the 1-hour drive to the port of Semporna. From there it is an easy 40-minute speedboat ride to the island of Mabul. I would have time for a couple of local dives on my first day at the resort.
Conclusion
I thoroughly enjoyed my stay at Mabul Water Bungalows. Resort diving was a new experience for me and one I very much enjoyed. You still socialise with your fellow divers, but you do not feel like you are constantly together in the way you do on a liveaboard. The resorts both provided very hospitable and enjoyable stays. The diving around Mabul was good but of course the big draw is Sipadan Island and this fully lived up to expectations. The scuba diving there was simply spectacular and something I will remember for a long time. It is one of the top dive locations in the world. So if you want to check out Sipadan's outstanding dive sites I would highly recommend you do it in comfort from this excellent resort.
Written by Jim Spellman, July 2017


---
CUSTOMER TESTIMONIALS OF DIVE THE WORLD
... Yes, this is a good website. I thought all the staff I dealt with were very helpful and informative. I can't think of a way to improve what is already a very high standard. The best things we receiving very prompt replies and how your staff displayed a keenness to find the answers to my questions. ... -- Steve Colligan, England. [More customer reviews]