>
Dive Trip Reports
>
Scubapro
Great Barrier Reef Trip Report
3 Days of Liveaboard Diving in Cairns with Scubapro
Click on an image to enlarge

As I lay in my Cairns hotel bedroom, I struggled to get to sleep. It was the night before my trip to the Great Barrier Reef on Scubapro III and the excited anticipation of diving on the best known of all the reefs on the planet prevented me from sinking into the land of nod.
A few hours later I was sitting on the liveaboard, looking over the rails at the only natural formation visible from space. I could not help but revel in the moment, all around me were young, eager faces representing nations from all over the world: USA, Canada, Switzerland, Germany, Australia and more. The mood reminded me of my own enthusiasm on my first trip to scuba dive the daddy of all reefs.
Beginning with an early 6 am hotel pick-up and a quick stop at Pro Dive's shop for a certification check and equipment rental, we were then bussed to Cairns' impressive marina where we boarded the Scubapro III, one of their 3 identical liveaboards for a laid back 3 hour cruise to our first destination.
The Cairns Barrier Reef Diving
We eased into our tour with some gentle dives at Milln Reef. The seas were a little choppy due to offshore wind, visibility was 15-20m and water temperature was around around 28°C. The reefs are definitely what catch your attention in Cairns: impressively healthy bommies with hard corals, soft corals and sponges all competing for space in bursts of colour. The table corals grow up to a metre in diameter. In comparison to other regions on Australia's Great Barrier Reef, the fish life is not as impressive, but we did get to see quite a number of different species of tropical reef fish.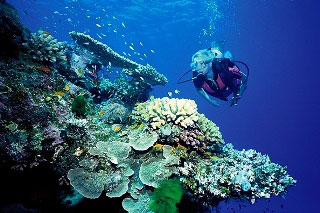 There seemed to be more fish life at Flynn Reef where the ever popular clownfish was a huge hit. Those of us who dived to 20m caught glimpses of white tip reef sharks under an overhang.
Briefings are comprehensive and include compass bearings to minimise the risk of divers getting lost. Local regulations also state you must dive with a safety sausage and whistle (both provided) and require that you surface with 50 bar (from 200 bar fills).
As with other operators in this area, divers are not necessarily guided. The 3 instructors and 1 divemaster focus on their students, leaving certified divers to buddy up with fellow guests and dive without in-water guides. This is less of an issue when it comes to finding things, since Cairns' Barrier Reef is not about searching out macro curiosities and consists more of leisurely cruises over healthy reefs peppered by small reef inhabitants. If there are not so many students onboard then you can always request a guide.
The Scubapro Boat
All of Pro Dive's boats (Scubapro I, II and III) have been specially designed for liveaboard diving in Cairns on short 3 day / 2 night trips. Geared around the philosophy that their guests' stay will be short and sweet, the systems and space utilisation are streamlined. For example the water supply is perfectly planned to last only the duration of the tour.
The cabins offer simplicity with no unnecessary frills. Twin cabins have 2 bunk beds, 2 wall hooks and 2 reading lights. It is best to store all excess luggage at your hotel or in the Pro Dive shop since on the boat it will either need to sit on the floor, hang on a hook, or hang on your body. Anyone over 6 feet tall (180 cm) will find the single beds on the short side as they are wall-to-wall. Sharing a double bed cabin with a shorter person would make your nights more comfortable in more ways than one. I unfortunately had to resort to sleeping in the saloon, and was very relieved I'd remembered to pack 2 essential travel items: catmask and earplugs.
There are no en-suite cabins, so communal toilets-cum-showers are shared. This being said, there always seemed to be one available when needed and the showers are powerful and hot which is relished at the end of a full day's scuba diving. Remember to bring your own towel and toiletries to complement the liquid soap provided.
The saloon and the dive deck are both excellent: spacious and practical. The saloon is the main socialising area of the tour, although the sun deck is also popular. The downside is that the shade can only be erected if there is not too much wind, meaning there is little outdoor shade in windy conditions.
• Watch our Scubapro liveaboard diving video

The Food
The food is fresh, plentiful and very healthy. The menu, which is consistent on all these Great Barrier Reef trips, is dominated by fresh vegetables and salad. Coffee and biscuits are available prior to the 1st dive, which is followed by a hot breakfast. Bacon, eggs, cereal, fresh fruit and yogurt plus toast, crumpets and muffins are all on hand to fill the hungry scuba diver's belly.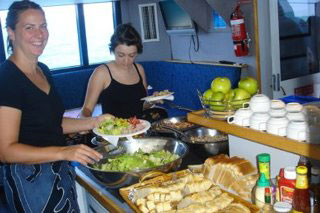 Lunch and dinner include dishes such as roast chicken, spaghetti bolognaise, potato gratin, saffron rice, potato salad and coleslaw. If the rush to pile our plates with second helpings is any evidence, then the food was much appreciated by all.
Between dives there is freshly made cake which goes down well on surface intervals. Tea, coffee, hot chocolate and drinking water are available free throughout the day, but other things must be purchased. Fruit juice and chocolate bars are available to buy.
However lovers of a tipple be warned … Pro Dive does not have a liquor licence. If you like a glass of wine or a cold beer at the end of the day, then you will need to bring your own booze. This presents you with a choice: either disappear off to a quiet spot to escape the excitable student chatter and enjoy your drink in peace; or bring it out in the social area and you will be guaranteed instant popularity!
The Dive Procedure
The efficiency and professionalism of the scuba procedure is impressive with activities on the dive deck running smoothly throughout the trip. This is something of a miracle given that there may be 30 divers onboard and often half of these are Open Water students. Normally students go first and certified divers stay clear of the deck until it is vacated.
Everyone has their own station and basket. Entry to the water is down a few steps to the platform and is conducted in single file. Pro Dive are sticklers for safety procedures: after checking names, safety numbers and air, divers stride in one at a time. Each diver must also sign their initials against the record of maximum depth and time upon egress.
Briefings are conducted on the sun-deck and are comprehensive. Concrete mooring blocks mean line descents are always favoured which is a good thing for less experienced scuba divers.
The Staff
The youthfulness of the clientele is reflected in the crew. While the captain and perhaps one other staff member look like they might know what a mortgage is, most of them are fresh-faced young whipper-snappers. That said, Pro Dive seems to have instilled a good sense of professionalism and responsibility in their tour team, and they provide a good sense of fun, which is what most of the guests are looking for.
Getting There and Away
From Cairns airport there is a regular feeder bus to travel downtown to Cairns which only takes about 10 minutes and will drop you right at your hotel door. Pro Dive then pick you up from your hotel so it really couldn't be any easier.
Overall
You can expect the boat to be full of young travellers or budget-conscious holiday-makers. Pro Dive's operation is the perfect way for backpackers to be introduced to the world of SCUBA. They make stepping up the ladder of qualification fun for new divers when doing the Open Water Course, Advanced or Adventure Diver courses while touring the Great Barrier Reef for the first time.
The dive sites that Scubapro visits are suitable for the clientele. They tend to be shallow and easy sites, with simple dive plans. The reefs are healthy and there are enough tropical fish to excite those who have not gained experience in many other places. So if you are on a budget or a young traveller wanting to experience liveaboard diving in Cairns, then you could do a lot worse than join one of the Scubapro Great Barrier Reef trips. Just remember to bring a towel and a bottle or 2!
Written by Gavin Macaulay, March 2010


---
CUSTOMER TESTIMONIALS OF DIVE THE WORLD
... Website was easy to use. All questions were answered in a timely fashion and communication was accurate. The best this is the ability to easily compare dive operators and choose the option that best fit our needs ... -- Sheena Donald, USA. [More customer reviews]