>
Dive Trip Reports
>
Sipadan Mabul Resort
Heaven on Earth in the Celebes Sea
Diving in Borneo with Sipadan Mabul Resort
Click on an image to enlarge

If someone had asked me which dive destination I would love to visit most on my next trip I would definitely have replied ... Sipadan.
Having read how awesome the diving is, exploring this underwater paradise in Malaysian Borneo was one of the "must do" things in my life. Hence I excitedly packed my scuba bag and set off on my journey to Sipadan Mabul Resort (SMART), looking forward to find out if this "Untouched Piece of Art", as described by the late Jacques Costeau, is really as amazing as what is written in so many articles. I wasn't to be disappointed ...
The Borneo Dive Scene
Diving around Sipadan is a combination of wall and drift dives. Once we had dropped in we began to cruise with the current along the walls. 2 of the best known dive sites in Sipadan are Barracuda Point and The Drop-Off. Both can have strong currents running around the reef and most of the time when there was a current, there were big fish.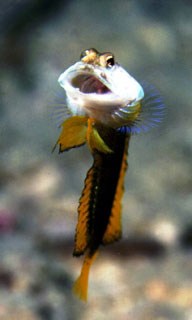 I saw green and hawksbill turtles nesting and mating, schools of barracuda and big-eye trevallies in tornado-like formations. It is as if these armies of fishes have conquered and made the sites their territories. Every diver gets a thrill when they come across these huge schools of fish and when combined with the batfish, bumphead parrotfish and fusiliers that live around the areas, boring dives are not many. Hanging out in the blue and cruising the deeper water was rewarded with large numbers of white tips and grey reef sharks which were all regularly spotted.
• Watch our Sipadan diving video
The Dive sites in Mabul and Kapalai are just as awesome as the ones in the Sipadan, but in a very different way. There was macro galore! Sorry for the list but there is no other way to show the diversity of crazy critters: mandarinfish, nudibranchs, flatworms, flamboyant cuttlefish, porcelain crab, stargazers, crocodilefish, pygmy seahorses, frogfish and many more wonderful creatures can be found at these sites.
Topography consists of mainly slopes and sandy bottoms which made them different from the sites of Sipadan. We had to slow down our speed a little and frog-kick to avoid dragging up the silt and making the visibility worse for those behind us. Most creatures were found at the bottom or underneath the sand, as if they were waiting to jump on their prey or hiding from their foes. Even those scuba divers who said they were not interested in macro admitted that it was rewarding to spot one of those petite critters which take a bit more patience to find.
• Watch our Mabul diving video
SMART Resort
From the friendly welcome at the jetty to the crew waving goodbye as we left, the staff of SMART resort were great.
Clean and well organised, the reception area is a large dining hall/restaurant for meals and socialising. We were welcomed with fruit drinks and refreshing towels. It was here where we settled down with Patrick for a few minutes of paperwork and a brief introduction to the resort and our dive schedules. A few meters away from the reception is a cozy looking lounge equipped with plasma TV and home theater system. For non-divers, this is definitely a bonus.
• Watch our Sipadan Mabul Resort video
Facilities
The resort owns a private beach not, a great place for an afternoon nap. Evenings were recovery time. Some of the guests including myself would occupy the deck chairs around the beachfront bar with our favourite drinks, watching the last light of the sun disappearing from the horizon before strolling down to the restaurant for dinner.
A swimming pool measuring about 12m by 6m with a 6-ft depth was just a stone's throw from my chalet. There is a pool bar offering coconut drinks, juices, carbonated soft drinks, beer and wine. The Jacuzzi Whirlpool Spas is perhaps one of the features that make you want to stay longer in the resort. There is internet connection, a volleyball court and ocean kayaks, so there is plenty to keep you occupied.
The Chalets
With 23 Standard and 22 Stand Alone Chalets, all the rooms in the resort are based on twin sharing. If you are a single traveler you can choose to share with another guest or pay the single supplement to get your own bungalow. The rooms are well equipped with air conditioning, mosquito screens and hot shower bathroom. They are built close to the restaurant, swimming pool and dive shed, so you don't have to walk far to get to those facilities.
The Diving Service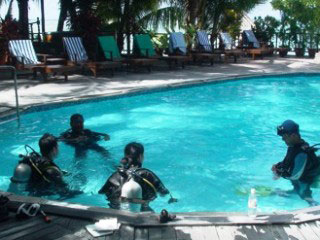 Diving is done from custom built fiberglass dive boats. The boat crews are experienced, friendly and very helpful. However, the guides lead the dives but do not necessarily look after everyone and 'hold their hands' the way dive guides do in some other destinations. Returning from your daily boat trip, the crew will bring your equipment back to the dive shed where you dismantle, wash and hang everything to dry in an airy store which is securely locked.
When diving around Mabul and Kapalai, the boat will depart to the sites on single tank trips every morning between 08:00 to 08:30 and return to the resort after the third dive, which is around 16:00. Coming back to the resort between each dive gave us the opportunity to have a quick shower or take a nap. You will be out for the whole day when diving around the Sipadan but food is always provided between each dive so you will never have to worry about diving on an empty stomach.
For those with technical diving on their mind, a technical scuba center offers various services such as nitrox air and TDI certification courses. An underwater video center provides underwater videography courses as well as rental of digital cameras.
Food galore at Sipadan Mabul Resort
Having good food is one of the factors to an enjoyable holiday. Foods and drink are always available at all times at SMART. I enjoyed very much the great buffet meals featuring mainly a mixture Asian and western dishes.
5 daily meals (pre-breakfast, full breakfast, lunch, tea breaks and dinner) are served in the main house dining hall. The guests I spoke to, including vegetarians, were very pleased with the variety of food and cleanliness of the restaurant.
Getting There and Away
I flew via Kuala Lumpur to Tawau where I arrived in the evening and I was transferred to Semporna by the resort, where I overnighted in the Seafest Hotel. Next morning we were transferred by speedboat out to Mabul. Considering we were going to a remote island (Mabul) off another remote island (Borneo) it was not that difficult to get to.
On the way back it took 3 hours from SMART to Tawau Airport in time for my flight.
'Goodbye' Seems to be the Hardest Word
Sipadan is a wonderful place. With countless turtles and its diversity of fish and colourful coral reefs, it is truly a scuba paradise. Even snorkeling is amazing. It would have been great to have more dive days at Sipadan but I guess that is the nature of the destination, and a limited amount of time on Sipadan is what you have to expect. However Mabul and Kapalai certainly make diving in Borneo a Mecca for macro life. They are awesome. On Mabul Island, everything is low key and informal but perhaps that is part of the island's charm. I really felt like I was in the middle of the Celebes Sea.
Written by Vichai Lamkijja, May 2009

---
CUSTOMER TESTIMONIALS OF DIVE THE WORLD
... I booked the trip through you rather than the boat company because you accept US$. Them only accept Malaysia RM. It is much easier for me. All booking process appears all right. The information about the trip is very clear, and my requirements were forwarded to the boat company rightly ... -- Yuan Yuan, China. [More customer reviews]