>
Dive Trip Reports
>
Ondina
Komodo Dive Charter Trip Report
Diving with Dolphins in Komodo
Click on an image to enlarge

As we closed in on Castle Rock onboard Ondina's dive dinghy, a submerged pinnacle to the north of Gili Lawa, a pod of bottlenose dolphins broke the surface and raced ahead, directing us to the site with a white trace of foam. Encouraged by this sign and the prospect of possibly catching a glimpse of the dolphins underwater, we zipped up, rolled back and plunged in.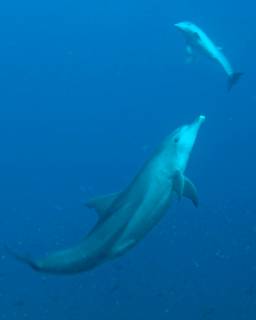 We were not to be disappointed. As soon as we broke through the surface on our descent, everyone was pointing excitedly down to the sea floor. There the dolphins were busy seemingly engaged in a game of tag below, oblivious to the nearby roaming presence of reef sharks and trevallies that were hunting the massed reef fish in packs. And so the dive commenced, but the action didn't let up.
The dolphins are often seen here, hunting on the reef. They are incredibly agile creatures, able to hang vertically in the water, peer under table corals and flush out prey, then chase them down and devour them in an instant. Once sated, they charge to the surface for air and then rejoined their cousins back down on the reef. Truly a thrilling sight and a thrilling site.
On the penultimate morning of our liveaboard charter we dived the Passage, the narrow strait between Gili Lawa Laut and Gili Lawa Darat. We spent 50 minutes drifting in the current and sheltering in the eddies, mouths ajaw and gaping at the half dozen manta rays that were feeding there, constantly zoning in and out of vision as they swooped close to inspect us then soared off into the face of the current storm.
Dolphins, manta rays, reef sharks, giant trevallies, mobula rays circling the boat lights at night, a brooding jawfish with a mouthful of eggs, pygmy seahorses, frogfish, ghost pipefish, very healthy reef fish life and innumerable crustaceans and invertebrates. These were the highlights of diving in Komodo on a recent trip I joined on the SMY Ondina, a diving schooner that specialises in cruises throughout eastern Indonesia
• Watch our Komodo diving video

The Ondina Itinerary
The Ondina operates its 7 night Komodo dive charters out of Bima on nearby Sumbawa Island. You'll need book a cheap daily internal 1 hour flight from Bali to Bima, but these can easily be arranged through Ondina's reliable ticketing agents. Although this may at first feel like a bit of an obstacle, the advantage of spending less boat travel time and more time diving the sites of Komodo far outweigh any perceived hassles.
Once you've been transferred down to the liveaboard boat, you'll make a check-out dive near Bima before heading out to Sangeang Island, a volcanic island on the way to Komodo that's great for black sand muck diving.
After the second night we found ourselves in the northern straits of Komodo National Park, drift diving at the superb sites of Tatawa and Batu Bolong. Ricardo the tour leader is very accommodating of guest wishes and he will try to build any special interests into the cruise itinerary. On our particular safari some of the guests requested that we visit the southern cool water dive sites of Horseshoe Bay (Cannibal Rock and Torpedo Bay) on Rinca Island and Manta Alley in southern Komodo. Be prepared to dive in waters ranging in temperature from 20-27°C, since the north and south of Komodo have very different conditions.
After a day in the south, I was relieved to find us heading back to warmer climes in the north, and this is where the best scuba diving was encountered on this trip - Gili Lawa and Gili Banta.
In between times, we had the opportunity for a couple of island excursions and to visit the park proper on Rinca Island. We took a guided walk around the park to see some of its fauna including deer, buffalo and lots of Komodo dragons. There are lots of dragons on Rinca and it seems that the walk here is better than the one on Komodo Island itself as you get to see wild dragons and there are nice views from on top of the hills. Overall, the island hopping definitely added something special to the Ondina cruise as many of the other liveaboard charters don't give the option.
Diving with Ondina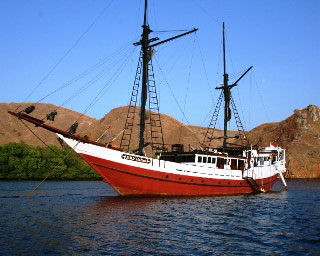 Ricardo knows these reefs very well and this was a clear benefit on this trip. We certainly wouldn't have encountered the dolphins and manta rays at Gili Lawa without his expert inside knowledge. The dive guides too are very good, both in terms of their commitment to customer service and their in water ability to spot macro creatures.
Ondina was purpose built as a dive schooner so you'll find the boat has a dedicated indoor kit up room, and a separate room with hot showers and for hanging wetsuits. The boat also boasts several nice photographic facilities. There is a large dedicated camera assembly table with storage crates, an air pressure gun, plenty of power charge points and 2 padded rinse tanks. You can even use the complimentary CD/DVD photo writer service if you run out of space on your memory sticks.
My only criticism of the dive operations is that the dinghies are a little small. They are only just big enough to take 5 divers and the 40HP engine is not really suitable to make long journeys. The exit ladders are also not very practical or stable.
Onboard SMY Ondina
The best feature of the Ondina cruises is definitely its personnel. The boat crew are friendly, energetic, happy and efficient. This makes for a fun atmosphere onboard and also helps prevent negative attitudes from occurring when inevitable small problems arise.
The sundeck is large and has plenty of sun chairs and a shaded canopy for those that don't appreciate direct sunlight. However, since the boat doesn't have a constructed upper deck, the boat can not be described as spacious and there is only 1 indoor air-conditioned common area, which is the saloon/dining room.
Sleeping Arrangements
The boat has 8 cabins in total, all located downstairs on the lower deck. 6 of the cabins have a double bed and twin bunk bed so they can be used by couples or friends. The rooms are a fair size, clean and some of the basic features work well such as storage space utilisation and the air-conditioning. But since the foot of the bed is built up against the cabin wall, any "6+ footers" may find the beds a little restrictive.
But the biggest drawback with the Ondina is that the cabins do not have proper showers, they have a hand operated cold water spray nozzle. Obviously this will be of concern to guests that expect a hot water private shower.
Your Carbo-fuel Supply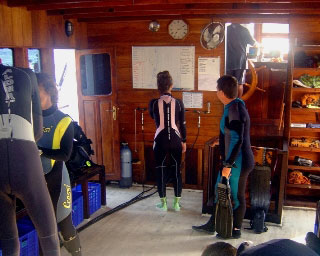 Lunches are served around 12:30 pm in the dining room. Normally they consist of a salad and a main course with fruit to finish off. Some examples are: spaghetti Bolognaise; beef steak in sesame seed and fried potatoes with rosemary and sauté bean sprouts; cheese/seafood/ or chicken pizza; beef Stroganoff with cauliflower au gratin; chicken Cordon Bleu with fried rice noodles.
Dinner is served quite late at around 8:30 pm and is a soup starter followed by a choice of 2 main courses and a dessert. Some examples are: chicken curry with coconut milk rice and butter spinach; fish fillet a la papallotte with ginger prawns; macaroni alfredo with fish teriyaki; sweet and sour squid with curried vegetables; sashimi with vegetable and prawn tempura and steamed rice. Meals on these tours are not heavily spiced.
Small snacks, fruit, biscuits and fresh juice are served in the afternoon, but certainly more fulfilling snacks would not go amiss as there are a long 7 hours between meals.
Breakfast is served after the first dive of the day and was also on the light side as sometimes there was no cooked breakfast. Toast, cereals, and fruit were all available everyday, plus eggs, omelettes and French toast on occasion. Unfortunately there is not a wide selection of fresh vegetables onboard as the boat operates out of a remote port where different produce can be difficult to source.
Dining for the vegetarians was average. The kitchen served up 1 dish per sitting without ever asking the vegetarians what type of foods they prefer. No cooked breakfast was served, and despite the availability of non-dairy milk, tofu and tempeh, there were no snacks or desserts throughout the cruise. This hardly seems fair on the vegetarians who are expected to pay the same price for a much lower offering.
Beach Barbeque
On the final night of the liveaboard cruise, the crew of the Ondina set up a beach barbeque. As the guests sat about, the staff took centre stage and entertained all with singing, dancing and music. There was much laughter and frivolity, and it was fitting that the crew should have the final word on this Komodo diving charter since they were the true stars of the show.
That is except for the dolphins and manta rays ... and all the other wonderful and varied creatures that call Komodo home, and that will keep this convert going back for more.
Written by Sheldon Hey, August 2008


---
CUSTOMER TESTIMONIALS OF DIVE THE WORLD
... I have booked several trips with Dive The World. The staff are very responsive. The trip I was specifically after was a 10 day trip. The one I enquired about was booked out but, I was immediately provided a list of alternative options! ... -- Jill Boag, Australia. [More customer reviews]