>
Dive Trip Reports
>
Pindito
Liveaboard Your Guide to Diving in Raja Ampat Trip Report
West Papua Onboard Pindito
Click on an image to enlarge

The exotic and mysterious island of New Guinea ... Studies showing the West Papua Province of Indonesia to be the world's centre of marine bio-diversity... I had been anticipating a visit to this mythical land ever since I was a child and watched David Attenborough's Life On Earth series and Birds of Paradise specials.
Diving in Raja Ampat
10 days and 32 dives later after ticking off over 30 personal new fish species sightings, 6 wobbegongs, over a dozen manta rays on 1 dive, my first hammerhead shark, bobtail squid, countless pygmy seahorses and nudibranchs ... I can safely say I was not disappointed with my first tour of Raja Ampat.
On this trip I joined the Pindito Pinisi schooner. This liveaboard normally runs 11 day cruises out of the port of Sorong, in the province of West Papua. It visits both the southern Raja Ampat area of Misool and the northern areas of Waigeo and Wayag, as well as everything in between. Due to the late arrival of one of our guests, the boat lingered around the dive sites of Sorong on the first day, so our late-scheduled trip actually only missed the Wayag portion of the regular cruise route.
Days 1 and 2 were based around Sorong and making our 13 hours cruise down to Misool Island, between Salawati and Batanta islands. Days 3 to 7 were based around the Misool area, diving the caverns and tunnel systems of Farondi, the superb fish life sites of Fabiacet, and nearby Walib Island. On day 8 we made our way north to the Jef Fam islands group, where there are some healthy hard coral reefs. Day 9 was based in Sel Pele Bay at Waigeo Island, specifically hunting critters. On day 10 we travelled to Mansuar Island in the hope of seeing some mantas. We were not disappointed, with up to 14 sighted on 1 dive. Manta Ridge makes an ideal last day's dive location, as it is very shallow and relatively close to Sorong.
• Watch our Raja Ampat diving video

Trip Highlights
On several days we had the opportunity of dinghy boat tours to explore these beautiful islands. These trips added a lot to the cruise overall and were a welcome distraction from diving, eating and sleeping. Misool has a labyrinthine maze of channels with hundreds of small islets and limestone karsts. The water looks more like a river than a sea. It is very dramatic and stunningly beautiful. There are also several large cave and tunnel structures, some with crushed human skulls and bones, which speak of troubled times from unknown eons past. The tunnels are very impressive, with huge limestone stalactites and colonies of bats. The Jef Fam group has very picturesque islands with many inlets, bays, lagoons, beaches, cliffs and coves. It is rumoured that Wayag Island is even prettier. At Sel Pele, depending on the time of year, you can visit the pearl farm to learn about the culturing and harvesting processes.
At ~US$ 290 per day, Pindito liveaboard is in the mid range in terms of price, but when you consider the vast distances covered on the trip and that the cruise price includes full nitrox use, and all drinks including beer and spirits, it's actually pretty good value for money.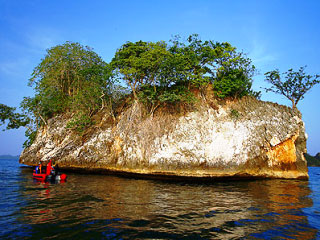 For me, the best aspect of the trip was cruising on the boat itself. The boat is a classical style sailing vessel. It is very sturdy and is extremely stable in the water, both in terms of stability on the ocean and when under motor. It is also very quiet, so there is little disturbance from the engine room at night. The boat was totally stripped, repanelled and refurbished during 2006, so is now looking at its very best. Cruising around the beautiful islands of Raja Ampat, on calm seas and in brilliant sunshine, on a modern sailing yacht like Pindito, with rarely another boat in sight, was really a dream come true.
The 17 strong Indonesian boat crew are also very good, being very attentive and friendly throughout. The fact that many have been working on the boat for many years is a strong indication that they are happy in their jobs on the Pindito.
During the recent refurbishment the opportunity was taken for a couple of significant improvements. The cabins were re-fitted and are now looking at their very best. They are spacious and modern, and kept scrupulously clean with the daily 'turn-down' service. The main deck was also slightly redesigned, allowing for the addition of a camera room, with a large non-slip table and numerous power-points - a nice feature ... if you are an underwater photographer.
The Saloon
The indoor saloon area has also been through a radical improvement and is now bright and neatly appointed with teak panelling. There is a large DVD movie library, and a comprehensive English and German marine book and general book library. The main downside to the saloon is that it no longer has air-conditioning. The Pindito management says their customers prefer to have the windows open and to allow natural breezes to cool the room. However, my experience during the trip was that the saloon gets hot when there was no sea breeze and, because the windows were open, this allowed mosquitoes inside in the evenings. It is to be hoped that Pindito will accept this situation as a problem and install air-conditioning, or at least a fan system.
One rather novel feature of the saloon was that the ceiling is only about 1:95 cm high, and the doorways around 175 cm. This means that everyone above 190cm (or 6'2") tall, will need to stoop the whole time. This is an ever growing problem, as the average height of man is still rising.
The Dining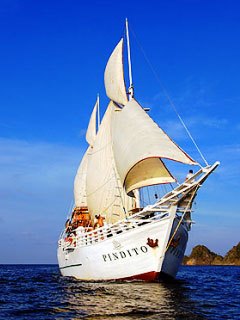 On to the food: Breakfast is muesli, fruit, cheese, salami and toast, with coffee or tea. You can also order fried or scrambled eggs, or noodle soup additionally. Lunch is Indonesian style soups, curries and noodle or rice dishes. Dinner is 2 Indonesian dishes with rice or noodles. Some examples are chicken satay, barbeque grouper, chicken nuggets, seafood tempura, bean sprouts, beef and mushroom soup, always with lots of side chilli. Occasionally there is western fare such as potato chipolatas, fried chick bites, deep-fried prawns, spaghetti bolognaise and prawn crackers. Dessert is always fresh fruit, and afternoon cakes are served daily. As already mentioned, all drinks (except wine) are included in the liveaboard trip price, so soft drinks, juices, beer and spirits can be consumed at will. You can feel confident that any bill for recompression treatment will not be exacerbated by a bill for all those beers you drunk the night before.
The catering on the cruise got mixed reviews. Whilst most people were satisfied that the food was well prepared, most expressed some disappointment with the variety and choice. The dining was certainly not acceptable for vegetarians as the dishes were prepared using chicken or beef stock, and several times even had pieces of meat in them.
Dive Planning
Being a traditional sailing boat, the dive operation requires a little thought and careful planning. All the dives are made from the 3 motorised dinghies. The kitting up area is on the bow area of the main deck. The boat staff actually make the task of loading scuba gear very easy, carrying all the equipment to and from the dinghies. There are also 2 large rinse tanks on board for your salt-sensitive gear. As mentioned above, nitrox is included in the price, and this is a great perk in Raja Ampat, where most scuba divers will want to maximise bottom time.
The dive staff attitude was relaxed and easy-going. This may seem a little casual to those that are used to more instructive input from tour guides. The dive briefings are, well, brief to say the most. Certainly, the whole experience could be enlivened with interesting dive site maps and more descriptive and exciting briefings. That said, the dive staff are very experienced in the Raja Ampat area and will help you find unusual fish and marine creatures.
Pindito carries a maximum of 16 guests. On this cruise the liveaboard boat was not full, and it is difficult to imagine whether 16 would be a tight squeeze or not, particularly in the saloon and kit up areas. However, there was plenty of room for us on what was surely one of the best diving cruises I have ever been on. I yearn for the chance to revisit Raja Ampat!
Written by Sheldon Hey, December 2006


---
CUSTOMER TESTIMONIALS OF DIVE THE WORLD
... This is the second time we have used Dive The World and we had no issues in booking our trips. Even with minor hiccups with flight arrivals the staff responded quickly and made our trip as easy as possible. I have recommended Dive The World to our friend, Lenny, who traveled with us this time ... -- Dennis Huacon, USA. [More customer reviews]