>
Dive Trip Reports
>
Phuket Daytrips
Thailand Dive Daytrip Report
Diving Phuket Island
3 days of diving daytrips around the best sites of Phuket? Yes please!
It was an early start for Day 1 which would take us to some of Phuket's best known dive sites. As we gathered at the Dive The World shop in Patong with all our equipment pre-organised, we were looking forward to 3 lovely days in the sun and in the waters of the Andaman Sea.
By the time our 3 days were up, our minds would be full of the memories of sightings of seahorses, barracuda, moray eels, ghost pipefish and vibrant colourful reef life! But for now we could only hope and dream that we would see such marine wonders over the course of the next few days.
About Phuket
The best diving in Thailand is in the Andaman Sea which lies off Thailand's west coast, so Phuket is therefore the gateway to the best underwater action in Thailand. It is a great base for diving - whether you plan liveaboard trips, daytrips or courses.
Phuket promises something for everyone, from high-end remote beach resorts to simple and affordable accommodation more inland from the beach, from quiet high class restaurants to the 'exciting' and colourful nightlife of Bangla Road at Patong Beach.
Phuket Dive Boat Options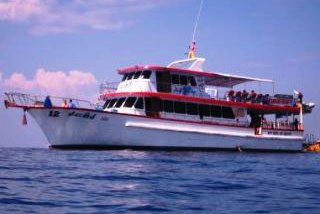 On this 3 day adventure around the dive sites of Phuket, I boarded firstly the MV Similan Queen. The dive boat has 2 levels. The lower level consists of the main saloon, kitchen, 2 toilets and the dive deck. On the second level there is another partly covered relaxation area with comfortable seating. The boat is in very good condition and clean with a large, well-organised dive deck. The boat crew that I came into contact with were friendly, helpful and professional.
The 2nd daytrip boat I experienced was the Chok Som Boom operated by Andaman Ocean Safaris. As a refitted liveaboard, it has more space than most of the other dive boats which operate out of Phuket. The dive boat is 23m and has 3 levels. The lower level consists of the main saloon, kitchen, 3 toilets and the dive deck. One the second level there is another covered sitting area and another air conditioned room with a plasma screen TV, and sound system. The top level is a sun deck with mattresses ideal for sun tanning. The boat has just undergone a complete renovation and is in great condition and very clean.
Finally on day 3, I stepped onto the deck of Kamala Dive Centre's The Prapis, a 2 level boat which is well maintained and clean. The lower level consists of the main saloon, 2 toilets and the dive deck. One the second level there is another partly covered sitting area with tables and comfortable seating. The boat can accommodate up to 40 divers with the capacity to refill enough tanks for 3 dives. We only had 15 divers on board for the day so there was plenty of space for everyone.
Diving Day 1: Anemone Reef, Shark Point and Koh Dok Mai
Anemone Reef is a popular dive site frequented by dive boats from both Phuket and Koh Phi Phi, but this time we were in luck - we were the only boat there. The visibility was fantastic 15-20m and there was very little current. We had a good dive sighting - a great barracuda, many lionfish, a few morays, squid, a devil scorpionfish, in addition to the schools of snapper and colourful reef fish. The soft corals and abundant anemones were amazing, especially near the top of the pinnacle.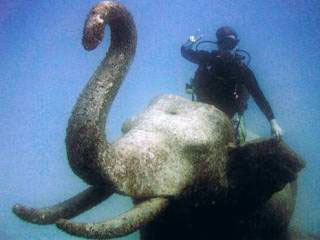 Our next dive was to be at Shark Point only 10-15 minutes away. Again there was excellent visibility and little current. We dropped in by the first pinnacle and finished the dive on the second pinnacle, seeing 4 leopard sharks, scorpion fish, lionfish, moray eels, a Kuhl's stingray and a tiger-tail seahorse. You cannot fail to be impressed by the colourful soft coral on the pinnacles especially in the sunlight at shallower depths.
At Koh Doc Mai the visibility was not as good but here there was very little current. We were fortunate enough to find a tiger tail seahorse, ornate ghost pipefish, cleaner pipefish, moray eels, and scorpionfish. There were lots of fish on the walls and in the crevices and a great variety of colourful corals and gorgonian sea fans.
Diving Day 2: Phi Phi Islands - Bida Nok and Bida Nai
The first dive at Phi Phi was at Bida Nok, one of 2 small islands to the south of Koh Phi Phi Leh. The water temperature was a very comfortable 29°C and the highlights were sightings of 3 cuttlefish, Khul's stringrays, various types of moray eels, lionfish, scorpion fish, and an octopus. During our safety stop we were entertained by schools of trevallies feeding.
At Bida Nai the amazing topography includes walls, large boulders, crevices and fields of staghorn coral. During this dive we saw large schools of yellow snapper, a large octopus, a huge barracuda, schools of trevallies and tuna, a stonefish.
Diving Day 3: Racha Noi, Racha Yai
Marina Bay, Racha Noi is where we first entered the water. Visibility was not great that day and there was a little current. The rock formations reminded me of the Similan Islands although there was not as much marine life. We saw large schools of yellow snappers, puffer fish, a red fire goby, butterflyfish, and some nudibranchs.
The visibility was better at Camera Bay on dive 2. There we sighted a number of interesting things including a mantis shrimp, slender stick pipefish, moray eels, and a devil scorpionfish. Amongst the rocks there were large schools of yellow snapper and numerous other tropical fish such as butterflyfish, surgeonfish, sweetlips and groupers.
Siam Bay, Racha Yai is a site that features man-made statues rising from the sea-floor including elephants, a giant oyster and a temple gate. We explored the statues for about 25 minutes before heading over to the reef. The reef itself is mainly hard coral of the staghorn and table variety. Unfortunately the coral has been badly bleached due to the warm water temperature experienced recently in Thailand. Despite this there is still a reasonable amount of marine life. Reef inhabitants we saw included lionfish, scorpion fish, titan triggerfish, puffer fish and moray eels.
• Watch our Phuket diving video
Resorts in Phuket
There are a huge number of accommodation options in Phuket and narrowing them down can be a tricky business. We recommend using our hotel-booking partner hotelscombined.com

who have a great range of choices and guarantee the lowest price around. Accommodation decisions are largely influence by budget.
If you want to be in a 4 star hotel close to the action, but in a quiet location then Seaview Patong Hotel

is a good option. Those on a medium budget might prefer a value-for-money option such as Thara Patong Beach Resort

and for those seeking an inexpensive but hospitable option, Baan Nern Sri Resort

could suit your needs.
Non-Diving Activities
There are all sorts of non-diving activities available in Phuket and the surrounding area. The list includes sea canoe daytrips, paragliding, sailing, elephant trekking, wildlife tours and more. Patong is also famed for its vibrant nightlife with restaurants and bars aplenty. Some are great for families, other have a slightly different clientele. See our Phuket tourist section for more information.
Phuket is also a great option for snorkellers. Guides will take guests into the shallower, smoother waters and stay with them, or if they prefer, non-divers can work on their tans on one of Phuket's many fine beaches.
Getting There and Away
Phuket is located in the south of Thailand, on the west coast of the Thai-Myanmar-Malay peninsula. There are direct flights to Phuket International Airport from Kuala Lumpur (Malaysia), Singapore, Hong Kong, and Bangkok (Thailand). Airlines include Air Asia (www.AirAsia.com), Thai Airways (www.ThaiAir.com) and Bangkok Airways (www.BangkokAir.com).
Daytrip boats all provide transport to the point of departure from various points in the main tourist areas of Phuket including from the Dive The World Thailand dive centre.
A Whole New World, Below the Waves in Phuket
I really enjoyed my Phuket daytrip experiences. We had 3 great days diving. The weather was hot and sunny and the sea very calm. The visibility was mostly excellent and there was very little current. On each of the 3 daytrip boats, the crew members were very helpful and professional, the food was plentiful and delicious and the customers all seemed to be having a great time.
Written by Justin Hartrey, November 2010

---
CUSTOMER TESTIMONIALS OF DIVE THE WORLD
... The booking process was easy, we paid the balance the night before received a full itemised receipt and confimed pickup at our hotel the next morning. Pickup as agreed , transfer was easy. Everything went as expected and was great fun. Dive The World's strengths are clear communications, trustworthy and established. Easy for me to book and confirm. ... -- Tim van der Weef, Singapore. [More customer reviews]