>
Dive Trip Reports
>
Miss Nouran
Egypt Liveaboard Diving
Brothers and Elphinstone Tour with Miss Nouran
Click on an image to enlarge

I have been fortunate enough to have hundreds of logged dives, but none done in the Red Sea which, for a European diver, is very unusual. Hurghada and Sharm El Sheikh are well known locations in the European scuba community thanks, in no small part, to the short distance that separates Egypt from Europe.
I had many questions in my mind before this trip: Was Egypt's popularity only because of its proximity to Europe? Are all the great things I have heard from friends about the Red Sea (healthy corals, impressive biodiversity, awesome visibility) really true? Or will the alleged overcrowding leave me in a bubbly diver soup? Most importantly I was wondering how the Red Sea can compare with other dive destinations around the world. I was soon to find all the answers ...
In September 2012 I stepped on board MY Miss Nouran for a 6 night trip to explore Elphinstone reef, the famed Brother Islands, and many more Red Sea dive sites as we set sail from Port Ghalib to Hurghada.
All my questions were indeed answered on what turned out to be an excellent week of liveaboard diving leaving me hungry to return. Excellent deep dives at Big and Small Brother gave me my first encounter with thresher sharks - a very distinct and impressive species. Grey reef sharks, schools of tuna and barracuda were also often seen passing by, eyeballing us as we made our way along pristine reef walls.
I was stunned by the visibility. The water is almost particle free, meaning a huge distance can be seen and even when the visibility drops it is seldom below an already impressive 25 metres. This feature plus healthy reefs, impressive gorgonian fans and countless colourful small reef fish, make the destination a photographer's dream!
However, it was not only the Red Sea reefs that I will remember for years to come. We also dived 3 wrecks at the Brother Islands and my favourite, the Miniya, a.k.a. El Mina, an Egyptian wreck 58 metres long that lies just outside Hurghada. Although it will never grab the headlines like the world-famous Thistlegorm does, I was very impressed by this wreck, with its surface-to-air guns and ammunition still visible. The varied sites and dream-like conditions of my Egypt liveaboard diving trip will live long in my memory.
The Diving in the Red Sea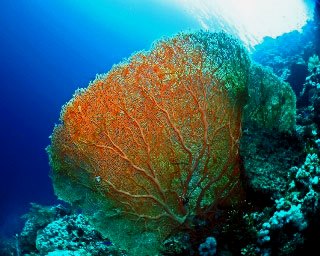 After leaving Port Ghalib, our first day of diving was spent Abu Dabbab, where we had our first sight of Red Sea marine life and also a chance to explore the wreck of a dive boat that sunk almost 10 years ago (the Heaven). Then it was time to head northwards, and spend another day doing a couple of great dives at the famous Elphinstone Reef where the main highlights were a shy grey reef shark swimming in the blue and, hiding in a gorgonian fan, a longnose hawkfish which is not so common in this area. The only negative side of the day was not having a picture of the grey shark as it was too far from our lenses.
On the third day, we finally entered the marine park of the Brothers, where we would spend 3 days of diving. To my surprise and joy, there were only 4 other liveaboard boats. It felt great to dive these well known sites for a couple of days without sharing them with hundreds of other divers as I feared.
Generally strong, the current was indeed mild and we had fantastic and easy dives around Little Brother, spotting fox/thresher sharks on several occasions. I was mesmerised by the thousands of orange anthias and even more colorful parrotfish and angelfish surrounding the healthiest of corals and sponges.
Big Brother brought even more surprises, most notably a thresher shark that came so close to me that I almost had to get out of its way! What a moment! We also saw Napoleon wrasse at almost every site, and also had 2 unforgettable scuba dives at the 2 wrecks Numidia and Aida that were good subjects for my underwater shots. Great memories, but what I really won't easily forget is the feeling of always diving in a big fish bowl, as the visibility was always at least 25 metres.
• Watch our Red Sea diving video

The Miss Nouran Liveaboard
When I first saw the liveaboards lined up at Port Ghalib, I instantly had the feeling of the boat standards being kept high by the strong competition that the Red Sea dive market offers. And Nouran fits well in the prince range that is offered, a wooden boat with well organized space, especially in the cabins, able to fit in bunk beds (the below one is queen size), a cabinet and a rather spacious all-in washroom: toilet, hot shower and hand washing basin.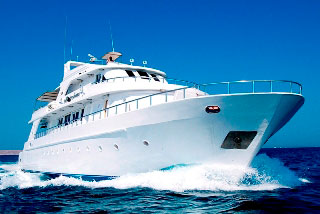 A pleasant surprise was to find that a bathrobe was provided - a useful and comfy bonus after the last shower of the day. The only minor issues I had, were that there were only 2 electrical plugs per cabin (and therefore 1 plug per passenger). So it was difficult to charge my 'toys' at once (laptop, batteries,..); the aircon fan was also a bit too noisy.
The dining saloon is on the main deck and has 2 large tables in it, with the meals being served as buffet. It also serves for the dive briefing location, with maps being displayed on the flat screen that can also be used for entertainment. Above it, there is a covered area where cuba divers can rest away from the sun. There are also 2 other cabins at this level, and in front is the wheelhouse and the crew cabins.
Another ladder then brings you to the highest sundeck, where cushions can be used for sunbathing. The dive deck is at the back of the dining salon. There is enough space for everyone.
Since they have a nitrox membrane system, the liveaboard crew refill your tank in its position and this avoids switching tanks in between the dives. We did have an issue with the compressor filters during the trip and couldn't get oxygen percentages higher than 25-26%, but I'm sure the problem will be fixed for future trips to come.
Diving with Nouran
We were only 10 divers on board (it can take up to 20) so space on the deck was not an issue for us, but I believe that even if the boat wass full, everyone could still easily gear up in comfort.
The only item missing, in my opinion, are proper tanks where you can rinse equipment such as torches, dive computers but, more important, cameras. There are 2 small tanks filled with water, but they are way too small for a housing with strobes and too far from the dive deck (they are at the bottom of the boat).
Another good addition would be a camera table where divers can fix and adjust their cameras, avoiding to do such things in the saloon or in the cabins, where the aircon is on.
Usually there are 3 dives each full diving day. You should bring your own torch as they are not available for rent on board (but we only did 1 night dive anyway). Nitrox fills are included in the price but unfortunately it's not possible to take nitrox courses while on board. The crew is very attentive and helpful. A big thanks to the engineer on board as he helped me on fixing my regulator when an o-ring busted up.
Food
Meals are buffet style, with a choice of 5-6 different dishes. It is mainly continental food, but always there are some Egptian foods to try as an alternative, such as sweet noodles in cold milk at breakfast, or dried camel meat and mashi (mashi means 'stuffed') - either aubergine or cucumber filled with rice and spices that I am unable to list but every guest on board really appreciated!
The cuisine involves a lot of vegetable dishes, seasoned very well. On the last night we had a whole turkey that was carved before our eyes. But I mostly enjoyed the grilled shrimps we had once (they were the size of a banana!), and the grilled snapper. A bowl of fresh fruit is always available, and also snacks over the day.
Getting There and Away
Miss Nouran has a variety of trips to choose from. Mine started from Port Ghalib, went up to Elphinstone and Brothers, then back to Hurghada, where we all flew in when we arrived. It takes up to 3 hrs to get from Hurghada to Port Ghalib, but it is all done in comfortable air conditioned vans, with the sea on one side and the desert on the other side, so it is a pleasant journey.
Once on board the liveaboard, our route involved very little travelling at night so we always got a good night's sleep. This was much appreciated since we 'enjoyed' early wake up calls to be the first ones in the water for the day (sunrise is at 05:30 am!). Every day was worth getting up early for and I look forward to the next time I can wake up and immerse myself in the underwater sights of the magnificent Red Sea.
Conclusions
Diving the Red Sea has left me with different things to reflect on. I can't stop saying that what struck me the most were the underwater conditions always being close to perfection, and therefore the colours of flora and fauna being highlighted by it. I did find a lack of macro life though (it would have been nice to extend my collection of nudibranch and weird critters pics) and unfortunately no hammerheads to be seen in a place where in the past it has been "the place to be" for hammerhead sightings.
However my trip was outside of the best time of the year for the 'big stuff' and considering that, I think we did rather well with our sightings. The Brothers national park is very well taken care of and therefore reef fish are abundant and the corals are still in very good condition (I probably saw the largest gorgonians of my diving career) and the dive sites are almost entirely rubbish-free. Having dived a lot in Asia, that is one thing I consider to be a major bonus of liveaboard diving in Egypt!
Written by Enrico, October 2012


---
CUSTOMER TESTIMONIALS OF DIVE THE WORLD
... This was my 3rd booking with Dive The World and the website is completely up to the mark. Very professional and elaborate in details, very user friendly. Nothing needs to change. All is completely in order. The service is prompt and efficient and the prices are unmatched; the discounts offered make things even better ... -- Suryaveer Rao, India. [More customer reviews]