>
Dive Destinations
>
Egypt
>
Hurghada
Your Guide to Diving in Hurghada
Dolphin Encounters and Wreck Dives Par Excellence
...Highlights: dolphins, non diving activities...
...Hurghada's diving environment: wreck diving, beginner and advanced divers, very popular...
Hurghada is located on the Egyptian mainland at the mouth of the Gulf of Suez, some 65 km southwest of the southern tip of the Sinai Peninsula, and Sharm El Sheikh just a few kilometres further. Such a position makes Hurghada an ideal base for scuba diving in the Red Sea since it is the main gateway for liveaboard trips to both the northern and southern sections of Egypt's Red Sea.
The local Hurghada dive sites can be quite interesting, with many coral reef sites dotted around Giftun Island. There is an interesting cave passage to explore at Umm Gamar but heading into the northern region is where the best action really is.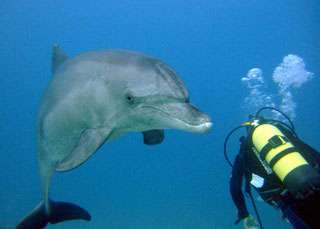 In the Shadwan and Gubal islands region there are several fantastic wreck dives, including the Abu Nuhas wrecks, the Rosalie Moller, the Kingston, Ulysses and Gubal Barge. These wrecks offer so much variety in terms of history, type, age and depth that you'll need several days of diving to experience all that Hurghada has to offer. There is even a house reef where dolphin encounters are highly likely.
What's more, Hurghada is often the departure point for liveaboard safaris to the Southern Red Sea of Egypt. Dive sites such as the Brothers, Daedalus and Elphinstone are frequently on the lips of experienced divers who visit the Red Sea, and each of these can be reached on liveaboards out of Hurghada.
With its days as a backwater village long since gone, the town is now a thriving Red Sea beach holiday destination. It offers all the usual attractions of a popular tourist area, all at competitive prices. So if you choose to base yourself here for some local day trip diving, or as a launch point to discover fantastic wreck and reef adventures further afield, few divers will leave here with a sense of disappointment.
Dive Site Descriptions
This reef system in northern Hurghada has 4 shipwrecks that are suitable for diving. Each of the wrecks has its own individual character and offers something unique. Therefore to dive all 4 of the wrecks together will be a complete and thoroughly rewarding scuba experience.
Carless Reef
This is a popular spot not far north from Hurghada for liveaboards (1 hour) and daytrips (2 hours) when the conditions permit. This isolated mid-sea reef, is found between Sha'ab Umm Qamar and Giftun Island and weather conditions often make the exposed site difficult or impossible to dive.
Show more
How to Dive Hurghada
For more information on your diving options, and all the other travel information you might need to visit Hurghada and Egypt, view our Red Sea liveaboard or Hurghada day trips sections.
The Egyptian liveaboards run trips that encompass the whole region, from the local Hurghada dive sites, up through the northern wrecks area, and on to the Sinai Peninsula and the Thistlegorm and Ras Mohammed. This is simply the most convenient and cost effective way to dive the whole northern Red Sea region.
Day trips from Hurghada will also visit the local sites, as well as allow you to dive the Abu Nuhas wrecks that are further afield. However, although day trips will appeal to those that prefer to base themselves on terra firma, it must be understood that daily travel times to the further sites will be 2-3 hours each way.
For the holiday adventure of a lifetime, why not combine your diving trip with a tour to discover the historical sights of Egypt? You can take a River Nile cruise or a Cairo city tour: Egypt antiquity tours.
The Hurghada Diving Season
The northern Red Sea is slightly cooler than the southern section. For diving Hurghada, temperatures peak at 27-28°C during July to September. After these months the temperatures slide slightly down from 27-25°C in October and November. They continue their downward journey from December to February, plummeting from 25-22°C. After the annual lows of February, things start to warm up again to 22-26°C between March and June.
Corresponding air temperatures see summer averages of around 35°C in Hurghada, sometimes inching up into the low 40s. Temperatures in the cooler winter months, such as January, tend to hover around the 20°C mark. For more useful information on Hurghada's climate, visit the Weather & Climate

website.
Many marine creatures are sighted regularly by scuba divers throughout the year around Hurghada without there being any specific optimal period. Such creatures include the dolphins, dugongs, grey reef sharks and white tip reef sharks.

Where is Hurghada and How Do I Get There?
Review our maps below of the Hurghada region and its host country Egypt. Here, you will find information on how to get to Hurghada.
Reef Summary
Depth: 5m - >40m
Visibility: 10m - 30m
Currents: Gentle - moderate
Surface conditions: Calm but can be choppy in some places
Water temperature: 22°C - 28°C
Experience level: Beginner - advanced
Number of dive sites: ~40
Recommended length of stay: 1 - 2 weeks
Useful References


---
CUSTOMER TESTIMONIALS OF DIVE THE WORLD
... Flexibility and adapting to our needed changes fast. Clear options on the Dive The World website of different resort possibilities. The fact that everything's included for the most part, as well as transfers, which makes everything much easier. All in all, it was very good and we're very satisfied with our vacation! ... -- Benoit Strat, France. [More customer reviews]