>
Dive Destinations
>
Egypt
>
Hurghada
>
Abu Nuhas
Hurghada Diving The Abu Nuhas Wrecks
...Highlights: dolphins...
...Abu Nuhas' dving environment: wreck diving, beginner and advanced divers, very popular...
In the Shadwan Channel, just off the north coast of Shadwan Island (the Egyptian Red Sea's largest island) north of Hurghada, lies Shaab Abu Nuhas Reef. This submerged reef has brought passing ships more than a fair share of bad luck. There are 5 cargo shipwrecks now lying off its northern slopes so if you enjoy wreck diving then this part of the Red Sea is for you. In order from west to east ...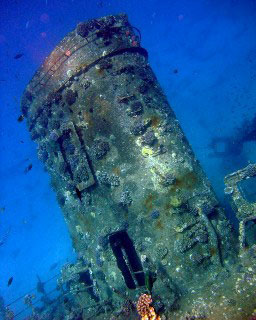 The Giannis D, a 100m general cargo vessel built in Japan but under Greek ownership, hit the Abu Nuhas Reef at full tilt on 19 April 1983. The ship, laden with timber, sank to 24m with the stern and bow still intact but amidships is now a crumpled mess. The engine room at a depth of 13m offers easy and superb penetration through clouds of glassfish.
You can investigate the multilevel rooms and passageways here for octopus and giant moray eel. The bow mast extends out horizontally from the boat, creating a great spot to search for scorpionfish, gobies and nudibranchs. To end your dive you can simply climb the main mast up to the shallows at 4m and perform your safety stop there.
The British built Carnatic is one of the oldest wrecks in the Red Sea and is many scuba divers favourite at Abu Nuhas. It hit the reef here on 12 September 1869, laden with gold, wine and cotton on route to India. The cargo ship initially balanced on top of the reef but after 36 hours it succumbed to the elements and its fate, snapping in two and sinking parallel to the reef at 24m. The crew and passengers managed to make use of the delay by escaping on lifeboats to Shadwan Island, 3 km to the south. However, 31 lives were lost on the island due to the cold nights whilst waiting for rescue to arrive. All the gold was remarkably salvaged some 2 months later by another British ship. Show more

Reef Summary: Wreck diving
Depth: 5 - 32m
Visibility: 20 - 30m
Currents: Can be strong
Surface conditions: Choppy
Water temperature: 22 - 28°C
Experience level: Beginner - advanced
Number of dive sites: 6
Diving season: All year round
Distance: 40 km (2½ hrs) north of Hurghada, 50 km (3½ hrs) SW of Sharm El Sheikh
Access: Daytrips and liveaboards


Useful References