>
Scuba Day Trips
>
Egypt
>
Hurghada
Hurghada Diving Packages
Best Dive Daytrips, Resort and Travel Information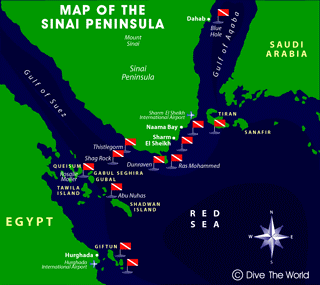 Hurghada has become one of the busiest tourist spots on the Red Sea coast and it is also acclaimed as an international centre for aquatic sports. The unique underwater gardens offshore are some of the finest in the world, making diving packages in Hurghada justifiably famous.
Hurghada stretches along the Egyptian mainland coast for some 40 km but doesn't stretch far into the surrounding desert. Known as the 'Venice of Egypt', this once small fishing village is now the country's 2nd most popular dive resort area. [More information on these dive sites: Hurghada, Abu Nuhas wrecks, Thistlegorm].
The sparkling waters off Hurghada are also a playground for windsurfing, sailing and swimming, while the beaches are a great place to work on your tan. In fact this is a popular tourist destination for divers and non-divers alike, and you will see many holiday-makers in the restaurants, markets, shopping centres and hotels of Hurghada.
Hurghada Day Trip Diving Options
We recommend that you book a Hurghada day trip diving package with us. There are over 40 dive sites to explore by daytrip. Discover them for yourself:

Where to Stay in Hurghada
There's a wide variety of diver-friendly accommodation in Hurghada at hotelscombined.com, our affiliated hotel reservation specialists. Take your pick from dozens of options, from international 5 star hotel chains to budget guesthouses, and everything in between, there's something to suit everyone's taste and pocket.
Make your choice and book from their full range of Hurghada resort options

, use their on-line chat to ask your questions, or simply use your credit card to make your booking. And you can be sure that whatever option you go for, it will be backed up by their 'Low Price Guarantee' to ensure you get the best value for money.
Whichever option you choose, stays of 1 week are ideal. Hurghada diving packages normally include dives and boat-hotel transfers.
It's also possible to visit these dive sites on a liveaboard boat charter, if you prefer.
The Climate and Best Time to Visit
There are 2 seasons in Egypt - a hot summer (31-36°C from May to October), and a mild winter (21-29°C from November to April). The weather is mostly ideal and sunny, but nights can be surprisingly cool. Rainy days are few and far between.
The water temperatures in Hurghada peak at 28°C from July to September, gradually falling to 22°C in February. There really isn't an optimal time to come as Hurghada is a year-round diving destination. Some scuba divers prefer the warmer water in the summer months, whilst others come during winter to escape the cold weather of Europe.
How to Get There
Located about 530 km south of Cairo, the easiest and most expensive way to cut a line straight to Hurghada is a 1 hour long flight via Egypt Air

from Cairo. Via the UK or Europe, it's also possible to reach here via a direct flight of about 5 hours or so. An alternative route is to fly direct in to Luxor and get a 4 hour taxi from there to Hurghada. This often saves on a connecting flight from Cairo since Luxor has an international airport.
For the budget conscious, or those willing to go out of their way for an adventure, Hurghada is also accessible from Cairo via taxi or bus, both of which depart from the Eltorgan Station in the centre of Cairo. A 6 hour journey on the East Delta bus will deposit you in the town centre. A taxi, for which the rates should be negotiated prior to setting off, will be slight faster and perhaps a smidgen more comfortable.
We recommend that you consider taking out insurance to cover resort diving and travel activities, including trip cancellation. See our insurance programme for a competitive quote:
Sightseeing and Things to Do in Hurghada
Why not combine your Hurghada dive trip with a tour to discover the historical sights of Egypt? You can take an overland tour of Cairo to visit the pyramids, Sphinx and museums, or a Nile River cruise through the Valley of the Kings. Egypt antiquity tours:
The town is the fusion of 3 centres, namely New Hurghada, El Dahar and Sigala. As they expand, these 3 centres are growing into one conurbation and it must be said that Hurghada is a town seemingly under constant development.
Downtown Hurghada, or Dahar, is the oldest district of the city. As in all of Egypt, the proprietors of the busy bazaars and shops will relentlessly hassle you for business. Sigala towards the south is right in the middle of the tourist section. Here you will find a treasure trove of hotels, bars, cafés, beach discos, hotel discos and shops. As you go even further south, you will encounter New Hurghada, which sports a walkway with cafés, a shopping mall, shops and even a bowling alley. As a whole, the area is regarded as a bit of a party town and discos and bars are easy to come by.
Island Hopping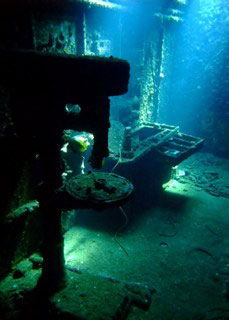 Giftun Island is high up on the "to do" lists of diving tourists in Hurghada. The reef sand island is surrounded by vibrant corals, which is home to exotic marine life. Here you can soak up as much of the Egyptian sunshine as you can manage on the beach, or swim in the crystal clear waters.
Nearby other islands abound and you can easily venture off to Shaab El Erg, Shaab Abu Shiban, Umm Gammar Island, Sharm el Arab, Shaab Abu Hashish Island and Abu Mingar Island.
Desert Safari
Of course, a visit to Egypt just wouldn't be complete without at least one desert safari. Although safaris can range greatly in format, duration, vehicles and prices, most trips will take you off the beaten track and as far into the desert as 40 to 80 km. Trips vary in length from 3 hours to a whole day, but it's a great thrill to explore the sand dunes on either quad backs or in a Jeep.
Hurghada Zoo
If you prefer your wildlife slightly more contained, then visit the zoo where a variety of local and foreign animals are on display. Hurghada is also a haven for ornithologists.
Ancient Christianity
For a small sampler of Christianity, you can visit the St. Anthony and St. Paul Monastery, which were founded by Christian monasticisms.Coptic monks perform a variety of religious rituals that can be viewed by the curious.
Local Culture
For a taste of local traditions, customs and food, the Fantasia 1001 Show at Alf Leila We Leila is a must visit. Witness belly-dancing, full blooded Arabian horses and a sound-and-light show that will have you feeling like you've stepped onto the set of Lawrence of Arabia, all whilst feasting on an oriental dinner.
Watersports
Hurghada, the tourist destination that it is, has a host of water sports on offer. Deep-sea fishing, swimming, snorkeling and windsurfing, as well as scuba diving, are all accessible via various locations along the sandy beaches.
Hurghada's Submarine
If you happen to be traveling with non-divers, then the ideal way to share your passion for marine life with them is Hurghada's small submarine. Dive to a maximum depth of 22m and share the joys of the underwater world whilst leaving buoyancy control to the pilot. A typical trip will allow you 50 minutes of bottom time.
The Beaches
In Hurghada the quality of your beach is directly linked to the quality of your hotel as most of the beaches, save for a stretch of a few hundred meters or so, are ruled by hotels. Access to the beaches is usually possible though, as the hotels allow visitors, albeit for a fee.
The Old Vic Tourist Village features a sandy beach, which is quite large and is also decently sheltered. This makes it ideal for families.
Hurghada's longest beach is at the Magawish Resort Village. Located just 10 minutes from both the city's downtown area and the airport, the village is quite big and ideally located.
About 2 km of beach can be yours for a few dollars per day at Shedwan Golden Beach Hotel, which includes the use of the Village's pool - a bargain!
For more ideas visit: Leisure Travel Egypt

.
Restaurants and Entertainment
Egypt is considered a melting pot of cultures and is observed no better than in its cuisine. As a pit stop and link between Africa and Asia, Egypt's cuisine comprise the best of both worlds reflected in their food.
Local dishes are often meaty with hints of spice and subtle fruity flavours. Hurghada, however, is a cosmopolitan resort city and thus, if you so wish, you can find the cuisine of just about any country. Fast food, western food, oriental food, you name it, it's likely represented on the highways or byways of Hurghada.
Marina Boulevard is a recently opened venue set amongst beautiful surroundings. It's home to about 15 upmarket restaurants, which includes fare ranging from Thai food to Sushi, fish and chips to continental and much in between.
Hurghada's nightlife is legendary in the region and is one of the major attractions of the town. As such a variety of entertainment options abound all over town. There are of course, the international names like the (in)famous Hard Rock Café, but in addition to these and similar bars and pubs glimmering with their international sophistication, the local hang outs should not be frowned upon.
Local haunts are the best places from where to get insight into the life and times of the locals. Papa's Beach Club, for instance, comes highly recommended and is very popular amongst the young and hip. Black Out Disco, the Calypso, the Jungle Disco of Grand Hotel Mall, and Disco of Hadaba Road are all popular spots with local flavours.
Theme nights are common practice and vary in popularity. Keep and eye and ear out for news about the hottest places to be seen at around town.
Bazaars are the shopping staple of Egypt and in Hurghada this too holds true. The largest of its kind, the Downtown bazaar is the town's biggest and features a caboodle of tourist stalls selling a host of bits and bops to satisfy your curious thirst.
Be advised though, Sigala's prices are some 10-50% lower than downtown prices. Here is where you'll find price tags on souvenirs around the range you'd find in Cairo's Khan El Khalili bazaar.
Other worthwhile places include Marc's Bazaar, which sells shoes, perfume, clothes,souvenirs and other popular tourist items. Don't miss the Alama and the Papyrus shop for everything and the kitchen sink, when it comes to gifts.
If you'd prefer not to bargain for every item you're interested in, try the fixed-priced shopping to be found at the Marina Boulevard.
Local Transport Options
Hurghada's transportation system is much like elsewhere on the Red Sea coast with the minibus being the city's main form of transportation. Cheap and quick, minibus routes are plied frequently enough to never have to wait too long for one to zoom past and be flagged down pretty much anywhere along their route.
Local taxis are a secondary option within the town, but be sure to negotiate your rate prior to setting off on your journey as rates can vary according to the whims of the driver.
Useful References for Hurghada Dive Packages


---
CUSTOMER TESTIMONIALS OF DIVE THE WORLD
... Beef did a really good job handling all my queries. I got what I paid for which these days is a real plus. He reviewed my flight details, gave me some good advice, was persistent in following up with me ... Nice job Beef, thanks for your help ... -- Andrew Thomson, Singapore. [More customer reviews]