Your Guide to Elphinstone
Marsa Alam Diving Adventures
...Highlights: shark action, schooling fish & big pelagics...
...Elphinstone's diving environment: healthy reefs, wall dives, drift diving, caverns, advanced divers, very popular...
This is a cigar-shaped reef running north-south and over 400 metres in length, located in the southern Red Sea, close to Marsa Alam. It was named after Admiral George Elphinstone, a British naval commander who served in Egypt in the Napoleonic wars at the beginning of the 19th century. Marked at the sea's surface by just a few small breakers, its healthy marine life and underwater landscapes make it one of the best Red Sea diving sites.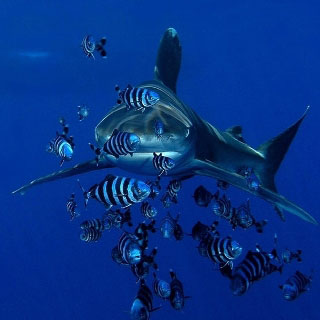 The northern and southern tips of Elphinstone have 100m wide plateaus between 20-40m deep, covered with soft corals, huge gorgonians, sponges and sea whips. Diving at the Northern Plateau, it's best to drop in further to the north and drift onto the finger-shaped plateau. Here you'll find purple dendronephthya, brown soft corals and crowds of redtooth triggerfish, fluttering in the current. Giant trevally and great barracuda often hunt here and reef sharks are common. This is also location where you are most likely to spot hammerhead sharks at Elphinstone, although they remain a very elusive sighting.
As you swim closer to the shallows you'll join up with the wall covered in gorgonian fans and intricately carved with overhangs and cracks. This majestic underwater tapestry of Elphinstone is brightly coloured by purple and orange anthias, angelfish and emperors go about their daily business, and flutemouths move stealthily through the shallows.
No strangers to Elphinstone's Southern Plateau and frequently spotted are oceanic white tip sharks, seemingly always accompanied by pilot fish. These sharks seem curious of scuba divers and often return for a surprise second look. Oceanic whitetips are rare sightings elsewhere in the world so this fish, perhaps more than any other, has come to represent what's so special about diving in the southern Red Sea. Best time for an encounter: October until the end of December.
At the western side of the south tip plateau, there are a number of cave entrances at a depth of 30-35m. Here lies the infamous Elphinstone arch, a 10m high tunnel that connects the western and eastern side walls. The tunnel is beyond the limits of recreational diving and penetration should not be attempted without proper training. Stay close to the reef to avoid being swept out to sea if the current is strong.
The Eastern Wall offers awe inspiring wall diving, while strong currents make this a spectacular drift too. The sheer walls plunge away vertically to invisible depths of more than 100 metres, covered in a rainbow of beautiful soft coral colours as far as the eye can see. The vibrant fish population features barracuda, schools of jacks, angelfish, snappers, Napoleonfish and large tuna.
The Western Wall is steep and so has more ledges and caverns that attract titan triggerfish, soldierfish and squirrelfish. There is one huge buttress which runs down to 10m and creates a large overhang where black snapper congregate.
The only down side to diving Elphinstone lies in its popularity and proximity to Marsa Alam. Being one of the most popular sites in the Red Sea, There are usually several liveaboards and day trip boats moored here all day long. Having said that, Elphinstone remains a site in the realm of advanced divers as it is an open ocean site and currents can be strong. The current runs in a north-south direction along the east and west walls, making this a drift dive.

Reef Summary: Plateaus, wall diving and sharks
Depth: 5 - >40m
Visibility: 20 - 35m
Currents: Can be strong
Surface conditions: Generally Calm
Water temperature: 23 - 30°C
Experience level: Intermediate - advanced
Number of dive sites: 4
Diving season: All year round
Distance: 25 km north of Marsa Alam (1½ hrs), 230 km (14 hrs) south-east of Hurghada
Access: Liveaboards
Useful References


---
CUSTOMER TESTIMONIALS OF DIVE THE WORLD
... The service that Dive The World provided was very good. We always got immediate responses to emails sent. This is our second holiday booking with you and I look forward to working on the next holiday with you ... -- Meredith Slevin, Australia. [More customer reviews]