>
Dive Trip Reports
>
Raja Ampat Aggressor
Raja Ampat Liveaboard Diving Tour
Diving West Papua on Raja Ampat Aggressor
Click on an image to enlarge

Seeing new species and having novel encounters underwater are what make and keep diving such a fascinating activity. I was reading all about Raja Ampat before my liveaboard trip and was marveling at the vast number of fish species, many of which are endemic to the West Papua region. There must still be a good number of as-yet-unidentified species there. As I assembled my camera equipment I was thinking "Even if I photograph a new species I probably won't even know it!"
Speaking of new experiences, I was also going on my first Aggressor liveaboard cruise. The name of this fleet is unavoidable if you know anything about dive travel around the world. I was interested to see what their service was like. Although an international business, a lot of their customers are from the USA and that can mean they are a very demanding clientele. So I was looking forward to assessing the personal service on board and, of course, the dining experience.
Right after the first diving day at Raja Ampat I honestly didn't know if I and the guests on board could have expected more from this trip! I was speechless. When you describe in your logbook on a single dive such encounters as oceanic mantas, grey reef sharks, black tips, wobbegong sharks, pygmy seahorses… You can't really ask for more without sounding greedy. But the truth was that we still had another 8 days of diving left, 8 days that soon we discovered would be full of amazing surprises….
West Papua Diving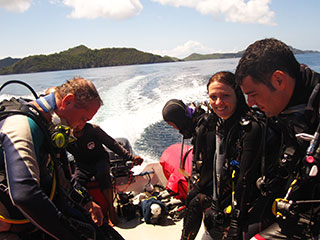 We embarked in Sorong and left on the same day. Our destination was the Dampier Strait where we spent the first 3 days of diving. Highlights of these 3 days were surely Blue Magic where we encountered the first wobbegong shark of the trip, Manta Sandy where we witnessed at least 5 oceanic mantas getting cleaned by cleaner wrasses, and the dive at the Airborek jetty where the desire for muck diving was fulfilled: pygmy seahorses, ornate ghost and common pipefish, weird nudibranchs and much more.
Then we spent a full day doing 3 dives around the Fam Islands before embarking on a long journey that would bring us to Farondi and Misool for the last part of the tour. I was astonished by the beauty and health of the coral that grows in the Fam waters. Both hard and soft coral seem to have found their sheltered homes here. The variety of colours is just breathtaking even for the most experienced scuba divers. No sign of destruction due to over-fishing or, worse, to over-diving!
Misool and Fam islands still gave us great dives, although the visibility seemed to drop a little when compared to the northern sites that we visited during the first part of the trip. Melissa's Garden was an outstanding dive, where the soft and hard coral mixed together, creating a colourful show that left us in awe. I even managed to spot a juvenile ornate ghost pipefish! My guide told me they are very rare to see. I guess it was just my lucky day. We even had dolphins swimming along while we were on the dinghies heading back to Aggressor. A perfect day.
The last part of the liveaboard trip was in the Fabiacet islands where we made our last dives before heading back to Sorong for disembarkation. Diving in this area seemed to be more focused on pinnacles instead of reefs. Mild to strong current brought big fish closer to the sites, where myself and my fellow guests had to sometimes use our reef hooks against the current and then snap pics of barracudas, tunas, jacks and some reef sharks as they pass by, hunting small prey below our eyes.
• Watch our Raja Ampat diving video

The Diving Procedure
Dive briefings and the gearing up are done on the dive deck. There is enough space between tanks (and therefore between divers) and also enough space to keep all your gear. There's a box below your tank where you can store booties, weights and anything you might need during the dive. There are also 2 huge camera tables where scuba divers can set their shooting equipment. Photography is taken very seriously on board of the Raja Ampat Aggressor. Not only because there are underwater cameras for rent, but also because each guide takes pics while diving and then given to the guests at the end of the cruise, free of charge. Michael also made a video of the 10 day trip and then sold it as a souvenir for whoever was interested on buying it, at a very reasonable price.
2 dinghies bring the divers (usually divided in to 3 groups of 5) to the sites. The ride usually doesn't last more than 5-10 minutes and the ladders by the side of each dinghy make getting back on board quite easy.
There can be current on some of the sites, but detailed briefings and extra care by the guides make the whole scuba diving experience safe and enjoyable. Drift dives are quiet common, but we also did a few muck sites.
The On-board Dining Experience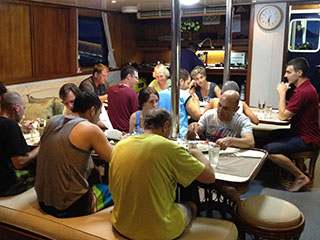 Whoever has been on a liveaboard tour before should know the routine very well by now: a light breakfast before the first dive, a bigger breakfast and then the second dive. There's then a buffet lunch before the third dive of the day, while a 3 course dinner is served at the tables at 6 pm. If there is a night dive it takes place at 7 pm after the meal.
The food on board is great. The 2 chefs on board did an outstanding job in trying to come out every day with something new to tease the guests' palates. It was like a discovery of different cuisines from around the world: Mexican fajitas, Italian lasagne, Japanese sushi and sashimi, …. And also great dishes such as sirloin steaks, grilled snappers and more.
Salads and fruit salads were served at every meal, to allow guests the chance to refuel plenty of vitamins and liquids that get lost during the daily activity of diving. All the drinks on board the liveaboard are free of charge, including beers and a glass of wine at dinner. Make sure not to miss the tiramisu dessert nor the fried bananas with hot chocolate cream – yum yum!
Raja Ampat Aggressor: Cabins and Facilities
The boat is actually named Ocean Rover. It used to operate in Thailand until it was brought to Indonesia. It has been under the Aggressor management for the past 4 months (at the time of writing). It can take up to 16 scuba divers, in 8 twin/doube bed cabins located on both the main deck and upper deck. All rooms are ensuite. Space is not their best feature, but beds are comfortable and of a good size even for someone like me (1.85m). Divers might find it difficult to store all their belongings in the cabins though, as basically there are only 2 drawers for each guest and no closets. Showers and toilets are in a small cubicle, only separated by a plastic curtain. But I found my cabin, that I was sharing with another guest on board, enough for the purpose of sleeping and showering. Air-conditioning and hot water are available.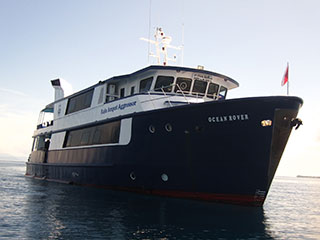 The upper deck of the liveaboard also hosts the bridge and the sundeck where guests can enjoy both a shaded area and a roofless one for tan seekers. The dive deck occupies a third of the main deck at the stern. It features tanks, compressors, camera water tanks, and also a table where dive site maps are drawn daily for briefings.
A door then brings you inside the air-conditioned saloon, where meals are served. There are 2 long enough tables to host all the 16 guests on board, 2 comfy sofas and cafe tables where guests can relax, consult one of the several fish books that are available on board, or simply listen to music or watch a movie on the big screen.
There is also a desktop computer that customers can use for downloading their pics or any other use they can think of. Thumb drives are also available for downloading movies that then can be watched on the flat screen TVs that are available in every cabin.
We all very much liked the presentations that on some nights Michael (the Polish cruise director on board, also fluent in Bahasa, Russian, and of course English) but also some of the local divemasters gave us after dinner. The first one was about the different cruise routes that the boat goes on throughout the year, with some amazing pictures that were collected over the years. But my favourite presentation was surely the one done by Harry, a local divemaster that used to work at the Misool Eco Resort. A guy with tons of underwater experience and passionate about critters. And indeed his presentation was about the pygmy seahorses: an overview of the 7 known species in the world, their habitat, reproductive circle, feeding behaviour and their predators. I must say that I learnt a lot from Harry during these days on board the Aggressor liveaboard.
Being very popular among our American customers, I was surprised to find only one couple from California on board. The majority of the guests on board were instead from Canada, then a group of Germans and Spanish. All were good divers, everyone keen on underwater photography just as much as me, although I had the smallest camera on board…
In Summary
The Aggressor fleet delivers great on board service, an experienced and attentive liveaboard crew and great dive tours. Raja Ampat Aggressor does fit well in all the above, and the experience that I was fortunate enough to have was more than pleasant. I can certainly recommend it to all the scuba divers looking for a good boat with great food and service but, most important, for outstanding diving that Raja Ampat delivers week after week. Highly recommended.
Written by Enrico, December 2015


---
CUSTOMER TESTIMONIALS OF DIVE THE WORLD
... We got a very good service from Dive The World. The website was great. The booking service was all good. So thanks to Beef for helping us book this great trip. ... -- Stella Shenglan, China. [More customer reviews]