>
Dive Trip Reports
>
Humboldt Explorer
Galapagos Islands Trip Report
Exploring the Humboldt current
Click on an image to enlarge

Finally, I got the call to visit one of the final iconic dive destinations remaining on my "must do" list, the acclaimed Pacific Ocean megafauna hotspot of the Galápagos Islands. My business partner had been here 3 years previously and wrote of incredible encounters with huge walls of weaving hammerhead sharks, dolphins, sunfish and playful seals. This trip had a lot to live up to …
Diving in Galápagos
Being a strictly warm water diver, I chose to visit during the "shoulder period" of April/May at the start of the season to avoid the cooler Humboldt currents. I visited on the Humboldt Explorer, which was the only boat I saw during our entire cruise - we had these wondrous waters entirely to ourselves … well, we shared it with dozens of hammerheads, Galápagos sharks, silky sharks, sea lions, dolphins, mantas, mobula and eagle rays, schools of Sea of Cortez chub, Pacific creolefish and more moray eels than I have ever seen before.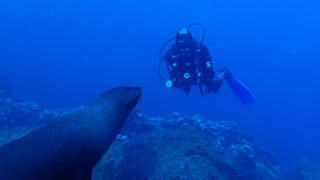 Other highlights were a superb dive at Shark Bay with the juveniles of its colony of fur seals and a fleeting glimpse of a massive whale shark - the first of the season. Young seals seem eternally curious and playful. Our group of divers dropped onto some rocks in the shallows and waited for the seals to arrive. Firstly, they dipped their heads in the water from the surface to see what strange creatures had arrived in their property. Then they took it in turns to shoot down and buzz around our heads for a closer look, the braver ones swam down and perched on the rocks themselves, gazing intently at us - a wonderful encounter.
Another favourite was a further dive at Wolf Island where a pod of 100+ dolphins swam past our group at 15m. Needless to say, several of the dolphins paused and approached, giving us a thorough check-out before passing on. Unlike in other locations around the world, the dolphins of the Galápagos Islands are friendly towards scuba divers.
We didn't see the endless banks of hammerheads (that is possible at any time of year but more certain from June to December) but diving in Galápagos was a terrific experience nonetheless - where else in the world can one see tropical sharks such as hammerheads, as well as cold water animals such as seals and penguins? It was such a privilege to dive in waters far from the damaging hands of humans, where the skies are full of friendly sea birds, the lands are ruled by endemic animals that have lived here alone for millions of years, and the seas are teeming with a biomass of life just as nature intended it.
• Watch our Galapagos diving video

The Diving Procedure
Divers are split into 2 groups of 8 (4 buddy teams) and are assigned to the grey or red zodiac for the duration of the trip. The 2 dive guides swap between the 2 groups each day. Safety is a prime concern and all divers are issued with a Nautilus Lifeline GPS system and sonic Dive Alert for the duration of the trip. The dive deck is quite spacious with each dive station having storage space under the seat and having enough space for 2 tanks per person - an air and an EANx tank each.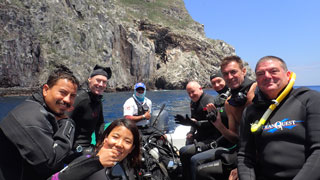 Everybody gets kitted up at the same time and boards their zodiac. Dives are a maximum of 100 ft (30m) deep and there is a limit of 4 dives per full day, although there are fewer dives on the days with land excursions. There are 4 x 15 litre tanks for "heavy breathers", and divers are expected to complete safety stops in buddy pairs if they run low on air before the whole group is ready to terminate their dive.
At the end of every dive, fresh towels and a warm drink and/or snack are available. There are also 2 hot water showers and a toilet on the deck.
Rental equipment is good and suitable for cold water diving, although hoods and gloves are not available for rent but are recommended. I was delighted to find that my 7 mm rental wetsuit was brand new! There is a spacious camera preparation table on deck and 2 large steel rinse tanks.
The conditions during my trip at the end of April were - hot and sunny weather - day temps pushing 85F (30°C). The sea was calm with water temps 72-79F (22-26°C). Visibility was 15-40 ft (5-12m). Currents can be strong and gloves are strongly recommended. Overall, the diving was fairly easy - quite unusual for the Galápagos Islands.
The Itinerary
The cruise focussed the bulk of its dives at Darwin and Wolf - the premier dive locations of the Galápagos Islands, far from the reach of day trips from the inhabited islands. We also dived at Santa Cruz and Isabela islands on the outbound and inbound journeys. In total there were 19 dives, 15 of which were at Darwin and Wolf islands.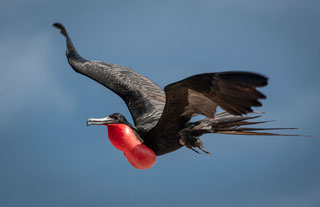 There were also 2 land excursions during the trip. The first was on North Seymour Island to visit the local wildlife. We walked for 2 hours to see the colony of blue-footed boobies, frigate birds, gulls, land and marine iguanas, as well as sea lions and fur seals. It was heart-warming to find a place where animals were not fearful of the approach of humans. The second tour was to the Santa Cruz highlands to see the giant tortoises in their natural habitat.
Colette, one of the Humboldt Explorer's divemasters, is also a trained natural history guide and gave a couple of fascinating speeches about the geologic formation of the Galápagos Islands, and how the oceanic currents worked in the region to permit the migration of a tiny number of animals from the South and Central American mainland to populate the islands several million years ago and begin their evolution into distinct endemic species.
The Boat
The Humboldt Explorer has been running Galápagos diving safaris for 8 years now. It can take 16 guests onboard. With a large dive deck, a saloon furnished with 2 dining tables set for 8 diners each and an 8 seat lounge area, plus a sun deck with lounge seating, sunbeds and a whirlpool bath, there is plenty of space when the sun shines. The boat features plenty of safety and navigational equipment, as expected from a boat cruising in remote waters, and is in good condition and handles the waves well. There are no movies on board so bring your own to watch.
• Watch our Humboldt Explorer video

The Cabins
There are 8 similar cabins in total - 2 on the main deck and 6 on the lower deck. Cabins can be configured as double or twin bed and are in good condition and a fair size for 2 persons sharing. They feature individual control air-conditioning, windows with blinds, bedside table, lights and dimmer switch. Each features a bathroom with toilet, soap, towels, hot water shower, rails, mirror, and hand basin. The 2 upper deck cabins have much larger sea view windows so I would request one of these if they are available.
The Food
Ecuadorian food is not renowned the world over for its creativity and variety. And the remote Galápagos Islands suffer from a lack of availability of foods that might be taken for granted in other places. But the Humboldt Explorer kitchen did a good job with its limited resources. Most guests were satisfied with the variety, quality and quantity available.
Breakfast is scrambled eggs, sausage, fruit, cereals, toast. I was delighted to find that the boat had managed to source vegan yoghurt and almond milk upon request for me.
Main meals always featured a good variety of salads, rice, beans, maize, etc. Grilled fish, roast chicken breast, squid, beef burgers, quiche and soufflé were all presented during the week. I had veggie sausages and burgers, and various soy meat dishes. Desserts included Crème Brule, trifle, strawberries and cream, and sponge cake with custard. Some of the "crowd favourites" were ceviche, Mexican burritos, and the roast turkey.
Meals were laid out buffet-style in the air-con saloon. The saloon also features a bar where free drinks are available - beer, wine, and a few spirits, as well as fruit juice and cola.
Getting There and Away
It's possible to fly into Ecuador at Quito or Guayaquil from Europe, North America, or Central and South America, especially via Panama City. Then guests usually "over-night" and catch a morning flight through to San Cristobal in time to board the boat on the day of departure. At the end of the cruise, passengers depart from Santa Cruz/Baltra Island, back to the Ecuadorian mainland. Internal flights are arranged by the boat operator.
Note: it's also possible to fly in to Baltra and stay in Santa Cruz for a few days to enjoy some of the many land excursions available there. I enjoyed visiting the Las Grietas, Tortuga Bay and the Charles Darwin Research Station on Santa Cruz, as well as the Interpretation Centre in San Cristobal.
Conclusion
Many guests agreed that this was the best dive destination that they had visited, despite the fact that it didn't deliver as much as had been hoped for by the more experienced scuba divers. The Humboldt Explorer liveaboard is one of the more affordable options to sample this great wildlife treasure and its staff and facilities enabled us to have a great time. I will be back, but I suppose I must brace myself for the colder water next time!
Written by Sheldon Hey, May 2018


---
CUSTOMER TESTIMONIALS OF DIVE THE WORLD
... Booking with Dive The world was very good. The process was very smooth. The website was easy to search and they were easy to communicate with. ... -- Shangru-Li, China. [More customer reviews]