>
Dive Trip Reports
>
Spirit of Freedom
Tours to the Great Barrier Reef
Spirit Me Away to Freedom
Click on an image to enlarge

A dream flight across the Great Barrier Reef ... a few days cruise on one of Australia's finest liveaboards ... diving at Osprey Reef, generally reputed to be one of the region's greatest scuba spots ... I repeated this mantra over and over again as I tried to get myself together for my morning hotel transfer. A few glasses too many of Cairns hospitality the previous night was making the job harder than it should be, but in reality, there was little to complain about as I set off for what could be some unforgettable diving on the Great Barrier Reef.
5 days later, as we arrived back into port at Trinity wharf in Cairns, my mind was awash with memories of our few days on the Ribbon Reefs and Osprey Reef. I had joined a 4 night trip and we had been treated to pristine reefs, stunning visibility, sharks, rays and a fabulous variety of marine life and underwater seascapes. It had indeed been a diving cruise to live long in the memory.
Being on the Spirit of Freedom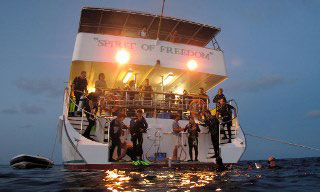 Heads would nod in knowing approval when I told people I was going on the Spirit of Freedom. It is generally considered to be as good as it gets when talking about liveaboard diving in Australia.
• Watch our Spirit of Freedom liveaboard video

Our dinghy transfers were waiting for us on the beach of Lizard Island after our 1 hour small Cessna flight. They then whisked us straight to the imposing figure of the 35m mothership. After a deluge of smiley feminine 'hello's and a remarkably thorough, professional and polished briefing, we were shown to our cabins.
All but 2 double cabins (upper deck) are on the lower deck and all are of a high standard with en-suite bathrooms, air-conditioning and ample storage space. The 2 double cabins on the upper deck and the stateroom on the lower deck have DVD player and flat screen for added luxury. I initially stayed in one of the upper deck cabins but, in rough seas, sleeping (for a sensitive soul such as I) was difficult with the rocking motion.
After 2 nights I transferred to the Stateroom (number 1) on the lower deck and (in calmer seas) slept the sleep of the just. There is an upper deck walkway running alongside the cabin windows so beware of naked parading with the curtains open. If number 1 is the most comfortable cabin due to location, then cabins 3 and 4 come highly recommended too.
The saloon is a little on the small side for a full boat of 26 divers, but with guests normally spread throughout the boat, it is perfectly adequate and encourages conversation both among the guests and with the crew who interact more than on the superficial level one usually expects. Spirit of Freedom seemingly look for more than capable people when they recruit. They manage to create an air of warmth that seems very genuine and human rather than a necessary aspect of their job. People relax in the saloon, the dining room and on the sun deck where there is plenty of shade.
The engine room, as with the rest of the boat, is big, well-ordered and clean. There may be flashier boats elsewhere (although possibly not in Queensland) with thick carpets and lots of brass rails but there are very few things wrong with this Great Barrier Reef liveaboard boat.
Satisfying Our Food Cravings
The food was always fresh, healthy and plentiful. There is a strong accent on fresh vegetables and vegetarians are well catered for. That said, carnivores do pretty well too with chicken, lamb, pigs ribs, prawns and tuna all satisfying cravings for flesh. There is a complementary glass of wine (or 2 if you smile sweetly) available with dinner. Further wine and beers are available for purchase from the bar.
In between meals there are snacks of cake and scones washed down with 24 hour coffee, tea or hot chocolate. As is usual in this part of the world, guests are given a water drinking-bottle which they are encouraged to fill continuously from the water fountain and use it to keep well hydrated.
The cook on my trip worked tirelessly and received great praise (and sympathy) from all the guests. That she was an attractive young female, I imagine, helped a little to bring the compassionate side out of many of my fellow guests.
Diving on the Spirit of Freedom
As with the rest of the tours of the Great Barrier Reef, diving is unguided. There are fewer students on the Spirit of Freedom than you might expect to find when visiting sites closer to Cairns. Generally the clientele consists of older, more experienced scuba divers and only the flashiest of flashpackers.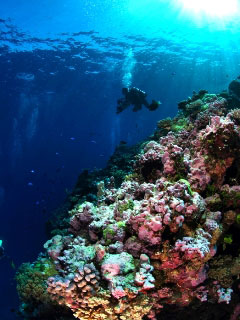 The trip I was on was a little unusual since, being February the winds had changed and a nor-easterly meant alterations to the programme. After a couple of dives at the Ribbon Reefs which were very good if not spectacular, we headed out into the ocean to Osprey Reef. Those in the know will tell you that Osprey Reef is the top of the tree when it comes to Queensland diving. Our first dive at Admiralty seemed to corroborate that with awesome visibility (30+ metres), interesting ever-changing topography, healthy reefs and lots of fish.
We also dived Coral Canyons where again stacks of fish and almost unlimited visibility left us slack-jawed with awe. Sadly, the other top sites on the western edge of the reef were off limits due to the wind and choppy sea conditions so we dived the easterly wall. It was frankly underwhelming. So near, and yet, so far. Most cruises they do, and certainly all of those in the main high season (July to November) visit the most exceptional sites on the westerly wall so if you go in season, you are in for a great treat.
One happy result of the weather conditions on my trip was that we were able to make the rare journey to Bougainville. This reef is like a mini Osprey, further south, but we could dive all around the best sites. Here again, crystal-clear water meant outrageous visibility and with schools of bumphead parrotfish, yellow-tailed barracuda, jacks, unicornfish and butterflyfish, there was always something impressive in the line of sight. The guests were all very pleased with the quality of diving we did. They also appreciated the quantity of diving, being 2, 5, 4 and 4 per day. That means 15 dives over 4 days, which is pretty good going.
My only disappointment was that my trip was in February and therefore slightly out of season. We still had some excellent diving and I am certain that, at its best, the itinerary of the Spirit of Freedom tour means really excellent Great Barrier Reef diving and enough to satisfy even the most experienced divers.
Dive Deck Par Excellence
The dive deck deserves a paragraph or 3 of its own purely because this is how all dive decks should be. Each person has an individual station. Running along the ceiling is a communal dry basket for t-shirts, sunglasses and hats. Each station has a seat which lifts to reveal individual wet areas. Here you can throw your booties, weightbelt, fins and whatever else you desire. So nothing can ever get mixed up. There is a place for everything and everything in its place. So simple. No plastic baskets sliding around or things going missing on this boat! Why aren't they are all like this?
Tanks stay in the same spot where they are filled between dives. Wetsuits hang on a dedicated rack with strong metal hangers that cannot be removed from the bar. Gearing up is therefore simple and the process is efficient. There are 2 staircases (port and starboard) to the dive deck where someone puts your fins on and squirts de-fog into your mask before your giant stride. This excellent service really helps to make the start of the dive as easy and stress-free as possible.
If I must add a couple of negatives here to counteract such encomium I would say that I missed there being no wet toilets and by the last day of the tour the floormats were slightly uncomfortable under feet that soften by the day. Maybe I am just a sensitive sole.
Personable Staff
Guests in guestbooks always praise staff from the rooftops, perhaps because they know the staff will read all the comments. However, a more sceptical observer who has been on plenty of liveaboards (exactly the kind of people we have at Dive The World) can see the difference between someone doing a good job and those who really make an impact on the guests.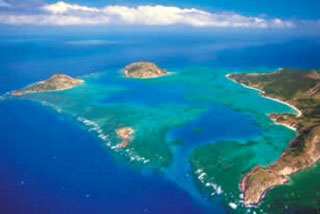 The Spirit of Freedom's crew is firmly in the latter category. Some adjectives to describe them: genuine, well-drilled, personable, reliable, efficient, respectful, positive and confidence-inspiring. I do not before remember coming across a crew that were all of the above and they deserve all the praise they get.
One feels they are meticulously trained since they are all excellent at their jobs. Their communication with guests, whether it be in formal briefings, dive briefings or just general conversation, is excellent. All those on our trip agreed they were very impressed with the performance of the crew.
How Best to Get There and Back
I flew Singapore to Darwin to Cairns on Jetstar. Then after staying in a Cairns hotel I was picked up in the morning and taken to the airport for the short hop from Cairns to Lizard Island. After the trip, Spirit of Freedom will drop you back to your hotel.
A Trip to Recommend
Overall my tour was a success with a tinge of regret that I had not come during mid-season. However the experience of the boat and the crew (and some very good diving) all combined to make it a great Barrier Reef cruise! If anyone asks me my opinion on Spirit of Freedom I would enthusiastically tell them to book it, and to make sure it is a good time of the year to go. Excellent Australian liveaboard diving together with the other top quality aspects of the cruise will make it a spectacular experience.
Written by Gavin Macaulay, March 2010

---
CUSTOMER TESTIMONIALS OF DIVE THE WORLD
... Pip from Dive The World was very helpful and addressed all questions and concerns promptly and effectively. Had no issues with payment. I particularly appreciate that Pip's phone number was listed in her emails. I expected it to be a general Dive The World customer service number but was very pleased when Pip answered the phone herself. Website is very easy. Great for researching several different options for many locations and price ranges ... -- Charles Levergood, USA. [More customer reviews]