>
Dive Trip Reports
>
Mermaid II
Indonesia Liveaboard Diving Trip Report
Mermaid II Komodo Dive Safari
Click on an image to enlarge

I had heard and read so many stories about the Komodo National Park and how it was reputed to be one of the world's richest marine environments. So when my chance to actually get there finally arrived, I was ready and eager for the experience and was looking forward to writing my own story ...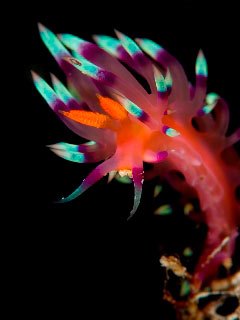 Mermaid II was the liveaboard that was waiting for me at Benoa Harbour, Bali the day we departed on our 7 night Bali to Komodo to Bali dive trip. Will that give me enough time to explore the park and dive the best sites that this area has to offer? Will I have the chance to see gigantic mantas as well as tiny pygmy seahorses? Will the currents be as strong as they say? Will the water be so cold as to spoil the pleasure of diving? While we cruised away, all these questions lingered in my head.
I was not to be disappointed. Thinking back now to my liveaboard safari experience in Komodo, it was close to perfect! What could be better for a scuba diver than seeing 20 majestic mantas get cleaned by other fish at Manta Alley? Or finding mimic octopus and wonderpus on the same site, or white and black tip reef sharks and plenty of schools of fish providing the backdrop to almost every dive? This is what diving at Komodo offered me.
But what really impressed me most of all was the pristine conditions of the coral reef, both hard and soft: so colourful and seemingly untouched. Adding this to the fact that we only saw 2 other dive boats over the week, it really made me feel as we were diving at sites that no-one had ever visited before.
The Diving in Komodo
The first part of the trip was focused on the dive sites we encountered on our way from Bali to Komodo. We dived Moyo Island and Satonda Island and visited its lake in the inactive volcano, as well as dives at Bima and Sangeang islands. Here in the Sumbawa region the water is warm and has better visibility than South Komodo. Macro lovers will be in love with the area: I collected good pictures of colourful nudibranchs at Angel Reef. It took longer to get a good shot of pygmy seahorses (I counted 6 of them living on the same gorgonian, but at 30m I didn't have enough no-deco time to dedicate to them) at Satonda Island.
Then it was time to enter the highly anticipated Komodo National Park, with the famous dive sites around Rinca Island and Komodo Island, such as Cannibal Rock and Manta Alley, plus a close encounter with the dragons on Rinca Island! I took a nice and long video of a fully black manta ray while diving at Manta Alley. It was my first encounter with one of them. Usually the belly of a manta is white!
It sure made my day and helped me forget about the 24 degrees water in which we were diving. The water is rich in nutrients so the visibility drops a bit (10-15m) but nutrients are what keep the mantas and pelagics here. What amazed me most about Komodo was the amount of colour. There are a lot of shallow reefs completely covered in sponges and hard and soft corals. When drenched in sunlight these reefs shine and glow in bright colours: yellow, pink, orange and purple. It is an unbelievable sight to see such vibrancy.
• Watch our Komodo dive video

The final part of the safari was our journey back to Bali, while diving at Sangeang volcano and Moyo Island. I had the chance to dive again at Angel Reef and I was glad we did as while we were observing a mimic octopus, another guide spotted a wonderpus! Apart from in Sulawesi, I had only seen them on this trip and I was very pleased by that.
The Mermaid II Liveaboard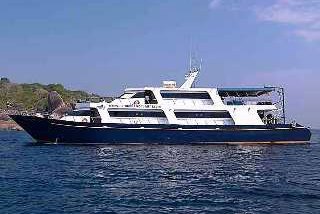 It is advertised as one of the more comfortable dive boats in Indonesia and I must say that it lived up to its reputation. Only another 13 divers were on board with me (the boat has 9 cabins) so there was plenty of space for everyone, especially in the common areas such as the dive deck and the saloon.
The cabins are not particularly huge, perhaps just the right size you need. They feature ensuite bathrooms with hot shower, individually controlled air conditioning, bunk beds (the one at the bottom is double, with a single bed at the top). I was reassured that safety on board is taken under serious consideration. Each cabin has a smoke alarm system and life jackets for emergencies. Oxygen is also carried on board in case of diving accidents.
The dining saloon is on the same deck as the cabins, with a large table and 2 smaller ones that can comfortably accommodate all the hungry divers, 5 times a day. On the upper deck, where the customers like to spend most of their time, there is a wide sundeck at the stern. At the bow the shaded area has been fitted with a cushioned lounge and is ideal for reading a book or simply relaxing in between dives.
The upper deck also features an air-conditioned saloon, where the briefings are done with the help of maps and marine life shots shown on a flat screen. There is also a very comprehensive selection of fish books. This was very useful during my Indonesian dive safari since I encountered many new species that I had never seen before.
Diving with Mermaid
There is a very spacious and well-organised dive deck that makes it easy to gear up for each dive. Something I found very useful were the several buckets of fresh water, each one labeled and used only for specific gear: cameras, masks and wetsuits. And also a large camera table, including several tools that every diver on board can use, perhaps to fix last minute issues that might happen with scuba equipment and housings.
Dives are done in small groups from 2 dinghies that bring the divers to and from the sites (including the night dives). There was very little that I had to do as the boat crew is very helpful, from gearing up to even washing and hanging your wetsuit up for you at the end of each dive. All the equipment and towels are numbered, so that there is little chance that something gets missed or left behind on board while we were on the dinghy.
A membrane blender system makes nitrox available on board, which is quite a must considering that dives are usually about the right depth for nitrox (in the Komodo area) and never less than 60-70 minutes per dive. Most important, Komodo is a national park in a remote area of Indonesia, far away from hospitals and recompression chambers. For whoever is not already nitrox certified, Mermaid offers courses on board that will allow you to dive on nitrox from the very first day of your cruise.
Food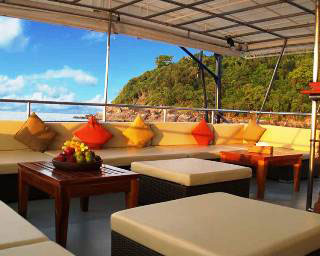 A Thai and an Indonesian chef on board bring the best of the 2 cuisines at every lunch or dinner buffet. Shall I say more?
Dining is always buffet-style with a choice of 4-5 different dishes with steamed rice. The variety and quality of food during the cruise is surely not under discussion: Thai Massaman chicken, Tom Yam Kung. Western food lovers were also satisfied, with hamburger and french fries, pork chops and steaks.
Salad and fresh fruits are served at each meal. Cakes and snacks are served over the days, and coffee lovers like myself will be happy to hear that on board the Mermaid there are 2 REAL coffee machines (the types that grind fresh coffee before pouring it out for you ... speechless).
If you still feel that the amount of calories per day is not enough, let them tempt you with hot chocolate served on the dive deck after each night dive! A sweet aperitif just before dinner.
Shore Visits
Moored at Satonda Island waiting for the night dive, it was our first chance for a brief tour on land. We climbed up the side of the hill, reaching a view point that allowed us to look at the Mermaid liveaboard boat in the bay surrounded by a beautiful sunset on one side. On the other side was a vast lake formed inside an inactive volcano. What a stunning view! We joked about diving in the lake, but it wasn't on the Mermaid schedule ...
Of course one of the highlights of the trip was obviously another land visit to see the 'Buaya' (a local name for the Komodo dragons) on Rinca Island. We spotted at least 10 dragons (it could have been more, as there are 1,300 Buaya on the island) and I even get a pretty close picture with one of them! It was an old dragon with a broken leg, so I didn't really take any risks at all. But we were always safe as the park rangers took good care of us and gave good info about the dragons and their way of living.
Getting There and Away
It's simple: Mermaid II's liveaboard safaris depart from and return to Bali, with pros and cons to keep in mind. It is the right choice if you want to avoid taking domestic flights, which can be annoying, especially if you have just stepped off an international flight. Travelling by boat gave me the chance to mix with the other divers on board during the cruising hours.
The cons: the boat hardly stops moving, at least for the first 2 days and nights, meaning that it can be hard to sleep at night: engine noise and rough sea (depending on weather conditions). The first dives of the trip are done on the way to Komodo and not actually in the park itself, therefore giving you less time and dives in the area, but also the opportunity of sampling sites rarely visited by other charter boats.
Conclusion
All in all this was a most pleasant liveaboard trip. We dived some of the most well known dive sites of the globe, on board a boat that lives up to its reputation, with great food and an attentive crew (did I mention that a masseuse is also available on board?). All the customers, including me, were just amazed by the whole dive tour and the marvels we have seen underwater in the magnificent Komodo National Park.
Written by Enrico. May 2012


---
CUSTOMER TESTIMONIALS OF DIVE THE WORLD
... The website is already user friendly. I'm glad I'm in a good care of Pip again. Everything was smooth and I always got prompt responses. It is always me whom does not reply in a proper time. I am very sorry for that Pip. The best parts are: Prompt responses, responsibilities to your customers, cheap price guaranteed ... -- Napaporn Sai-ngern, Thailand. [More customer reviews]