>
Dive Trip Reports
>
Waidroka Bay Resort
Scuba Your Guide to Diving in Fiji Trip Report
Waidroka Bay Surf and Dive Resort
Click on an image to enlarge

Beqa Lagoon in Fiji has become famous world-wide thanks to the thrilling shark dive it offers. Multiple bull sharks, tiger sharks, lemon sharks, silver tips, nurse sharks, grey reef sharks, white tip reef sharks and black tip reef sharks can all be seen on this amazing dive.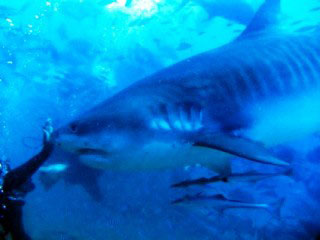 The Waidroka Bay Surf and Dive Resort offers you the opportunity to participate in this thrilling experience. When they invited me to stay and dive with them, I couldn't wait to jump on the next available flight!
And not just because of the sharks; Fiji is also considered to be the "soft coral capital of the world". Being a passionate underwater photographer, I could not think of a better place to take some great pictures of sharks and rainbow-coloured reefs.
The other reason why I was so excited is because I am also a keen surfer. The idea of staying at a resort where it's possible to indulge in both surfing and scuba diving at the same time sounded right up my street!
The Diving at Viti Levu
Variety is probably the exact word to describe the diving at Beqa Lagoon, just off the south coast of Viti Levu, and the area doesn't just attract scuba divers because of Shark Reef. From the local coral reefs on the inside of the lagoon to the outer walls and up to Frigate's Passage, there are miles of coral reefs to explore and you can be sure that you will dive a different site each day. Great visibility, warm water and calm seas can be expected almost all year round.
The shark dive day begins at 7.30 am as the boat departs from the resort to arrive at the site around 8 am and meet up with the divemasters and shark feeders. A good plus about staying at Waidroka is that you have your own boat transfer from the resort and your own divemaster looking after you, whereas other boats can be quite crowded due to the popularity of Shark Reef.
• Watch our Fiji shark diving video
Usually you get 2 dives with the sharks, but if you are diving with Waidroka then you get an additional third dive after lunch on Yanuca Island. After a surface interval of about an hour, you can enjoy a shallow dive at one of the sites around the island; my pick was Three Nuns where we explored 3 huge coral bommies. The bommies are completely covered in colourful soft corals, numerous table corals and gorgonian fans, providing the perfect home for thousands of reef fish and marine critters. The powerful twin-hulled, twin-engine boat, Fiji Explorer got us back to the resort by 3 pm so I still had plenty of time to relax by the pool.
Waidroka has 4 different dive boats in its fleet and they are chosen depending on the distance to cover and the number of divers on board. All the boats are well maintained and fully equipped with DAN oxygen, first aid kits, VHF radio and GPS. Steven, one of the scuba instructors and resort guides gave me a very informative briefing, not only about the sites but also about safety procedures. I do need to be reassured that I'm in safe hands when I dive with tiger and bull sharks! I'm sure everyone would agree.
The furthest dive site I visited was Frigate's Passage, a good distance south of Viti Levu. This remote location with its challenging currents provides the opportunity for an unforgettable wall dive with giant gorgonian fans and hundreds of species of fish sheltering among them.
The surfing at Beqa Lagoon
There are many excellent reasons for choosing Waidroka Bay Resort for your Fiji surfing holiday, not least because of the enthusiasm of the staff and the uncrowded waves. For me it was the trip of a lifetime!
Waidroka is the only resort that arranges surf trips to various local reef breaks, all of which are located just few minutes boat ride away from the resort. The waves are perfect for beginners and intermediate surfers, while the well known Frigate's Passage is a good and fun challenge even for more experienced surfers. I loved the fact that there was hardly anyone else riding the waves; seeing those perfect waves with only a few surfers around got my heart racing every time.
It was great to be able to combine surfing and diving on the same day out. I surfed Frigate's Passage in the morning and then went scuba diving on the way back to the resort - and unforgettable experience. Everyone involved in the surfing at Waidroka is passionate about it and this enthusiasm really rubs off. I was given constant help and advice which was really useful and can only serve to make a better surfer out of me.
The Resort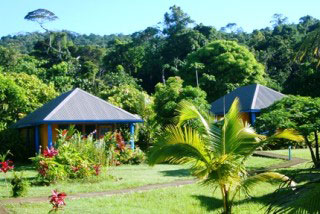 The resort is located in a small bay and is found by taking a rough bumpy track off the Viti Levu Coral Coast main road and over a hill. There is no other reason to drive along the track besides going to the Waidroka Bay Resort, therefore the peace and tranquility at the resort are preserved.
I must say, the atmosphere there is unique and from the moment I stepped inside I felt right at home. The friendly staff, the big Fijian smiles I constantly received from the locals working at the resort or at the dive centre, the interaction with other guests when we went diving together, and especially at dinner when we were all sat at the same table, really helped me to have a great time despite the fact that I was travelling alone.
You cannot possibly get bored at Waidroka as there are plenty of activities to choose from besides the diving of Viti Levu; surfing, fishing, kayaking and rainforest tours are just a few of them. If you simply want to relax, then you can lounge by the swimming pool or indulge in a heavenly massage. Mary and Kafou are 2 local Fijian ladies offering a range of massages, as well as pedicures and manicures.
And if you want to learn more about Fiji, scuba diving, surfing or just life in general, then ask Boris the resort's owner. He has plenty of knowledge, details and recommendations to share. I'm a really curious person and I wanted to learn more about Fiji. My conversations with Boris helped me to better understand the country and culture.
The Rooms
Waidroka has just 11 rooms, called 'bures' in Fijian, and there are 3 different types to choose from. The Superior and Deluxe Ocean Front bures are located close to the jetty, while the Panoramic Ocean View bures are on the hill so that every room enjoys a stunning view of the reef in front of the resort. Electricity and hot water are provided 24 hrs a day. There is no air conditioning, but all rooms have ceiling fans. It isn't too hot at night, and to be honest some nights it felt quite cool.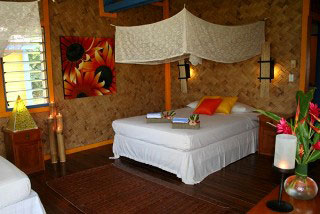 During the day I was outside or on a boat most of the time so I didn't really miss the air con. Electricity is always an issue in Fiji and therefore most of the resorts run their own generators in order to supply enough power. To have air con units would be a huge drain for a small resort like Waidroka Bay Resort.
The rooms are clean and nicely furnished and have queen sized beds, tables, chairs and outside furniture, including a hammock which is ideal for taking an afternoon nap after a morning's diving. There are no televisions in the rooms, but the main lounge has one along with a DVD player that guests can use any time. I spent a couple of evenings watching Fiji scuba diving and surfing videos. Really cool stuff!
Mosquito nets are available of course, due to the proximity of the rain forest, but the mozzies didn't really bother me while I was there as I kept my room doors closed. The staff also spray mosquito repellent daily to keep the population under control.
The Food
Breakfast and lunch are a la carte, while dinner is a set 3-course meal. Dinner is served around 7 pm and is always a social event with guests and staff gathering together at one table. This gives rise to very interesting conversations about scuba and life in general. The dinner menu is posted in the main building every morning and there are 14 different choices so it's very unlikely that guests will need to eat the same meal choice twice.
They do cater for special diets but it is a good idea to let them know in advance due to the remoteness of the location. This is a great place to stay if you're vegetarian as Neil the resort manager and his wife Amanda, a dive instructor, are vegetarians themselves.
The homemade bread and cakes are freshly baked daily. The banana cake that is offered as a snack after diving is probably one of the best I have ever tasted!
I highly recommend trying one of the local beers; Fiji Bitter, Gold or Premium. Soft drinks and bottles of wine are also on sale.
Once a week the resort organises a traditional Lovo feast; 'lovo' is the Fijian word for "earth oven". Food is wrapped in banana leaves and buried underground along with hot coals. The earth traps the heat acting like an oven and cooks the food slowly over several hours. This is a unique experience and a great story to tell your friends!
Getting to Viti Levu and Waidroka
Air Pacific offers direct flights from Hong Kong and also from Los Angeles to Nadi International Airport. From Nadi to the resort it's a 2½ hour taxi ride that takes you through green hills and local villages, giving you the chance to have a look at the real Fiji.
The Final Verdict
If you'd like a laid back but well organised resort, very competent and friendly staff, a fleet of well-equipped boats, countless dive sites to discover, unforgettable shark dives, plus a range of different activities and pampering opportunities on offer, then the Waidroka Surf and Dive Resort is perfect for you. Add to this the warm Fijian hospitality that is well-known and appreciated around the world, and you are in for a fabulous stay. I wouldn't hesitate to go back any time!
Written by Ricardo Rossi, September 2011

---
CUSTOMER TESTIMONIALS OF DIVE THE WORLD
... Everything is easy to use. I am not that expert but I think is pretty much perfect. Normally response is very fast, also very professional. The variety is f=great. Also information about the diving destination is great ... -- Benjamin Sadlack, Germany. [More customer reviews]