Diving in Beqa Lagoon
Dive at the Island of the Fire Walkers
...Highlights: turtles, great macro life/marine diversity...
...Beqa Lagoon's diving environment: drift diving, beginner divers...
One of the best known Fiji scuba diving destinations and once christened "The Mecca of Pacific Diving", Beqa Lagoon (pronounced Benga), lies just south of Viti Levu, the main island of Fiji where international flights arrive.
Beqa Island is a popular spot for those who wish to get straight into the water without taking a domestic flight to the outer islands. When you slip below the surface from your Fiji dive resort you can visit a variety of different sites (there are said to be over 100 in the greater Beqa area) including pinnacles and bommies, fringing reefs and even a wreck or two. Show more
Dive Site Descriptions for Beqa
Caesar's Rocks - The legend of Caesar's Rocks spread far and wide and became top of many divers wish list when visiting Fiji. Diving Beqa Island at its best. The topography of the site will be the first thing that strikes you as you descend onto a collection of bommies dotted in soft corals. It is the diversity of colour that will strike you first here as pinks, reds and oranges all fill your view.

And it's not only on the exterior of the bommies that such colourful life proliferates. These bommies exhibit a series of channels, caverns and windows, none of which are free of a tremendous splash of vivid colouration. There are also plenty of giant gorgonians providing shelter to longnose hawkfish and trumpetfish, among others. Show more
How to Dive Beqa
The lagoon can either be dived from the island of Beqa itself or from nearby Pacific Harbour on Viti Levu. For more information on your diving options, and all the travel information you might need to visit Beqa and Fiji, view our:
If you wish to stay on the island then there is really only one resort choice. Otherwise you can stay in a resort on the Coral Coast of southern Viti Levu. Either way travel times to the dive sites are about the same.
Anyone scuba diving here is almost certainly going to have the chance to partake in the exhilarating shark feed at Pacific Harbour.
Beqa Lagoon Diving Season
You can go diving in Beqa Lagoon all year round, although the conditions do vary. The best visibility is likely to be found during the July to September period when it tips the higher range of 20-40m. Water temperature does not fluctuate much, ranging between a low of 24°C around July and August, and a high of about 28°C in February and March. The higher temperatures coincide with a greater chance of rain.
The calm protected waters of the lagoon can generally be expected to produce calm surface conditions although there can be a little surface swell from November to January.
Creatures like turtles, manta rays and eagle rays can be spotted at various times throughout the year. Tuna proliferate in June, and February is the best month for big numbers of barracuda. Game fish that you'd be very lucky to spot when scuba diving, such as blue marlin, wahoo and Spanish mackerel, are most numerous in the July to August period.

Where is Beqa Island and How Do I Get There?
Review our map below of the Fiji Islands, showing the location of Beqa Lagoon. Here, you will find information on how to get to Viti Levu, from where you will transfer to Beqa Island if required.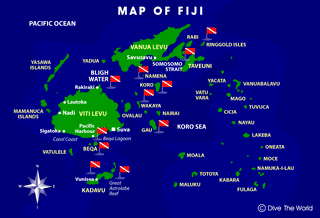 Reef Summary
Depth: 5 - 30m
Visibility: 10 - 30m
Currents: None or gentle
Surface conditions: Can be choppy, but can be rough in windy season
Water temperature: 24 - 28°C
Experience level: Beginner - intermediate
Number of dive sites: >22
Distance: 14 km south of Pacific Harbour, Viti Levu
Recommended length of stay: 1 week
Useful References

---
CUSTOMER TESTIMONIALS
... Dive The World did an excellent job. I searched the internet extensively and never came across anything as good as this website ... -- Patrick Duffy, Australia. [More customer reviews]