>
Scuba Day Trips
>
Fiji
>
Viti Levu
>
Pacific Harbour
Pacific Harbour Diving Packages
Best Dive Daytrips, Resort and Travel Information
Pacific Harbour is the epicentre of dive tourism on Fiji's main island of Viti Levu. If your Fiji diving experience does not include venturing to the outer islands then we strongly recommend spending some time in Pacific Harbour.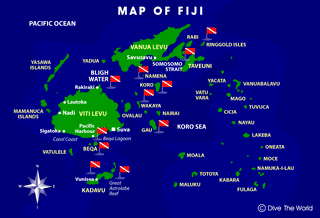 Those adrenalin-charged shark diving videos you may have seen are from Shark Reef, the spot that has made Pacific Harbour world-famous. There can be as many as 8 different species of shark in the water with you, including BIG ones like tiger sharks and bull sharks.
Shark Reef steals all the headlines and with good cause. How many other chances will you have to be in the water with bull sharks, tawny nurse sharks, whitetip, blacktip and grey reef sharks, sicklefin lemon sharks, silvertips and tiger sharks? [More information on these dive sites: Shark Reef].
If you are here for a few days or more you can also explore the interesting dive sites of Beqa Lagoon where sites such as Caesar's Rocks, Fantasea and Seven Sisters offer some great chances for sampling the delights of Fiji's reefs. [More information on these dive sites: Beqa Lagoon].
It is also worth noting that Pacific Harbour is not just about scuba diving packages; it is also the adventure capital of Fiji. Activities include white-water rafting, rainforest zip-lining, horse riding, golf and surfing. Fun for all the family!
Pacific Harbour Day Trip Diving Options
We recommend that you book a day trip diving package in Pacific Habour with us. You will never forget being involved in these shark feeds. Experience it for yourself with our:

Where to Stay in Pacific Harbour
Select from a broad range of recommendations, including deluxe beach resorts, hotels, youthful party resorts, guesthouses and village homestays to suit all budgets. hotelscombined.com, our affiliated hotel reservation agents, have a wonderful choice of accommodation in Pacific Harbour to suit all divers' tastes.
Make your choice and book from their full range of Pacific Harbour options

, and simply use your credit card to make a reservation. Use their on-line chat facility if you have any questions. With their 'Low Price Guarantee', you can rest assured you are getting the best value-for-money options.
Whichever option you choose, stays of 1 week are ideal. Pacific Harbour diving packages normally include scuba dives, drinks and lunch.
It's also possible to visit Fiji on a diving cruise, if you prefer.
The Climate and Best Time to Visit
As with all of Fiji, the climate is tropical, so it remains warm year-round with little temperature variation. The warmest months are January to March when the mercury rises to 29-30°C. It normally only cools by about 3°C during the winter period of July to September. Summer rain can reduce visibility a little although the water temperatures are in the warmer range of 28-29°C rather than winter's 25-26°C. Bull sharks will disappear from November to January for mating purposes, and June to August represents the best chance for you to see tiger sharks. The remaining species are present more or less all year through.
How to Get There
To get to Pacific Harbour, most people take a taxi from Nadi or Suva after their arrival. These can be pre-arranged. Some resorts provide transport for you and the overland journey normally takes 2 to 2.5 hours. The top end resorts can include flights to a private airstrip in Pacific Harbour.
See our Viti Levu tourist information section for details on how to get there.
We suggest you consider taking out insurance to cover diving and travel activities, including trip cancellation. See our insurance programme for a competitive quote:
Sightseeing and Things to Do in Pacific Harbour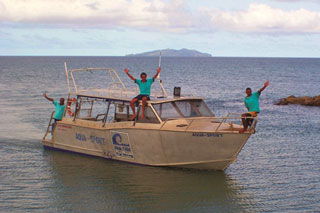 In addition to the excellent diving trips around Pacific Harbour and Beqa Lagoon, there is no shortage of opportunities to keep you busy. There are golf courses, an arts village, Kila Eco Adventure Park, cultural village visits. There are watersports galore such as jetski safaris, fishing trips, surfing day trips and river rafting tours. There are waterfalls to visit, forest trails to hike and zip-lines to whizz through the tree-tops on. The list goes on…
Visit our Viti Levu tourist activities page for a more comprehensive list of fun tourist activities.
Restaurants and Entertainment
There is a reasonably wide choice of dining establishments in Pacific Harbour, from simple cafes to beautiful restaurants. The food tends to be more international than Fijian, with an emphasis on seafood.
Check out the great coffee and tasty grub at the Skinny Bean Café. The tantalisingly named Seduce is considered by some to be the best (and most romantic) eatery in Pacific Harbour with views of Beqa Island. They have a good reputation for steaks. There is a good children's menu at The Pearl South Pacific. Head to the simple Kumaran Restaurant or Rik's Harbour Restaurant for a memorable Fijian-style curry.
The Arts Village in Pacific Harbour is a nice place for shopping with a range of small local boutiques selling clothes, jewellery, handicrafts, carvings and food. You can happily spend a couple of hours pottering around here. There is little else in the way of shopping in Pacific Harbour except for boutiques in the better hotels.
Local Transport Options
Many hotels and dive resorts will transport their guests about the area, but there are also unmetered local taxis around so agree a price before you get in. Buses snake around the island of Viti Levu so it is always possible to hop on a bus between towns.
Useful References for Pacific Harbour Dive Packages


---
CUSTOMER TESTIMONIALS OF DIVE THE WORLD
... It is easy for us to find the right information. The booking process and communication with the sales staff is easy for me. I really love the speed of feedback from your staff. ... -- Siyi Deng, China. [More customer reviews]