>
Dive Trip Reports
>
Amba
Maldive Islands Liveaboard Diving Trip Report
A Cruise to the Remote Nothern Region of the Maldives
Click on an image to enlarge

MV Amba is the first liveaboard to operate diving tours in Haa-Alifu, the most northerly of the Maldivian atolls, 480 miles from Male. So when the call came to confirm my trip, I was very excited about the chance to visit on board the Amba.
I had heard many tales of the quality of scuba diving there and of course I had seen some of the beautiful images of the island chain. So setting off from Thailand, I was really looking forward to seeing if the hype was justified ...
Arriving in the Maldives
I arrived in Male in the evening and had to endure endless arrival procedures: passport control, baggage collection (an eternity), and another baggage check at customs who were looking for possible prohibited items. All told it took me 1 hour and 30 minutes to get through the airport!
It was not the best of starts but once out of the airport, life got a lot easier. Exiting the airport you will only have to cross the street in order to jump on a dhoni ( a Maldivian boat used as a ferry, there is one after another) heading for Male. It takes under 10 minutes before you touch land again, and is a reasonable price (US$ 1).
My itinerary meant I had to overnight, so I stayed at the Candies Hotel located literally 200 metres from the pier. You can easily walk there even with your luggage, otherwise a taxi run will cost you around US$ 2. It is not really a fancy hotel, but the rooms are clean and have all the essentials you need on a tropical island: air-con, shower (hot water available) and cable TV! They also have good rates compared to the alternatives in Male.
Getting to the Boat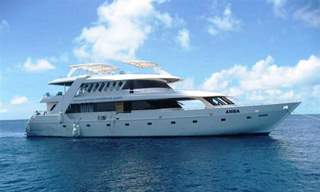 The next morning I gritted my teeth and headed back to the airport to get a flight from Male to Hanimaadhoo, the small island from where Amba departs. Once at the airport, you would be advised to avoid the international departures lounge (usually very busy, especially in the morning) and go straight to the dsomestic departures hall that is located at the very left end of the airport (having the sea at your back).
On the way, you will pass several counters of different domestic airlines companies and travel agencies. If you fly with Island Aviation then you can happily skip all this and head straight to domestic departures as their counter is just after the entrance, inside on the left.
Their office is really small but the staff are very kind and helpful. At the check in counter they will also check your body weight. You actually jump on the scales along with your hand luggage so you don't feel too guilty about all that excess bodyweight!
You can relax inside the air-conditioned lounge with WIFI while waiting for your flight and your Maldives diving vacation to begin. The journey on board of the Island Aviation airplane is an awesome experience itself: it is a small bi-motor airplane (34 seats in total) that flies at low altitude allowing the passengers to really enjoy the view of the islands. It is in fact just a small sample of the country since more than a thousand islands form the Maldives. The scenery is so beautiful, comparisons with paradise seem generous to paradise!
After landing at Hanimaadhoo, the pier was just on the other side of the street, where the Amba crew was waiting for their guests. We loaded the luggage on board the dhoni, and off we headed toward the M/V Amba.
The Diving
Once underwater, you can easily understand why the Maldives are so revered by the diving community. The visibility we experienced was always good, even on a bad day, and the variety and amount of fish swimming around are so impressive that they make you fear even to blink once so that you don't miss anything!
Manfred's grey hair and his faded tan suggest he has spent a lot of time below the surface of the Maldives' sea. In fact, MV Amba is the only liveaboard that operates in areas of the Haa Alifu and Haa Dhaalu atolls, since 2004 when the Maldivian government declared this area open to scuba divers. Many pioneering 'discovery' dives were done by him and his crew since then, in order to find the best sites around to offer to tour guests. So the MV Amba really does offer something a little bit different from the rest.
You can be sure that no other liveaboard boats will be present at your dive site once you're there, which is something that is not perhaps always true around the busier atolls of the Maldives. So what can you expect? Well, mantas, sharks, turtles and an impressive amount and variety of fish can be seen.
Hirimaradhoo Thila is definitely the spot for guitar sharks. It is usually the first dive of the day, so you can catch them while they are still sleeping on the sandy bottom, surrounded by remoras. They are beautiful and bizarre creatures and are often a first for the guests, so expect a mad rush for the fish books after encountering these creatures.
Nellaidhoo Thila is another great dive which will live in my memory, thanks to the impressive amount of black- and white-tip reef sharks we watched eating glass fish and cardinal fish for breakfast!
You will also find out why Manta Point fully deserves its name and, if you are looking for plenty of variety in order to improve your skills, there is also cave diving at Bodhoo Cave, and wreck diving at Maadhoo Wreck. So not only is the marine life varied and plentiful, so too are the types of sites.
Currents can be strong as usually the dives are done on thilas (underwater pinnacles) in open sea, far from islands that could offer shelter. However, thanks to that great invention called GPS and to the experience of the crew on finding the right spots, currents become your friends.
MV Amba
My first impression is of a liveaboard boat in very good condition. It is almost brand new, having been built in the year 2004 and it gives you the immediate impression of sturdiness and space.
We were welcomed on board by Manfred, the German owner, who shook everyone's hand and gave us all a scented towel and a refreshing soft drink. After quickly checking to confirm that all the customers were on board we were taken to our cabins to settle in.
The rooms are spread between 2 decks: 7 cabins on the lower deck and 4 on the upper deck. The main saloon is between these 2 decks and it is the place where Manfred briefs the dives, where food is served, and also where everyone can relax by listening to music, watching TV or simply by reading one of the books from their library. The preponderence of German books and German customers (I was the only non-German on board) could make you think that it is a Germans-only boat, but a quick look at the guest book makes you realise that the Amba actually welcomes a good mix of nationalities on board through the season. More importantly, Manfred's English is good enough for the rest of the world to understand. Also Franco, Manfred's business partner is Italian, and he is often on board during tourist high season too.
Indoors, the floors are entirely carpeted, except on the stairs which are fashioned from the same carved wood that features throughout the rest of the boat. The sundeck floor is covered with an anti-slip coating and there are comfortable sunbeds and chairs available. As with most sundecks, it chiefly caters to sun lovers but there still is plenty of shade provided by a canvas that covers half of it, perfect for the fairer skinned. There is also plenty of shade at the back of the upper deck, and it features bar-style tables and chairs where you can chillax with a cold drink as the sun sets over the Indian Ocean.
Cabins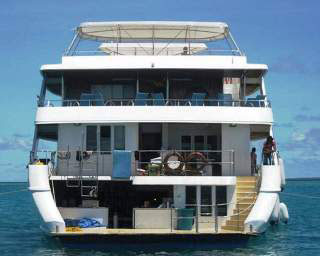 The cabins are quite spacious, all en-suite, and with door keys for security. There are twin or bunk beds (quite big beds, 1.90m long) in each cabin. Some of them have bigger beds, and in the cabins on the upper deck there is also a stunning panoramic view. A wardrobe and a bedside cabinet give you enough space for your your bags and stuff. A wall-mounted fan keeps the air circulating and, if this is not enough, the cabins are also equipped with individual air-con, but you will have to inform the crew if you wish to use it as the generator is usually switched off if no one requests to use it.
Electricity is not a problem on board and is available 24 hours, and you will be able to recharge your hi-tech toys (cameras, laptop, Ipod) in the safety of your cabin as a couple of European sockets (one is in the toilet) are provided. Note these are 2 round pin plug sockets, and no adaptors are available. If you need to be reached by phone, there is a good signal reception for the whole duration of the trip.
The Deluxe Suite on the upper deck is the largest of the cabins and has superb panoramic views. All the cabins on the upper deck, including the 2 Standard cabins, have windows with shades, and are quieter than the ones down below.
In the standard cabins on the lower deck, the sun light comes through small portholes, but unfortunately there are no shades, an issue for whoever loves to take a nap during the day. The portholes are quite small, just a bit bigger than those you see on an airplane, which makes it hard to enjoy the view outside. The portholes may be small but don't forget to close them when it rains!
The toilet and shower (hot water available) are right behind a wooden door and the space is enough even for large people. 2 towels per guest are provided and they are replaced every 2 days, while your bed is made daily, usually while you are doing the second dive of the day. There is a small plastic bin, but you are allowed to flush the toilet paper down as the boat is equipped with an antiseptic tank. Don't forget to pack shower gel and shampoo as they are not provided on board.
The low profile of the liveaboard makes the cabins on the lower deck a bit noisy due to the splash of the waves against the walls, but also due to the crew walking upstairs especially when they are getting ready for early morning transfers from one island to another. One of the guests joked that it sounded as if the staff were wooden-legged pirates. The problem is that wooden walls and floors don't really insulate the noise properly, but on the other hand a beautiful wooden boat like this is so much more aesthetically pleasing that you can forgive the noise!
Safety note: 2 lifejackets are stocked at the top of the cabin's wardrobe, and a map with emergency exit and emergency meeting point is on view on each deck. Smoking is only allowed outdoors. Fire warning systems are installed in the ceilings.
Diving from the Dhoni
All the dives are done from the dhoni, where you will leave your gear inside baskets for the duration of the trip. This is standard procedure in the Maldives. Dhonis are usually smaller than the main boat, and Amba's dhoni is probably 15m long, but a bigger and more powerful one (20m, 20 knots) is under construction and will be completed by September 2008. Using a dhoni makes it easier to reach shallower dive sites in any weather condition but, more importantly, it houses the dive deck, allowing more space for guests on MV Amba.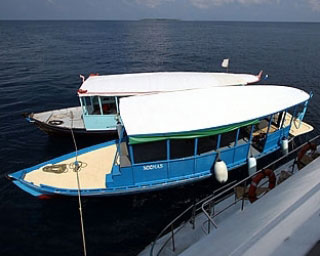 The tanks are 12 litre aluminum, with 15 litre tanks also available free of charge. You can also dive on nitrox (membrane blending system) if you are certified. 1 tank of nitrox per day is free of charge, then € 2.50 for each subsequent dive. There is a special package of € 25 that allows you to make every dive of the trip on nitrox.
The tanks have DIN valves but yoke adaptors are available. Compressors are at the back of the boat, so every time after a dive you will have to undo your gear and put it back in your basket, in order to allow the crew to refill the tanks ready for the next dive. It can be a bit uncomfortable especially if the sea is a bit choppy but you get used after a while.
The crew on board is a good help, for example when you get ready for the dive, by helping you on putting on your gear or by refreshing your memory as to how to use the nitrox analyser properly.
Cameras and computers can be put in a bucket filled with salt water on the dhoni. You can then carefully rinse them with fresh water once in your cabin, as they recommend you not to leave them on the dhoni between dives and especially overnight. There is also a shelf with drawers in the saloon where you can leave your dive stuff. In some of them you will find sockets for charging your batteries.
Rules are simple and well within PADI standards: 3 briefings per day followed by dives (07:00, 11:00, 15:00 or night dive at 19:00, except for 1 check-out dive on the day of arrival at around 15:00, and 1 dive on the day before departure as you will probably have to fly soon after arrival at Hanimadhoo). Maximum depth is 30m, maximum dive time is 1 hour (night dive is 40 min). Diving solo is not allowed, but it is easy to find a buddy as guests often travel alone. MV Amba sees quite a lot of repeat customers throughout the season. Half of the customers on board with me were repeat customers which surely underlines how the MV Amba liveaboard, its crew, and the diving in the Maldive Islands were all of high quality and value-for-money.
Eat, Drink and be Merry!
When you are not diving or relaxing on board the MV Amba, then there is only one other thing to do: eat! Food is served in the saloon where everyone eats and chats about the previous dive. Meal times are a good chance for guests to talk and get to know each other during the trip.
Don't make the mistake of thinking that the hot drink and snacks offered to you before the early morning dive is your breakfast! The real one comes right after the dive: hot drinks, fresh fruit juice, cold meats, cheese, tomato salad and scrambled eggs on toast. If you have a sweet tooth then fruit jam, nutella, pine butter and fresh fruit salad will definitely satisfy it. Be careful not to over-indulge at breakfast or you will regret it; after the second dive of the day, lunch is served!
The menu is simple but seems to go down well with the guests: steamed rice or pasta and veggies, a lot of them: fresh or boiled. MV Amba has no problem serving up a couple of big grilled groupers that you probably saw swimming the day before. It may seem strange to marvel at a creature one day and then chew on it the next, but it is more common than logic would suggest for fresh reef fish to find their way on to the menu on liveaboards in the Maldives and elsewhere. There certainly wasn't too much pausing for reflection when the sizzling platters were put before a boatful of hungry scuba divers! Usually a dish of fresh fruit ends the meal.
Drinking can become an expensive activity on board. For € 60 you will get a bag containing 40 shells. Every time you wish to drink something you will have to pay for it with shells: 1 shell for a 1.5 litre drinking water bottle or soft drink, 2 shells for cans of beer, 3 shells for spirits. For 10 shells you can even get a jug of either red or white wine. So there is plenty of booze, but you have to "shell out" for it.
Tea break comes right after the third dive of the day. Usually homemade cakes or biscuits will help see you through the hours that separate lunch from dinner.
If you are on a diet then the food served on Amba will be a big temptation. 2-3 hot dishes for dinner, usually international dishes but also Indian, will be followed by ice cream and fresh fruit or a homemade dessert. It is simply impossible to run out of food on this boat, as empty dishes are continuously refilled by one of the crew until you will explode with satisfaction!
One minus point is that, although the food is very tasty, I would have enjoyed sampling a bit more of local food. We all ate well but many of the guests had come to Maldives only for the liveaboard trip, and therefore had no other opportunity to sample the traditional food of this amazing country. On the other hand, I suppose that steamed rice and grilled fish with countless spices is what most of the locals eat everyday. One nice touch is that fresh coconut slices are served on board the dhoni at the end of each dive, while heading back to Amba.
The last dinner on board was a really unforgettable night of fun. We ate lobsters and juicy steaks, followed by a nice little show in which you will see Manfred perform magic tricks involving the guests, while the rest of the crew sing traditional songs and play drums.
The Staff
There is not a great deal of interaction with staff, certainly a lot less than can be seen in places like Thailand. The fact is that they are all locals and speak only a little English. You can have a good conversation with Sadid though, the divemaster onboard who will guide you during the dives and sometimes the briefings.
Manfred himself is always keen to accommodate the wishes of guests. He will discuss the schedule and the dives in order to get the best out of the time available, and is also open to other requests like lending out a couple of fishing rods in case you wish to kill the time ... and a few marine creatures. He will also organise a barbeque on a deserted beach, or a trip to a nearby island while waiting for the sun to go down for the night dive.
Dive briefings are simple, just basic information about dive conduct what you will see, avoiding endless lists of fish. But when you dive in places where you see mantas or sharks at almost every site, it can be difficult to focus on other creatures.
Watching a school of a dozen or more hammerhead sharks cruise beneath you is amazing, and it is normally at that point that you wish that you had a bigger lens on your camera! It is worth remembering that it is very easy to get far too deep chasing after that perfect picture of the hammerheads. It is not unusual for them to be at 60 metres or more so, once you do catch sight of them, remember to also keep an eye on your depth gauge.
Conclusion
The MV Amba, whose name means "to your health" or "cheers", is a modern and relatively new wooden Maldive liveaboard dive boat, where the space is well organised (I didn't bump my head once and I'm 1,85 m tall). My trip and my experience of life on board was very pleasant and I would have no hesitation in recommending it to my friends.
On the negative side, the distance to where the MV Amba operates means you will have to sacrifice the last 2 dives if you fly the day after returning. However, the lack of other boats in the area and the quality of the diving makes it worth it.
Overall there are many more positives than negatives. The diving was excellent. The sites we visited were still pristine - not a single empty can or a plastic bag floating around, which is pretty unusual for Asia! Also there were no sea urchins, whose presence can be a symptom of pollution. Broken corals are also hard to find, suggesting that, among other factors, not a great number of divers come here each season.
If you are looking for Jacuzzis and high standards of comfort and service, then you should probably look to choose a trip from among the other boats that we offer. In a country where some of the liveaboards are priced for the mega-wealthy, the MV Amba represents very good value-for-money, and gives you a taste of the high life without hurting your wallet too much.
Based on conversations I had with other guests it all added up to an unforgettable trip for everyone!
Written by Enrico, May 2008


---
CUSTOMER TESTIMONIALS OF DIVE THE WORLD
... Booking with Dive The World was excellent. No issues. The best part of the service is the quick response and no fine print. I am used to the website as this is my 4th booking with you! ... -- Dipen Mehta, India. [More customer reviews]