>
Dive Destinations
>
Maldives
>
Far North Atolls
>
Haa Dhaalu Atoll
Diving Maldives Far North Atolls
Haa Dhaalu Atoll
...Highlights: shark action, manta rays, turtles, schooling fish & big pelagics...
...Haa Dhaalu Atoll's diving environment: healthy reefs, wall dives, drift diving, caverns, advanced divers, off the beaten track...
Cruising over to the south side of Theefarido Thila at Haa Dhaalu Atoll (also known as Southern Thiladhunmathi), you start your scuba dive with one of the best walls you can experience in this region. The large tongue of rock acts as a natural shelter where the soft corals can grow unaffected by the strongest effects of the current flowing from north to south. There is a profusion of various shades of yellow soft corals, interspersed with splashes of red sea fans adding highlights to this beautifully memorable seascape.
While in your colour-induced reverie, you can spot varicosa nudibranchs in abundance, along with eye-catching flabellinas. Have a look inside each fissure and cavity in the wall to see lobsters peering at you. Traversing towards the end of the wall, you cross a canyon and may instantly be surrounded by schooling yellow snappers, or overtaken by swiftly moving blue and yellow dash fusiliers. Beneath you the swaying anemones are guarded by their ever-alert clownfish.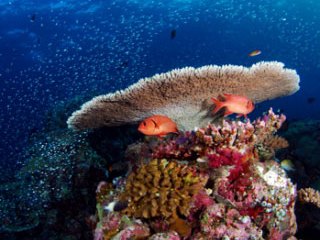 Reaching the other side of the canyon, which stretches the entire length of the rock, you begin your ascent by easily finning west along the top of the tongue and the natural topography of the rock will gently bring you up to around 13 metres, while keeping you entertained all the way with colourful coral and marine creatures.
Anemone Thila is another unforgettable dive site off the coast of Theefaridhoo Island. Stretching from east to west, you begin on the north side of the pinnacle. Descend quickly to the sandy bottom where leopard sharks shelter from the south to north current. The absence of other boats in the area makes this encounter almost guaranteed.
The clear 29°C water coupled with the bright sun overhead means the visibility can be breathtaking. As the sunlight dances over the sandy floor you could be forgiven for thinking you were at 10 metres rather than close to 30 metres. Other sights on the seabed include stingrays and marble rays partially covered by the sand with only their eyes showing.
Then turn your attention to the north wall where huge Napoleon wrasse seem to play with shoals of yellowfin trevallies, set against a backdrop of colourful soft corals blanketing the rock face. The summit of the thila is covered with hard coral, mainly porites and acropora table corals.
Anemones are prolific giving the site it's name and moving in and around the anemones you will be treated to moray eels and pipefish. Current allowing, your dive will continue to the very east of the thila to be waved farewell by the lobsters who live in the crevices. Show more

Reef Summary: Walls, submerged boulder pinnacles and caves
Depth: 5 - >30m
Visibility: 20 -30m
Currents: Moderate to strong
Surface conditions: Can be choppy
Water temperature: 28 - 29 °C
Experience level: Beginner to Intermediate
Number of dive sites: 25
Diving season: All year round except June
Distance: 280 km from Male
Access: Maldives liveaboard
Useful References