>
Dive Destinations
>
Maldives
>
Far North Atolls
>
Haa Alifu Atoll
Your Guide to Haa Alifu Atoll
Diving Maldives Far North Atolls
...Highlights: manta rays, schooling fish & big pelagics...
...Haa Alifu Atoll's diving environment: wreck dives, drift diving, advanced divers, off the beaten track...
Rapidly descending below the surface and into the warm waters of Baarah Thila at Haa Alifu Atoll (also known as Northern Thiladhunmathi) brings you to where all the action is concentrated at the top of the submerged boulder at 16 metres.
There are schools of blackfin barracudas swimming along with Spanish mackerels. Big schools of snappers and Andaman sweetlips swirl past you. But the memory most likely to linger from this Maldives dive is the large number of mantas availing of the services of cleaner wrasses. Simply moving northwards with the current allows you to spot up to 30 manta rays sweeping over your head.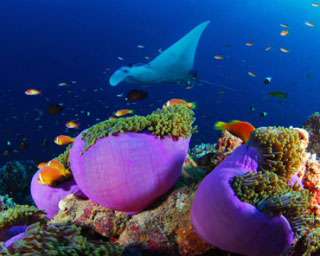 The boulder stretches from east to west between Baarah Island and Muraadho Faru. After bottoming out at a depth of 30m scuba divers will be treated to the sight of leopard sharks sleeping behind clusters of rocks. Don't forget to check your buoyancy as the boulder is covered with hard corals. At some point you will have to leave the show and start to ascend, but even at 5 metres you will easily spot many mantas circling in the blue while on your safety stop. This offers unforgettable wide angle photo opportunities.
As you approach the Maadhoo Wreck you immediately see 4 chimneys rising out of the water. The ship is 80 metres long, situated on the south side of Dapparhu Island at an easily accessible depth of 5 to 18 metres. As you descend to the deepest point of the dive you will be rewarded with leopard sharks hiding from the moderate current beneath the stern.
Unfortunately the deck of the wreck has collapsed due to salt water corrosion, so you won't be able to penetrate the ship's interior, but by ascending slowly you will notice great numbers of snappers, fusiliers and bigeyes, darting in and out of the hard coral covering the sides of the ship. Keep an eye out for redtooth triggerfish. Scorpionfish and stone fish can be spotted lurking in place, awaiting their next hapless victim.
Your dive ends at 5 metres following back up to the top section of the wreck or gazing at the colourful nudibranchs that decorate the shallower portion of this Maldives reef.

Reef Summary: Submerged boulder thilas
Depth: 5 - 30m
Visibility: 20 -30m
Currents: Moderate to strong
Surface conditions: Can be choppy
Water temperature: 28 - 29 °C
Experience level: Beginner - intermediate
Number of dive sites:13
Diving season: All year round except June
Distance: 280 km from Male
Access: Maldives liveaboard
Useful References

---
CUSTOMER TESTIMONIALS OF DIVE THE WORLD
... Very pleased with your service, special mention for Oor who has been fast and precise in answering all my questions as well as planning, organizing, confirming ... always felt taken care of and sure about what was going on. Thank you very much! ... -- Diego Lucchesi, Italy. [More customer reviews]