>
Dive Trip Reports
>
Deep Andaman Queen
Myanmar Liveaboard Diving Trip Report
Deep Andaman Queen Dive Safari in the Mergui Archipelago
Click on an image to enlarge

It had been several years since I had dived in the Mergui Archipelago in Myanmar and a couple of years since I enjoyed the wonders of the dive sites around the Similans, Koh Bon, Koh Tachai, Surin and Richelieu Rock in Thailand.
So when the opportunity arose to go on a Myanmar liveaboard trip on MV Deep Andaman Queen that would combine all these very special areas of the world, I didn't need to be asked twice. I began packing my gear and wondering what the trip would hold in store and whether things would be any different now that Myanmar was opening up to the world.
What was in store was an excellent voyage around remote seas without another liveaboard in sight. Underwater I would explore caves, wrecks, walls and channels and have encounters with mating octopus, vast schools of fish, and all manner of macro-life in the Andaman Sea. I saw a rare pineapple fish and we saved the life of a turtle. The experience was explosive in more ways than one ...
The Diving Highlights
Thailand
After a check-out dive at North Point just off Island No 9 of the Similans, our itinerary took in Koh Bon, Koh Tachai and Richelieu Rock.
Richelieu Rock proved to be one of the most-loved dives on this trip. In total we dived here 4 times (2 on the way to Burma and 2 on the way back) and everyone was delighted to experience this site several times. Because it is such a popular spot, at times there can be a fair number of boats there. You need to make sure that you get into the water for your first dive as early as possible, so you don't end up with too many other divers. Our guide, Steve planned this very well indeed to minimise such encounters.
At Richelieu Rock we spent time with mating octopus, as well as cuttlefish, barracudas, jacks, trevallies and mackerel. Among the smaller creatures living within the most astonishing, colourful coral, were moray eels, scorpion fish, hermit crab, the very rare pineapple fish and even a tiger-tail seahorse. Not a minute of all 4 dives at Richelieu Rock was wasted, I can assure you.
On the return leg of the trip we also visited the excellent Thailand wreck diving sites, the Sea Chart I and Premchai.
Burma
Unlike popular sites in Thailand like Richelieu Rock, diving in Burma is not a race against other liveaboards. For the most part the vast ocean seems like your own as you make your way from one remote dive site to another. It is a lovely feeling to be standing on the bow, scanning the vast emptiness and feeling the ocean is yours alone.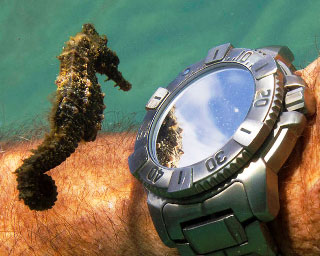 Highlights included High Rock, a small islet with a single tree which has a wall on its north and east sides, and a rocky reef on its south and west. The sheer volume of fish life at High Rock hits you as soon as you descend. Blue line snapper form huge schools that obscure the reef wall from view. Glassfish are equally numerous, as are gold-striped fusiliers and yellow tail barracuda. Trevally dart into shoals of bait fish that move as one, safety in numbers their only defence. Large flutemouths stalk their prey and titan (giant) triggerfish guard their territory.
Another highlight would be one of the top Mergui Archipelago diving sites, Shark Cave. It is known for its resident docile nurse sharks. Often found guarding the entrance are several long-fin trevally and silver sweetlips hunting the masses of juvenile barracudas, cave sweepers and silversides. The tunnel is 20m long and the ceiling is covered in beautiful marigold cup corals, and the floors with yellow Stylotella Aurantium sponges, within which frogfish can lurk.
Grey and white-tip reef sharks and can sometimes be met cruising through the tunnel. These sharks have been known to show aggression to scuba divers, so stick close to one side of the tunnel to give them space to get past. A 1 metre square hole marks the entrance to the lower cavern where nurse sharks can be seen. It is accessible one person at a time and real care is needed with buoyancy control. A torch is recommended in the tunnel area to see into the deeper crevices.
It seems that recently more and more local fishermen have taken to dynamite fishing around Shark Cave. They didn't even care that we were in the water at the time. As a result, I had an experience that can best be described with Steve's words: "it feels like someone rips your heart out of your chest". Of course, although we had a lovely dive, we didn't see a single shark. Go figure...
The Mergui Archipelago's southernmost site, Western Rocky offers you an overwhelming choice of wall and reef diving, pinnacles and an impressive passage through the centre of the island. Marine life ranges from the tiniest nudibranch to occasional whale shark visits. It was another of the highlight dives of our trip.
On our way to dive Stewart Island, the island our captain spotted a hawksbill turtle that was entangled in a piece of fishing net and the boat boy pulled it out of the water with a hook on a line while the boat was still driving. What eye sight by the captain and skill by the boat boy! We cut the turtle free from the netting and after the boat crew applied some good luck rites we released the turtle into the ocean again. What a lovely feeling to save the life of this harmless little creature!
• Watch our Myanmar diving video

The Liveaboard Boat
MV Deep Andaman Queen is a large and stable vessel and you can tell that the people who built it have been in the scuba business for a long time and recognize the needs of divers in terms of accommodation, food, diving and relaxation.
The cabins are spacious, without being sumptuous. I was in the master cabin on the main deck, since the trip was not fully booked, and everyone on board got upgraded in their cabin free of charge wherever possible. The beds were comfortable and there was plenty of natural light coming in through the big windows on all the cabins on the main deck. The cabins on the lower deck have portholes. All the cabins have en-suite facilities and there is one central air conditioning for all cabins, which led to some people finding the temperatures in their cabins a bit too cold for their liking. This was taken care of by the tour leader, by adjusting the temperature and handing out extra blankets where needed, and from the second night on, everyone was happy again.
Another good feature were the colour-coded towels, so you don't wipe your face where some other guest might have wiped another part of their anatomy, if for example the towels were confused on the dive deck or around the boat. The passion and joy of the tour leader Steve, it is to wake up all the customers in their native language, which on this trip was Dutch, German, English, Italian and even Korean. The fact that the Korean guest claimed that he felt he was being awaken by his own mother again, just like when he was a little boy, is testament to the language abilities of Steve. He also speaks French and Spanish as second and third languages just in case.
Steve also emphasises the protection of the underwater environment and encourages all guests not to touch anything in the water and to be careful with their movements on the reef, especially when diving with cameras. Diver safety is of the utmost importance and rehydration is supported, through cold drinking water and electrolytes (free of charge) always being available.
The other dive guide on this cruise was Pieter, a Dutch expat who was ever present when needed and surprised the guests with some of his best underwater pictures to take home, without asking anything in return - not a common occurrence in the diving industry anymore and well received by guests. There is a professionally made DVD available at the end of the trip for only THB 1,500 per copy, for those who want to take nice memories back home to watch again and to show to their friends.
The Diving Procedure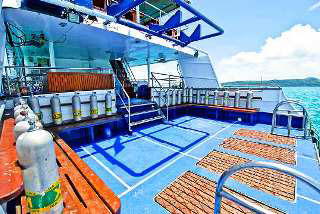 The dive platform has 4 fresh water showers, as well as 2 large rinsing tanks and the dive deck features another shower as well as 1 toilet. There are lots of sun beds and mattresses on the big sun deck, either in shade or in the sun, and this is a great place to watch the passing scenery or read a good book, listen to some music or work on your skin tone.
All tanks are filled in their place so the diving procedure is simple. After the comprehensive dive briefings, either in the salon or the outdoor dining area, go to your station, gear up and enter the water from the very large platform with a giant stride entry. Although buddy pairs are allocated, you will dive more as a group than in pairs. There are always several strong Thai or even Burmese arms helping you throughout the entries and exits, to ensure there is no danger of a slip or loss of gear.
There are plenty of spare parts in storage on the deck as well, and all necessary replacements were dealt with expertly. There is a fair amount of camera table space, plus air hoses and a rinse tank. All washing and hanging of equipment is done by the staff if you want, so simply slip out of your wetsuit and into a warm towel (after the night dive), or enjoy a refreshing ice cream smoothie after the second and third dives to cool down in the tropical heat... what else could a diver ask for?
Food all day long to fuel your diving motor
The food on board is a mix of Thai and western dishes and always in buffet style. Breakfast consisted of toast bread and some wheat bread, as well as banana cake, croissants, cheese, fried eggs, bacon and beans. Lunch and dinner was usually plain rice and your choice of at least 3 dishes of chicken or pork, beef or fish and sometimes a mixed salad and a soup. We were also treated to the occasional serving of french fries, spaghetti and even lasagna and garlic bread. In between meals you didn't have to go hungry either, because there were always afternoon snacks served, such as spring rolls, chicken dumplings, pancake and fried bananas or fried pineapple (not the pineapplefish, of course).
We didn't have any vegetarians on board on this trip, but with advance notice this can of course be catered for I was assured. The food is served on top of a large refrigerator unit that is always stocked with several different juices, yoghurt and milk, as well as soft drinks and beer. All of this is free of charge, except for the alcoholic beverages. Beer at THB 100 per can and wine at THB 800 per bottle are available, and need to be marked on an 'honesty list' and paid for at the end of the trip. The 24-hour snacks available include Thai cookies (very addictive), oatmeal, corn flakes, biscuits, candy and fruits.
Getting There
Getting onto the MV Deep Andaman Queen couldn't be much easier, especially when you start from Phuket, Khao Lak or even Phuket airport. I was picked up in Chalong at 15:30 on embarkation day and we traveled by air-conditioned minibus northbound to Khao Lak, which is about 90 km or 2 hours away from the main beaches on Phuket, namely Patong, Karon and Kata beaches.
Upon arriving, we boarded the vessel at the pier and after a brief introduction to the boat crew and the other guests, we were assigned to our cabins. The guests on this trip were a group of only 8 people including myself, coming from Switzerland, the Netherlands, Italy, Great Britain and even South Korea. Once we had stored our luggage in our cabins, it was time to set up the equipment, to ensure that everything was ready for the next day's diving, before dinner was served to conclude the first day.
A beer or two were enjoyed by some in the large outdoor dining area, followed by a good night's sleep, while the captain steered the boat to Island No.9 at the Similan Islands, where the diving was to begin the next morning. We couldn't wait to begin.
Summary
I had a great time on the Deep Andaman Queen and probably gained some weight as well. This Myanmar liveaboard trip had so many different things on offer since it cruised in Thai waters as well as venturing into Burma, but you would also be spoilt for choice if you only went on a 4 night trip that stays within Thailand, enjoying dives at many more sites in the Similan Islands, Koh Bon, Koh Tachai and Richelieu Rock.
Having to hear and feel a dynamite explosion underwater in Burma however, is not something that I'd like to do again in a hurry. One can just hope, that over time and through education, protection and preservation, these fishing habits will come to an end. Having said that, if you give me the opportunity to rescue a turtle from a net in high seas and set it free again, or see a pineapple fish and all the other incredible marine life we encountered, I wouldn't hesitate.
It was a trip of many first sightings and experiences, some good and some not so good, combined with meetings of old friends above the water as well as in it, so in retrospect, I wouldn't have to be asked twice, and I'd do it again and again and again.
Written by Detlef Sarrazin, December 2012


---
CUSTOMER TESTIMONIALS OF DIVE THE WORLD
... The website is easy to use and the booking process, excellent. I can find helpful information about all diving destinations in the world ... -- Jae-Yeon Jang, South Korea. [More customer reviews]