>
Dive Trip Reports
>
Bastianos Lembeh Resort
Dive the Lembeh Strait Trip Report
The Greatest Show on Earth at Bastianos Lembeh Resort
Click on an image to enlarge

How appropriate it seemed that I had chosen to take Richard Dawkins new book 'The Greatest Show on Earth' with me on a recent trip to North Sulawesi and the Bastianos Lembeh Diving Resort - there can be few better examples of evolution at work than in the Lembeh Strait.
Dawkins demonstrates that the hunter and the hunted are locked forever in an eternal 'arms race', natural selection driving the predator to evolve into an ever-faster and deadlier killing machine, the prey driven to be ever more elusive. It matters not a jot that we humans might feel compassion for the suffering for nature is blind to cruelty.
And so the actors took to the stage at Teluk Kambahu 2, to take part in a short play entitled 'Survival of the Fittest'. A black waspfish, highly skilled in the art of deception and sleight of movement, played the part of the prey; a yellow hairy frogfish, 4 times larger than the waspfish, played the hunter.
The frogfish is known to have the fastest mouth strike in the animal kingdom. It was certainly too fast for this waspfish. I knelt in awe for a few minutes as I watched this waspfish flutter just like a leaf across the sandy bottom of the strait. Ever so slowly it wavered dangerously close to the frogfish that sat there, perfectly still and endlessly patient.
In a blink of an eye, the frogfish lunged and gaped and had swallowed half the waspfish. 2 more sudden movements and the waspfish was occupying a large part of the frogfish's stomach. The frogfish gaped a few more times whilst its meal settled, then it resumed its motionless pose on the sand. Yes, nature can appear to be heartless, but its shows can be splendid excitement for scuba divers in the Lembeh Strait.
More About the Diving
If you've never made a trip to Lembeh before the chances are good that you'll be amazed, both by the bizarre appearance of many of the marine creatures and by the ease with which you can spot them here. Having had the good fortune to dive in many of the world's top marine diversity hotspots, I can say honestly that Lembeh is my number 1 for night diving, muck and macro life.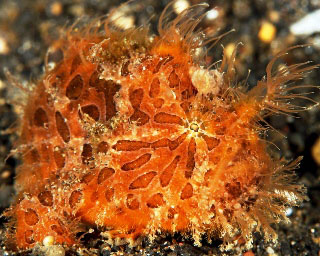 You are likely to see many of the unusual creatures that have now made diving in the Lembeh Strait world famous. Wonderpus, blue-ringed octopus, seamoths, spiny devilfish, flamboyant cuttlefish, seahorses, flounders, gurnards, dragonets, stargazers, Banggai cardinalfish, snake eels ... These are some of the 'big name' critters that divers flock to Lembeh to see and to tick off their personal 'seen that' dive log.
But for me, to focus on the better known marine creatures is to ignore much of what Lembeh as to offer. I get more satisfaction in examining the many weird and wonderful species of urchins and anemones to find some of the baffling array of crustaceans here - zebra crabs, Coleman's shrimps, elegant squat lobsters, coral shrimps, anemone shrimps, decorator crabs. The wide and wild range of colourful and unusual nudibranchs and sea slugs here is second to nowhere else; it really is a strange world under the water's surface in Lembeh.
• Watch our Lembeh diving video
Dive conditions during my September trip were average. The visibility was quite low at 5-10m, but the water temperature was 28-29°C. There was also a large amount of litter floating in the water. Thankfully this is mainly just an eyesore as the macro marine life is not affected by it. The weather was sunny and the air temperature were around 30°C. Surface conditions were very calm. Most of the time you'll be diving on black sand or rubble slopes, but there are also some coral reefs and some walls, and most of the muck sites do have some coral patches too.
The Bastianos Lembeh Resort can accommodate only 28 guests, and with 4 dive boats the dive centre can comfortably accommodate everyone. There is a 2-tank morning boat trip after breakfast (08:00 hrs), and a further 1 dive after lunch (15:00 hrs). Night dives are available every day at 18:00 hrs. Unguided 'House Reef' diving is also available for real scuba junkies but these are not free of charge. Boat trips to Bankga Island can be arranged but these incur a surcharge.
The resort's boats are the standard wooden hull ones that you find across Sulawesi. The boats are fitted with tank racks, egress ladder, rinse tank, 2 boat crew, a first aid kit, and drinking water. Oxygen is NOT kept on the boats but there is a good supply back in the resort. The boat crew will take care of your dive gear - packing, carrying it to and from the boat, etc.
Nitrox is available and the resort understands that most visitors want to spend as much time as possible underwater diving the Lembeh Strait. This is why they have a policy of no fixed maximum bottom time on each dive. There is also a camera room available to dry, charge and prepare their underwater cameras.
Tour groups are very small - there is a maximum of 4 divers per guide but normally groups are even smaller than this. This is great for critter hunting. The dive briefings and guiding is set at a level which assumes a reasonably high degree of competence of the part of the diver. Bastianos Lembeh would not really be a good recommendation for inexperienced divers.
A note of caution: many of the dive guides in Lembeh are not qualified divemasters and they have little training in the way of marine conservation. I witnessed many guides strafing the reef's rubble and sand surface in the hope of finding a hidden creature to show a tipping guest. This action destroys fledgling coral and plant growth and inevitably leads to barren slopes in the long term. Guides also harass and molest popular creatures such as octopus and pygmy seahorses. I find this behaviour very disagreeable; the strait is a place for observing creatures in their natural wild habitat, it is not a zoo or aquarium. No wonder that guides admit that sightings are getting harder to find. Perhaps concerned guests can tip their guides to reward good eco-behaviour during their trip instead of solely on their own creature 'hit list'.
The Bastianos Lembeh Diving Resort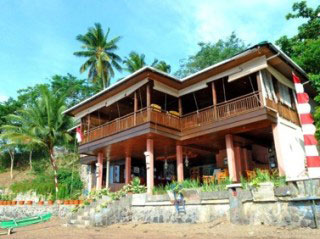 This is a small resort on Lembeh Island in the middle of the strait, 50 km from Manado. There are only 14 rooms and cottages so there are never large hordes of scuba divers here. The resort is run by Serge, a friendly and avid German diver/underwater photographer who likes to dive with the guests as often as possible.
The resort is very reasonably priced at the lower end of the budget scale but yet it has surprisingly good facilities for accommodation at such a modest price. The first feature to strike you at the resort will be the elevated swimming pool and large modern open-air common room. The pool has sun beds with superb views over the strait. The common room serves as a social lounge area as well as the dining area. There is a satellite TV and DVD player, a pool table, fish ID book library, and free wi-fi internet (throughout the resort).
Bastianos Lembeh Resort also features a spa room. The facility is open daily and provides various massage services - Shiatsu and reflexology.
The Food
The dining area is part of the large elevated open-air lounge. Meals are simple buffet spreads with breakfast, lunch, dinner, cookies, afternoon cake, tea, coffee and water are included in the dive resort packages. Soft drinks, beer, wine and a few other snacks are available for purchase.
Breakfast at 7:00 am is a simple choice of eggs, cereals, rice porridge, toast, fruit, fruit juice, and tea & coffee. Lunch (13:00 pm) and dinner (19:30 pm) are 4 trays of a meat dish, a fish dish, vegetables, and one other dish (depending on guest requests and requirements), plus rice and soup, followed by fresh fruit. Vegetarians and vegans can be catered for but choices are limited.
Most meals are pan-Asian or Indonesian. Highlights include Beef Redang curry, Babi Tinorangsa (spicy pork), Gado gado (Indonesian salad with peanut sauce), Soto sapi (beef soup). Although there is a reasonable number of different dishes and ingredients over the course of a week, I found the food a bit bland and uninspiring. Many resorts seem to fall into this trap of trying to cater for everyone and 'dumming down' the food to be harmless and mediocre. If you stay here for a few days only then I'm sure most people will be fine with what's on offer, but I imagine that people on longer trips might yearn for more variety.
The Accommodation
The resort has 10 stand-alone Superior cottages lined along a walkway on the hillside. These are in good condition and of good quality considering the price and there are both twin bed and double bed cottages available. All the cottages can be rented either as air-conditioned or as fan only. Air-con comes at a premium in price though, given the high humidity here, most people will think it is worth the extra small amount of money. The cottages are all fitted with a hot water shower bathroom with towels and soap, bedside tables, mosquito net, dressing table and balcony overlooking the water. The cottages can all pick up the wi-fi internet signal.
There are also 4 cheaper Standard rooms located down the hill, close to the water's edge. These are small with fan only, cold water shower, mosquito net, and are generally popular with backpacker/traveller types.
Getting to Lembeh
Bastianos will collect you from Manado Airport and transfer you down to Lembeh. This takes around 1½ hours in a minibus. Flights to Manado from overseas are operated by Silk Air from Singapore. Some of the Indonesian airlines fly to Manado from Jakarta or Bali. You can book and pay for domestic flights online, but if you have problems please do contact us for help. Always carry some US dollars or Indonesian rupiah to pay for the airport departure taxes.
The Final Score
The Bastianos Lembeh Resort is not a luxury resort but it does have some attractive features - swimming pool, free wi-fi internet, spa room, good accommodation, well run - and it does offer very good value for money. This makes it a good choice for anyone that doesn't need 4 or 5 star resort but doesn't want a 'bottom of the ladder' resort with no leisure facilities either. Bastianos also run a resort on Bunaken Island, just 50 km on the other side of Manado. They provide free and convenient transfers between the 2 resorts, making this option a truly worthy plan for a week or two's land-based diving vacation in Sulawesi.
Written by Sheldon Hey, September 2010


---
CUSTOMER TESTIMONIALS OF DIVE THE WORLD
... Booking with Dive The World was easy. The information was clear and the assistance was professional and reliable ... -- Francesco Foghetti, Italy. [More customer reviews]