>
Dive Trip Reports
>
Borneo Divers Mabul Resort
A Trip Reminder of Malaysia's Underwater Treasures
Diving at Sipadan with Borneo Divers
Click on an image to enlarge

Hopping onto the jetty of Borneo Divers, I instantly knew I was in for a wonderful time, when resort manager, Mr Roland Ng was there with a welcoming smile. I had not been to the Sipadan/Mabul area for some time and I was delighted to be back. As a native of Sabah in Malaysia I know that what we have here in our own back yard is very special but it is easy to forget. Therefore this trip for me was about rediscovering what excellent diving there is right on our doorstep.
On my trip I was delighted to revisit old favourite spots around Sipadan including Barracuda Point, South Point, Whitetip Avenue and The Drop-Off. It is impossible to overstate how awesome it is to be surrounded by sharks, turtles, jacks, bumpheads and so many more fish, not to mention the tornado of barracudas. Where else can have such numbers in such a small space?
I also really enjoyed the diving in Mabul and did some exploratory dives too. So it was a fabulous trip.
The Diving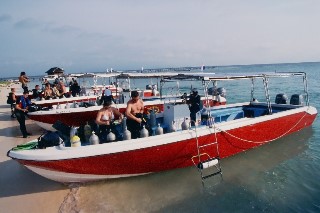 Everyone knows about the high quality of the diving at Sipadan and I have to say my mouth was hanging open in awe so much that I nearly lost my regulator! However it was no real surprise that I found Sipadan excellent. What was a surprise to me was how much I enjoyed Mabul.
• Watch our Sipadan diving video
My first dive was at Paradise 2, one of the sites Borneo Divers likes to call its House Reef. I soon realized why Mabul is so highly regarded as a macro diving destination. If you expect to see dive sites similar to Sipadan you will be shocked. They are very different, but just as spectacular. Only in a totally different way.
Diving on the sandy bottom and broken rubble of Mabul at first did not seem at all interesting. However I was in for a big surprise! It was amazing (for me as a first timer diving in Mabul) to check out the minute marine life as opposed to the "big stuff" that a lot people seem more interested in. Lorenzo, my divemaster was a champion - he spotted a lot of stuff (baby cuttlefish, innumerable tiny shrimps - mantis & harlequin shrimps, frogfish, trumpetfish, various species of nudibranch, scorpionfish, crocodile fish, baby lobsters and more). There were many incredible things I cannot name and have never seen before in my scuba history.
• Watch our Mabul diving video
Diving in Mantabuan
A small group of us were asked if we would like to join his dive crew and himself to do a site inspection at Mantabuan Island, one of the more lesser known islands around Semporna. I gladly took up the offer as it was a chance to take a breather from the familiar sights of Sipadan and I thought that this could be an exciting adventure - diving into the "unknown"! Only 1 of the guides had dived at Mantabuan before so we did not know what to expect at all.
We were all pleasantly surprised though, after our first dive at a site called Black Coral Garden which was aptly named with huge bushes and large patches of dark colored corals everywhere. It reminded me of diving at Coral Garden, a dive site at Sipadan, only this time everything was almost dark and slightly spooky! We even spotted 2 turtles - 1 baby hawksbill and 1 green turtle, and moray eels. On another dive, as yet unnamed, we saw large numbers of fish and even schooling barracuda!
This area looks like it might become more commonly dived by guests visiting the Sipadan / Mabul area. While there is evidence of fish-bombing at some sites, other areas are quite healthy and worth visiting. It may be that the dive operators of Mabul will be looking further afield to newer spots because of the restricted guest numbers going to Sipadan, and it appears that Mantabuan island will be one of those.
What's New at Mabul Island Resort?
The first thing I noticed was the jetty. It is new since the last time I had been. It is difficult to estimate its length but I would guess about 100m. The dive station is located there, as well as a camera room and the scuba gear rental room. They also have a balcony of sorts with loungers, chairs and tables where you can have drinks and cakes and enjoy the beautiful sunsets and views over the calm rich waters.
• Watch our Borneo Divers Mabul Resort video
The Food
Borneo Divers serve buffet style food (mostly Asian & Western cuisine) 3 times a day - breakfast, lunch and dinner. Additionally you can enjoy tea time between 4-5 pm (local cakes and desserts are served). Everyone seemed to be enjoying their food and I saw a lot of people having second rounds (including me!). There is a free-flow of coffee and tea, with plain white and wholemeal breads served throughout the day.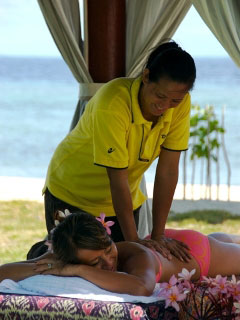 All meals are served at the main building where the reception hall, TV/conference room and video room are located. A few beats of the gong signifies that meal time has now arrived ... yummmm... We are all Pavlov's dogs.
The rooms
I was given a chalet with a king sized bed, overlooking the swimming pool. It was comfortable, clean, spacious and had a safety box. There was also a desk and chair where you can comfortably surf on your laptop.
The wifi signal is not strong enough if you are staying in a chalet further out towards the beachfront, but it is only a walk away to the dining hall where you can surf for free or head to the conference room where they have a desktop ready for those without one.
The whole experience
I enjoyed the scuba diving immensely and the stay as a whole, mostly because the Borneo Divers Resort staff was so warm and welcoming. They never let you sit alone and always invite you to join them either in the TV room to catch up with the latest movies, or for the more adventurous - a couple of rounds of the local rum!!
Mabul Island is also an interesting experience in itself. Take a walk around the island and you will see the simple lifestyle of the local sea gypsies, who depend (naturally) mostly on the sea. It is certainly a good photo opportunity for the photography enthusiasts and a great way to experience and record the people that live here and are part of one of Sabah's best treasures.
Written by Charlene Francis, May 2009


---
CUSTOMER TESTIMONIALS OF DIVE THE WORLD
... I booked via a friend however whenever I have viewed the website the information is clear and navigation is user friendly. Any correspondence was always quickly responded to and always friendly/ helpful in tone and style. I was impressed with the quick responses, clearly from specialists with in-depth knowledge about the booking, processes and products they were offering. ... -- Hillary Brown, Scotland. [More customer reviews]