>
Dive Trip Reports
>
Turneffe Flats Resort
A Diving Belize Trip Report
Turneffe Flats Resort
Click on an image to enlarge

Anyone wishing to see the best of what Belize has to offer in terms of diving should pay a visit to Turneffe Atoll; it offers the best land based diving in Belize ... by some distance. The atoll is a simple wildlife paradise and its treasures extend underwater too. It is a real 'Getaway' experience surrounded by nature.
Above the water line, the mangrove lined lagoons harbour manatees, saltwater crocodiles, spiny lobster and dolphins. The trees host ospreys, ibis, royal terns, egrets. It is these lagoons that are key to the rich diving environment of Turneffe. Many reef fish such as groupers, jacks, snappers and surgeonfish spawn on the reefs in vast numbers as the lagoons offer shelter for their offspring. Consequently, the reefs around the atoll are home to a great number of juvenile fish.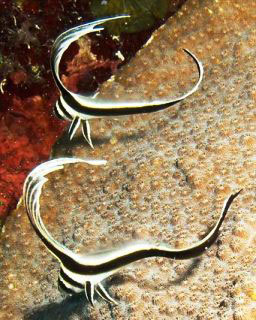 During my week long stay at Turneffe Flats Resort, I experienced this first hand. The walls, terraces, coral gardens and channels around the atoll provided a varied underwater landscape to explore. Large groupers, snappers and great barracuda were present on most dives; we frequently saw small schools of horse-eye and bar jacks, turtles, eagle rays and southern stingrays. But for me the highlight of diving in Turneffe is the mixture of reef fish and critters. We found reef squid, octopus, some colourful Caribbean Sea nudibranchs, arrow and neck crabs, or spotted anemone shrimps on every dive.
Being a fish ID buff, I always love to find any endemic species. And Turneffe Reef didn't disappoint with its remarkable whitespotted toadfish. This curious creature is nocturnal but can be found during the day, peering out from holes and under ledges on the reef flats. If you breathe slowly, you might be able to hear it too - it has a distinctive "prrrp-prrrp-prrrp" call, so you know that one is close by but often frustratingly out of sight!
The Elbow in the south of the atoll is the best place (probably in the whole of Belize) to see large schools of fish, especially when there is current present. During my stay we visited the south on the final day and it really was a case of saving the best 'til last! The Elbow delivered a great silvery, spiralling wall of snappers and jacks. We dived here once but I would have gladly made a second dive here or even a second trip!
I visited during the supposed rainy season; it didn't rain the entire week and the weather was sunny and hot. Visibility was a good 15-25m at all sites (lower than in the dry season), the sea was calm and the water temperature reached 30°C (86F) on my dive computer.
The Resort
Turneffe Flats Resort is one of the most established resorts on the atoll and has a vast amount of experience of scuba diving here. Craig and Karen, an American couple, own and manage the resort; they have been here for over 30 years. There is also a young assistant manager at the property.
It is a relatively small resort and the ambience reminds me somewhat of staying at a friendly family lodge rather than a hotel. Due to the remoteness, the resort needs to be entirely self-sufficient for power and water etc.
The main social area is in fact the Lodge, which houses the dining area, as well as a bar and a lounge area. Wi-fi internet is free here or guests can make use of the resort's laptop to keep in touch with family/friends. There are also some fish ID books, which are handy for divers.
• Watch our Turneffe Flats Resort video
Diving with Turneffe Flats
The resort runs daily 3-tank scuba trips to every corner of the atoll. Since the boat does not return to the resort after each dive, it is the only resort at the islands that can access dive sites right across the atoll. This is a great perk if you are here solely to dive but may be a disadvantage if you are in a close group where some are non-divers since you will be apart for most of the day.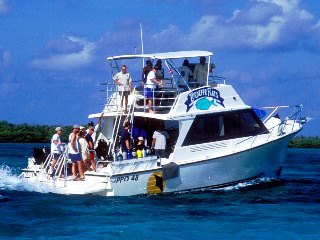 There are 2 dive boats. We used the smaller boat since there were less than 6 divers at the resort. It is equipped with tank racks, a rinse tank, ladders, a radio, compass, emergency oxygen and first aid. There is no marine head onboard though. The canopy provides shade from the sun. The boat runs well and can reach even the furthest sites of the atoll in good time. The boat departs at 8 am and returns around 3:30 pm. Packed lunch and sodas are taken onboard.
The boat staff and dive guide were friendly, fun and knowledgeable about the local area; they were a pleasure to dive with. Whilst perhaps not quite offering 'Valet Diving', they pretty much take care of everything for guests, washing equipment and loading and storing it each day. The larger boat is used when there are between 6-16 scuba divers. This boat has 2 decks, 420 HP twin engines and a toilet. It also has a GPS and is used on trips to Lighthouse Reef and the Blue Hole, which normally take place every Tuesday (weather permitting).
The weekly resort diving package includes 18 dives including 1 day trip to the Blue Hole and 1 night dive. 32% nitrox is also available for an extra charge. The resort is also well equipped to handle guests that want to try diving or that want to complete their open water course. There are in-house PADI instructors and a class room in the dive centre.
Owner Craig was instrumental is forming and managing the project to have the atoll designated as a marine reserve late last year so the commitment to marine conservation is obvious. The most noticeable absentees from the Belize diving rostrum are big schools of fish, either big or small. It is anticipated that the marine reserve's no-take zones will soon rectify that.
Other Activities
Turneffe Flats Resort focuses equally on scuba diving and saltwater fishing. Apparently the fishing remains particularly good in Belize. It seems to me a little at odds to combine diving and fishing activities but I was appeased to some degree when I found out that the fishing is catch & release.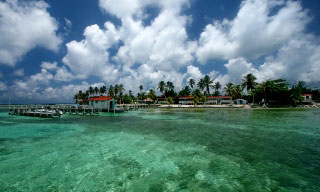 However, the non-diving activities do not stop at fishing. The resort has put together an innovative Atoll Adventure Programme some of the atoll's most amazing locations. Non-divers can sign up for this and join daily boat tours to snorkel the reefs and mangroves, manatee, croc and dolphin sightseeing, bird watching, starfish and sea shell tours, and sea kayaking. Guests simply raved about this programme which is both entertaining and educational; the guide is extremely knowledgeable about the local wildlife and knows exactly where to find the species.
Apart from these packages, there is a swimming pool which proved a very popular place to relax at the end of an afternoon after a full day away diving, snorkelling or otherwise engaged.
One note of caution though: the whole interior of the atoll is a natural mangrove lagoon. There are biting doctor flies, sand flies and mosquitoes. The whole atoll suffers from these pests which are worse during rainy season and when the wind drops. If you want to avoid being bitten, bring plenty of spray/lotion, or wear long legged/sleeved clothes, or consider coming during the windier and drier months of November to May.
Accommodation
Most guests stay in one of the 8 duplex chalet rooms. These properties have an open sea facing porch with table and comfy chairs - ideal for drinking in the wonderful views of the Caribbean Sea. The interiors are spacious, modern and inscrutably cleaned daily. They have 2 queen size beds so can handle both couples and best pal travellers. Features include a private bathroom, coffee maker, both air-con and ceiling fans, and reading lamps.
There are also 2 guest villas. These are also rented to guests on a room basis. Each villa has a lounge with a TV and DVD player, a kitchenette, and 3 en-suite bathrooms. In the Garden Villa all the bedrooms are a good size and have individual temperature control. However, in the Reef Villa, there is 1 large bedroom and 2 small bedrooms. The air-conditioning temperature is set for the whole villa.
All rooms at the resort are the same price and allocated on a first-come-first-served basis, so best to book early to avoid one of the small bedrooms.
The only problem with the accommodations during my stay was that the hot water only worked intermittently in some of the rooms. However, the maintenance staff did fix this issue promptly.
Food
Dining is family-style dining with home-style cooked meals taken with all the guests at fixed meal times. Breakfast, lunch and dinner are included in the packages, soft drinks (US$ 1.50), alcoholic drinks (examples: beer US$ 4 per bottle, wine US$ 35 per bottle) are chargeable extras. There is a good range of international wines available.
Breakfast is to made order and includes the usual continental and American options. Lunch is usually taken on the boat and choices include made-to-order sandwiches and wraps. Dinner time meals are simple but well prepared 3 course meals of mostly Belizean or North American origin - salad or soups; entrees - e.g. lasagna, BBQ pork, ribs & chicken, baked lobster; and desserts - e.g. crepes with caramel sauce, carrot cake, Key lime pie with ice cream.
Meals are set; there isn't a choice at meal times so if you are fussy eater, you might not always get what you want. That being said, of the guests that I chatted to, all were in agreement that the quality of the dining experience, though nothing fancy, was good.
I arranged special vegan meals. I was concerned I was going to be in for a long week after the first meal but a quick chat to the manager clarified a few things and the offerings quickly improved after that. It remained a little hit and miss but I can not fault the kitchen staff in their efforts. A better cook than I (read: everyone) would have been able to advise them for a more satisfactory outcome. So if you have a special dietary requirement, my recommendation is to have a good chat with the manager when you check in about what exactly you want and don't want - it worked for me!
How to get to Turneffe
The resort runs a departing guest transfer service from the resort to Belize City and its airport on Wednesday and Saturday mornings. It returns to the resort with arriving guests on Wednesday and Saturday afternoons. These transfers take around 1½ hours by boat and are included in the package price. It is possible to begin your vacation on other days of the week but then the transfer will be a paid extra. If you have money to burn, it is also possible to charter a helicopter from the airport and fly over the Blue Hole before landing at the resort; flight time is about 30 minutes in total.
In Summary
Turneffe Atoll will appeal to nature lovers and travellers seeking the simplicity of an undeveloped natural getaway. With over 70 different sites to visit, most divers, from novice to intermediate level, will be happy with the variety of diving on offer. It is a major step up from Ambergris Caye and ranks right up there with the other best land-based scuba diving destinations in the Caribbean.
Turneffe Flats is well suited for diver couples and groups since is the only resort to offer diving at all the sites on the atoll. The level of accommodation and service delivered by the resort is very good considering the remote location.
Written by Sheldon Hey, August 2013


---
CUSTOMER TESTIMONIALS OF DIVE THE WORLD
... I like the web site and that is why I booked with Dive The World. I plan on booking again in the future. No improvements needed (unless you want to add more dive sites, boats and resorts)! Communication was great and seamless ... -- Martin Roessing, USA. [More customer reviews]