>
Dive Trip Reports
>
Blue Planet I
Liveaboard Your Guide to Diving in the Red Sea
The Northern Wrecks Tour with Blue Planet
The Thistlegorm has such a reputation in the diving industry worldwide that it was with mixed emotions that I finally got to try this most famous of wreck dives, when I visited Egypt recently on a Red Sea wreck diving liveaboard tour on board the MY Blue Planet. Could the wreck possibly live up to its extraordinary hype or is it oversold by frenzied marketing reps? I was desperate to find out for myself ...
The Mighty Thistlegorm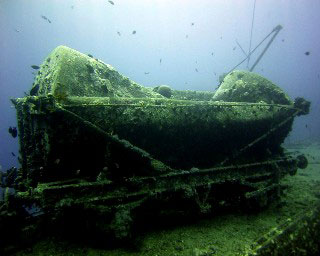 I needn't have worried, I was blown away by it on my first visit. I can now undoubtedly say that the Thistlegorm is by far and away the best wreck that I have ever dived ... and this includes such wonders as the Liberty Wreck in Bali, Coron's famous Japanese cargo shipwrecks, and WWII wrecks throughout Papua New Guinea.
Diving at the Thistlegorm is like visiting a subterranean World War II museum. There are so many relics of the war, all still easily identifiable despite the build up of silt over the years since it was bombed and exploded in 1941. I can only imagine with a high degree of envy what it must have been like to dive here when Jacques Cousteau found the wreck in 1956, and even of the lucky scuba divers that had the good fortune to visit here in the early years of rediscovery in the 1990s, when the ship's amazing cargo was in even better condition and replete with momentoes long since removed.
From the moment I descended the 15 metres down to the main deck and first set eyes on the ship, I was in awe of the historic artefacts on board - BSA war motorbikes, Bedford trucks, armoured vehicles, boxes of munitions and rifles, mounted machine guns, even a railway engine - all stowed away and ready for action in a war that has now thankfully passed them by.
The Thistlegorm is a large wreck and there is so much to see and so many holds and passageways to explore that we made 3 dives here. We could easily have spent several more time here without needing to dive the same sections of the ship. Truly one dive site that stands out as a 5 Star in my own personal log book.
The Wrecks of the Red Sea
The Thistlegorm was just one of the many wrecks that was included in my week long "Red Sea North & Wrecks" liveaboard tour:
• Watch our Red Sea wreck diving video

The Blue Planet liveaboard cruise departed from Hurghada on the Egyptian mainland and, after a check out dive at Dolphin Reef, we headed north to Shadwan Island and the 4 famous Abu Nuhas wrecks. Then after crossing the Suez shipping lane, we arrived at the Sinai Peninsula's coastline and its famous national park - Ras Mohammed. After a few reef dives here we headed west to the Dunraven steamship and onto the legendary Thistlegorm. Then we completed our circular passage by heading south to Shag Rock and the Kingston wreck, then the Gubal Barge and the Rosalie Moller wreck, before heading back to finish the trip with a few reef dives in the northern Hurghada area.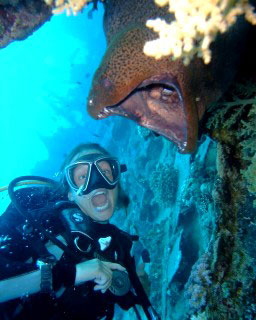 The reefs were good without being extraordinary and there was little sign of macro life. However, due to the Red Sea's high number of endemic species, it was a real buzz to see so many species of fish that I had not seen before, fish like the yellowtail tang, the Arabian angelfish, redback butterflyfish, Heber's trevally etc., and some absolute monster-sized giant morays. But the real prize on this Red Sea liveaboard diving trip were the many wrecks - anything from small barges to huge WWII steamships, from 25 years old to 150 years old. The Red Sea's wrecks must be a clarion call to any wreck diving "fundie".
Dolphins were seen from the boat every day. And finally on day 5, we dived with a group of 5 dolphins at Dolphin Reef and snorkelled with them near Shadwan Island during a surface interval. All the guests agreed that this was also a major highlight of the trip.
The MY Blue Planet
I arrived on board this 27m long Hurghada liveaboard to find the previous week's guests still onboard. It turned out that most of these divers were repeat guests on the Blue Planet. In fact, a good quarter of our cruise guests were also "repeaters" - a sure sign that Blue Planet are in the business of doing things right.
What the Blue Planet do well is guest service, and all for a fraction of the price you can pay on more expensive boats. From the dive crew briefings and equipment helpers, to the kitchen and saloon steward, to the logistical aspects that seem to work like Swiss clockwork, the service was very helpful and on time. This meant that the noted drawbacks of the boat being a little old and small were easily overlooked.
Diving Onboard the Boat
My trip to the Red Sea departed in November. This meant that water temperatures were 26-27°C, not as low as I had initially feared. I managed with a 3mm long wetsuit over a 3mm shortie and a hood. But beware the time of year that you visit - water temperatures vary significantly so do check out our detailed seasonal information within our dive site descriptions carefully. Also note that gloves are not allowed in the Red Sea, except when scuba diving on the wrecks.
Daytime temperatures ranged from 27°C early morning to 31°C mid afternoon. On a couple of days, a fresh sea breeze blew, making the air a little cooler and causing sea swells. Otherwise, the seas were calm and visibility was around 20m.
Ashraf, the Tour Leader and Divemaster onboard the liveaboard, gave practical briefings for each dive. His knowledge of the sites was one of the stand-out features of the trip. Half the dives were made from the Zodiac motorised dinghy and half from the back of the main boat. The equipment handling and donning, and help with egress from the attendants were also very good. The generous beam of the boat means that the dive deck is surprisingly spacious for the size of boat, and there are lots of charging points here for electrical scuba equipment.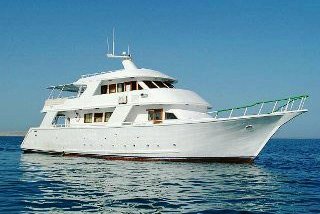 Our group of 14 guests were split into 2 groups for diving - based on experience - and each group kitted up and entered the water one after the other due to there being only 1 dinghy. The Divemaster dived with the less experienced group. It may feel rather strange to divers more used to DMs being provided for 4-6 guests, but for liveaboard diving in the Red Sea, 1 DM for the whole boat is not unusual. Being more experienced, my group dived unattended. This may not be to everyone's liking but, given that the Red Sea does not have much macro life, there is less need for dive guides than in other parts of the world.
In my opinion, a second dinghy and DM would help improve the dive service but the boat is simply not designed, nor big enough, for this. Having the option of a sunset dive as an alternative to night dives would also be great for those that are not keen on night dives. Note also that some of the wrecks are deep dives so I'd recommend that anyone considering joining a Red Sea North & Wrecks Tour should have a minimum of 50 dives and advanced certification.
Guest Cabins
The 6 lower deck cabins are a reasonable size, including the shower cubicle, and having en-suite bathrooms is a real boon for a liveaboard trip of this price. They are by no means luxurious but all the amenities work, although the air-conditioning is not very powerful. The cabins are also made up daily, which is a nice touch. The installation of room fans would assist guests that suffer, not uncommonly, sinus problems from air- conditioning.
The 2 cabins on the upper deck though, are very small and I would recommend ensuring you pre-book a cabin on the lower deck. Talk is though, that the 2 upper deck cabins may well be renovated and enlarged into deluxe cabins during the boat's next annual renovation in March 2010.
Dining Arrangements
Most of the guests found the simple buffet spreads of Egyptian appetisers and Western European style to their liking. One guest even commented that this was the best food they had ever had on a liveaboard. There certainly seemed to be enough variety at each sitting to satisfy most, with a meat and fish option plus various vegetable, salad and starch dishes all served at lunch and dinner. Dinner was also accompanied by varied soups and desserts. Breakfast was European style sliced meat cuts with cheese, a fruit salad and toast.
Most vegetarians would be fine with the standard offerings on Blue Planet too but I would not recommend the boat for vegans.
Communal Areas
The air-conditioned saloon has 4 seating areas and works perfectly well for 16 guests. There is a TV and DVD player with a few movies to watch. The upper deck area is also functional with plenty of padded mattresses about. But certainly a few more reef guide books (there was only 1) and diving magazines would not go amiss. The sundeck also does not have enough mattresses to allow several guests to sunbathe at once.
Getting to Hurghada
The Blue Planet departs from the Marriott Hotel Marina in Hurghada. Most visitors to the Red Sea come from Europe and there are often direct flights into Hurghada as well as Sharm El Sheikh on the Sinai Peninsula. However, if no direct flights are available then a direct flight to Luxor, instead of Cairo, is an alternative worth considering.
I arrived this way and found Luxor airport virtually bare of tourists so the immigration formalities were a breeze. It also means that you don't need to wait around for a connecting flight to Hurghada, just jump in a taxi and overland it to Hurghada. Flying into Luxor also means you could combine your Red Sea diving trip effectively with an antiquities River Nile tour of the Valley of the Kings at end of your trip.
A Trip to Treasure?
We arrived back in Hurghada early afternoon on the penultimate day of the cruise. This meant a few hours to explore Hurghada and to have a night out on the town with my new-found dive buddies, before returning to sleep onboard once again.
Having chatted to several of the guests to obtain their feedback, it seemed that the overall cruise scored a very creditable 8 out of 10 for value for money. It must be understood that the Blue Planet is at the lower end of the market range but if one manages their own expectations accordingly then I'm sure you'll have a great time.
Diving the Red Sea's mighty Thistlegorm will certainly live long in my own personal memory bank.
Written by Sheldon Hey, November 2009


---
CUSTOMER TESTIMONIALS OF DIVE THE WORLD
... For a newbie it's always hard to know where to start so I really appreciated the personal enquiry service. All good. Glad that I could use paypal. The best part was your personalised service. ... -- Vigil Yu, China. [More customer reviews]