>
Dive Trip Reports
>
Sipadan Kapalai Resort
A Malaysia Diving Trip Report
Sipadan Kapalai Dive Resort
Click on an image to enlarge

Saying the name 'Sipadan' to a scuba diver usually evokes immediate attention, a sparkle in the eye and an excited conversation about either "I really want to go there", Or "Sipadan was Amazing!, I have to go back". It doesn't matter what level of diver you are, mention the name and you've made a new diving buddy.
As a diver with many scuba diving friends, Sipadan has always been a hot topic for me and finally I got the chance to go. Were the mythical claims of countless reef sharks, more turtles than you can shake a dive rattle at and pristine reefs really true? It was my turn to find out!
I had booked to stay in the Kapalai Dive Resort, a water village which looks like something more at home in the Maldives, and not something you would expect in Borneo...
The Diving at Sipadan Island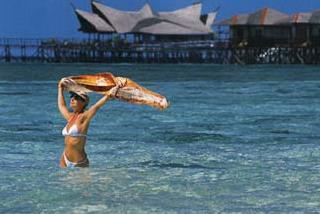 Sipadan has a worldwide reputation for its amazing dive sites and, yes, I was one of the many who was amazed by it. Among the highlights were 2 of the more famous sites - Barracuda Point and The Drop-Off.
The currents were quite strong when I was there (due to a full moon) and so it made for a nice easy drift dive. We just went with it and enjoyed the ride! As we drifted along we encountered some incredible marine life such as a big school of bumphead parrot fish (the biggest ones I have ever seen!), a huge school of jacks, big-eye trevallies and of course Sipadan's world famous barracudas, not to mention countless turtles everywhere. Some seemed almost the size of a small car. Also cruising around every now and again we had the pleasure of seeing grey reef sharks and white tips. I couldn't believe that there was so much marine life in one small spot in the open sea. That is what makes Sipadan special.
• Watch our Sipadan diving video
The Diving at Kapalai and Mabul
Having said that, I found diving around Kapalai and Mabul just as wonderful. While I love seeing big pelagics and impressive schools of fish I can be just as happy moving slowly around the reef looking smaller creatures. So the combination of having both on the same vacation was perfect.
My first dive was on the resort's house reef locally known as Mandarin Valley. I have never seen so much life on a house reef! There were ghost pipefish, nudibranchs, frogfish, juvenile banded pipefish, blue and red dragon the list is endless. Needless to say I soon ran out of room in my log book.
If you're into your macro and critters, then you're in for a treat here! However you need to watch your buoyancy. The sites here at Kapalai and Mabul mainly slope down to a sandy bottom, so you need to slow down and rely on little frog-kicks to avoid dragging up the silt.
• Watch our Kapalai diving video
The Kapalai Dive Resort
From the very beginning to the very end of my stay, all the staff at the Kapalai Dive Resort were amazing. The resort itself is extremely well run, clean and beautiful. The reception/admin office was in a small area just by the main lobby, the bar and the dining hall/restaurant. We were always greeted with warm smiles, cool refreshing towels and beautiful fresh fruit drinks.
We were introduced to Don, who sat us down to fill out the paper work, give us a brief introduction to the resort and also our dive schedules. Around the corner there was a nice lounge area equipped with a plasma TV. This was for the guests to sit back, relax and enjoy the day's diving videos.
• Watch our Sipadan Kapalai Dive Resort video
The Facilities
In the reception/admin office area there are 3 computers for the guests to use. WiFi is also available. Next to this you can find a gift shop, a TV and library room and also a games room equipped with a pool table and table tennis.
An artificial island with a nice relaxing beach-like area is located just above the sandbank. There is also a nice cozy area on the way to the helipad. This is equipped with a few hammocks so you can relax and enjoy the beautiful sunsets.
Snorkelling around the resort is amazing; you have access bridges throughout the entire resort. Sea kayaks are also available at the dive centre so you can easily explore the resort and surrounding islands. There are so many things to do you and your family will easily keep yourselves occupied. Of course, Kapalai is a stitled resort unconnected to any island so there are no long walks!
The Chalets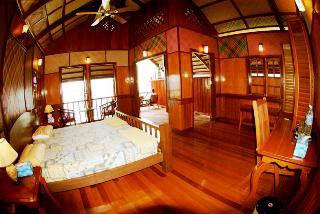 The resort has 41 water chalets. These chalets are all equipped with fan cooling, hot showers and a bathroom, There is also a small balcony with chairs. There is no air-conditioning available but the resort is well placed for cool breezes which go through the chalets. Fan-cooling was more than adequate. In fact the wooden wall-paneling can be opened up allowing sea breezes to waft right through your chalet, so there is really no need for air-conditioning at all.
Please note, if you are a single traveler you will have to pay for a single supplement.
The Diving Service
We were doing our dives from fibre-glass boats. The boats all had very experienced boat crews who were always friendly and helpful. The guides were great at their job too, making sure they could see all of their divers and always finding something to show us. The crew will fill your tanks for the next dive. All we had to do was have our mask, fins and weight belts ready.
Outside the dive center there is a washing and drying area and also hanging racks for wet suits, booties, masks. There are also buckets filled with fresh water for cameras and any other equipment. At the end of each day's diving, it is your responsibility to put your scuba gear back in the personal boxes in the equipment shed before closing time.
Diving around Kapalai and Mabul normally starts at 8:00 am daily. You return to the resort after each dive. When diving Sipadan, the boat will leave at 5:30 am and you will be out for a 4-dive day. Don't worry about food. Breakfast and lunch are served on the island where you can relax after each dive.
The Food
The resort serves buffet-style food, both western and Asian cuisine 3 times a day. Breakfast, lunch and dinner are all served in the main dining hall and there is also a lovely BBQ for dinner. Tea time is between 3 and 5 pm with local cakes and desserts, available at the towel counter by the dive center.
There are always coffee, tea, fruit drinks and drinking water available throughout the day. I was happy with the variety of food, fresh fruits and cakes, not to mention how well run and organized the whole operation is.
Getting There and Away
For my journey I flew via Kuala Lumpur to Tawau, arriving late in the evening and staying overnight at the Seafest Hotel. In the morning I was picked up from the hotel and transferred to the resort's jetty. From there we took a speedboat. It takes around 40 minutes. On the way back it took around 3 hours from the resort to Tawau airport, which was right on time for my flight.
Summary of My Trip to Sipadan and the Kapalai Dive Resort?
Well, diving at Sipadan was quite simply amazing, living up to all of the stories I had heard. It's an experience I will never forget! I have never seen so many turtles and sharks during one dive and was stunned by the amount of other aquatic life I was surrounded by. Diving at Kapalai and Mabul was also truly incredible for the amount of macro life, I ticked off so many things on my 'must see' scuba list.
The Kapalai Resort was well run with a nice atmosphere that made my stay so much more enjoyable. It felt like and was paradise! Next time someone mentions Sipadan, my response will quite simply be, "Sipadan is amazing! I have to go back".
Written by Oor Penkul, August 2012


---
CUSTOMER TESTIMONIALS OF DIVE THE WORLD
... The information on Dive The World has been very helpful, especially the description of the dive sites and the availability of all the detailed information that is needed to know before the trip. The best part was that the price was still lower than quoted by other agents, the personalized service and the fact that I was able to pre-book an extra Sipadan permit in advance. Thanks! ... -- Christian Koehler, Germany. [More customer reviews]