>
Dive Trip Reports
>
South Siam III
Similan Islands Liveaboard Cruises
Diving Trip Report with South Siam III
Click on an image to enlarge

I hadn't been to the Similan Islands for over 4 years so I was really keen to get back in the water at some of Thailand's top dive sites on South Siam III. Having been there several times I know how great the scuba diving can be and we had received several reports of superb visibility and sightings of large pelagics during recent liveaboard trips.
The enchantment of the Similans begins before you even start diving with the amazing landscape, huge boulders somehow piled on top of each other and the crystal clear azure water lapping at the gorgeous white sand beaches.
The topography continues underwater and the boulders form countless passageways to explore. The Similans is home to a large percentage of the world's marine life species, so I knew I had a lot to look forward to.
The Diving
Our diving adventure kicked off to a great start on Christmas Point with sightings of leopard sharks, a white tip, a huge Napoleon wrasse and a hawksbill turtle. The rest of the day was spent on equally enjoyable sites before heading up to Koh Bon, an island 1 hr 30 mins north of Similans.
On our second day of the cruise we jumped in for our first dive at 'Fisherman's Nightmare' (aka Koh Bon Pinnacle), one of my favourite spots where you often find leopard sharks sleeping on the sand and large trevallies hunting. These are fascinating to watch as they swirl around the reef completely unfazed by divers. Not for the faint-hearted, this site starts at 18m and descends somewhere past 60m depth although we obviously stayed around the 30m depth limit. There is no mooring line and there can be strong currents so we employed a 'negative entry' into the water, where you jump in with an empty BCD and start descending right away. This is one for more experienced divers but there is also an alternative site for those with equalisation issues or who just want to take it slow.
For several of the guests, the most memorable dive was the West Ridge at Koh Bon as a result of the hour spent watching the graceful acrobatics of the manta rays. If you can tear your eyes away long enough there are also octopus, cuttlefish, lionfish and one particularly large barracuda which hunts along the reef, as well as frequent sightings of sharks – usually black tips. This great site is worthy of several dives so we made 2 dives here before moving back down to Similans.
The groups are a maximum 6 per guide and dives begin with a giant stride entry straight from the back of South Siam III. At the end of the dive we were also picked up by the main boat although the dinghy crew were always on hand to help divers in the water. On the South Siam III liveaboard there are 5 dives to choose from each day and guests may make a maximum of 4 of them each day. On departure day you can make a maximum of 3 dives before the speedboat departs with you back to shore at 3 pm.
• Watch our Similan Islands diving video

The South Siam III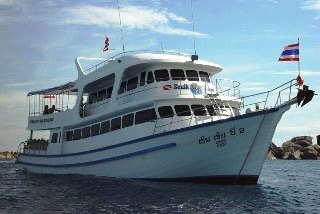 I found this boat to be extremely spacious with both an air conditioned TV lounge and a huge open air seating area. There are 2 double cabins and the rest are twin bed cabins - all a comfortable size with air conditioning and located on the lower deck and dive deck level. I was in a standard twin share cabin and, because the boat was not full, I didn't have to share with anyone. The cabin was comfortable and there was plenty of storage for my belongings.
There are no ensuite toilets but the 6 shared shower / toilets spread between the 2 levels easily accommodate the divers. I was pleased to note that the showers have adjustable hot water which is unusual for the lower budget liveaboards. Also unusual for a low budget option was the presence of shampoo, conditioner and soap in the shower and the dispensers were always kept full.
The sundeck is enormous, with plenty of sun loungers for those who want to work on their tan between dives or watch the sunset at the end of the day.
This boat can and often does cater for large groups of divers but with so much space onboard there is plenty of room. There is the flexibility to join or leave the boat 7 days a week by speedboat which is perfect for those who want the opportunity to dive here but can't spare the usual 4 days for a typical liveaboard. As long as the boat is not fully booked it's also easy to extend your stay with a quick chat with the tour leader.
The Food
Meals onboard are served in typical buffet style and there are always both Thai and Western options available. I am Thai so I like my food spicy, however as is normal on Similan Islands liveaboards, the curries are toned down a little to suit the Western palate. If you want something spicier you can always join the crew downstairs although be warned, they also like their food hot!
Breakfast consists of eggs (fried or scrambled), sausages, toast, baked beans etc. Tea, coffee, hot chocolate, water and soft drinks are free of charge and beer (after your last dive of course!) was 50 Baht a can. Fresh fruit, biscuits, bread, peanut butter and jam are always freely available if you get peckish in between dives.
The Staff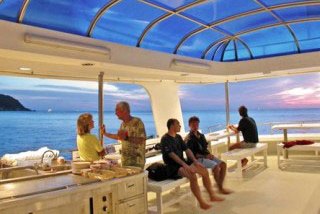 Our tour leader was Moot who has run the boat for several years and everything runs like clockwork. He is Thai but also speaks English and some Japanese and his vast knowledge of the dive sites is clear.
My dive guide was Ko who also has thousands of dives in the Similans. He has the eyes of a hawk and pointed out the tiniest fish and nudibranchs, as well as a couple of sharks I would otherwise have missed.
The boat crew are very helpful and always sport a big smile. Most of them have worked onboard for years and are quick to spot if a diver has forgotten anything. They also rinse off all the dive gear every night, which is a nice touch.
Getting There
The pick ups start around 6 am in Kata and Karon, then 6:30 in Patong. It takes about 1 hr 30 mins to get to Tap Lamu pier, where you can grab a coffee and toast whilst the national park fees are collected.
We left the pier around 8:30 am via speedboat and arrived out at South Siam III in the Similans just after 10 am. On the return we arrived back at Tap Lamu at 4:30 pm and I was home in Kata just after 6:30 pm
A Recommended Trip?
On Similan liveaboards you tend to meet a variety of people from all walks of life. This trip was no different with at least 6 different nationalities on board which made for some interesting evening conversation. As well as wonderful diving and time to catch up on my tan, there was also the opportunity for a beach visit in Honeymoon Bay at Island no. 4.
For those wishing to dive Thailand's top sites who can't fit in a typical 4 day cruise itinerary, the South Siam III provides an excellent alternative. With great flexibility and easy access via speedboat, it's also a useful option for those on a lower budget. I thoroughly enjoyed my Similan Islands liveaboard trip and eagerly await the next time Dive The World sends me out to make a report from the Similans!
Written by Oor Penkul, April 2011


---
CUSTOMER TESTIMONIALS OF DIVE THE WORLD
... The best aspect was knowledge of dive sites, friendliness and the overall character and personalities of the guys. All relaxed, friendly and fun ... -- Dan Clark, Singapore. [More customer reviews]