>
Dive Trip Reports
>
Mermaid I in Indonesia
Komodo Dive Safari Trip Report
Jurassic Shades
Click on an image to enlarge

Office emergency at Dive The World! "Our Indonesia website needs to be kept as up to date as possible, so we need someone to head to Bali and update our dive site descriptions. We need to know the latest about diving in Komodo. Is it still among the best in the world? Are Sunfish, sharks and pymgy seahorses still likely to be spotted?" What could I do? I bravely volunteered to be that soldier!
As Thailand settles in to low season, a few Similan liveaboards head for Bali, Indonesia to run dive safaris from there to Komodo Island. I was due to board the MV Mermaid I for its first trip of the season, which would cover 650 nautical miles over 7 days, taking me from Bali to Komodo and then back again. It was fair to say that there are worse office emergencies ...
Across the Lombok Strait
We set off from Bali over some pretty rough seas, well, rough seas for a diver, not so for the many surfers who come to Bali to "Hang 10 on the point breaks" (or something like that).
Nusa Penida was the location for our first dive. It is the largest of 3 islands south of Bali, which are blessed with beautiful beaches and some pristine hard coral reefs. No wonder it is a popular destination for those seeking to escape the hawkers, traffic and dirt of south Bali. Its dive sites are generally suitable for all levels of experience. However, there are some sites such as Jurassic Point and Ceningan Penida Pass, which are considered suitable for advanced divers only. Sometimes strong currents can visit these areas so it is important to be confident and competent in the water. Blue Point (aka Jack Point) was our checkout dive, since it was a shallow and easy site between 5 and 26 metres in depth.
Some on the boat were surprised by the cool waters here which can reach as low as 21°C or below, so be advised that a suitable exposure suit and hood are a good idea. The Komodo National Park also has cooler sites, which can be surprising given the equatorial location and the sun-baked earth.
After the checkout, we sailed through the night past the Gili islands and awoke at Moyo Island, north of Sumbawa. Here we dived Angel Reef and Panjang Reef; 2 sites where the sea floor drops away to great depth. Despite evidence of blast fishing here, they were both excellent sites and we were left wanting more, having enjoyed the variety of coral and teeming fish life. I was aware, as I dropped through the schools of Longfin bannerfish and Red-toothed triggers to keep an eye out into the blue so as not to miss the passing Blacktip reef sharks or the schools of Yellowtail tuna.
The Bats have Left the Bell Tower ...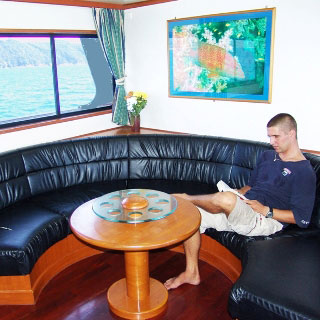 Day 2 finished with a sunset dive at Satonda. The photographers in our group were delighted with the number of opportunities presented here by the varied macro life, such as Clown frogfish and Polyclad worms. Personally, I am more of a fan of the big stuff and if no-one is there to literally point out the smaller stuff, I am likely to miss it. Give me a whale shark or manta ray over an unusual creepy crawly any day! However everyone gets a buzz from different things underwater. Imagine the joy of the lobster returning to its family that evening and excitedly telling them about the rare species of ginger Irishman he saw that day moving gracelessly through the water.
Satonda has a lake in the centre which is home to a large colony of fruit bats. Each evening they leave their small island in droves in search of sustenance. When the sky blackens with their thousands of flying bodies, it is reminiscent of old Dracula movies.
That second night of the cruise we covered more nautical miles on our journey eastward toward Komodo, breakfasting at Gili Banta, whose north eastern tip is the location of the famous site known as GPS Point, a submerged reef that provided such an excellent dive that we resolved to stop there again on our homeward journey.
One thing that struck me during this trip was that the area is so large that it is possible to come across many sites with no other scuba divers there, and indeed to be on dive sites that are relatively unchartered. If conditions permit you can don your equipment and just jump overboard. This is what we did at Gili Lawa, a site not unlike GPS Point. We had arrived there when conditions were ideal and the sometimes fierce current was absent. The result was a spectacular dive where we witnessed lots of schools of different fish sheltering around the pinnacle against a backdrop of extraordinary colour.
Onto Komodo Island
A short journey onward took us to Komodo Island where we awoke at dawn full of excitement to go ashore on a land tour and search for our first Komodo dragon. They were not quite as elusive as I had perhaps naively expected. Quite a few were hanging around near the kitchen of the restaurant to pick up easy scraps of food. They may be able to bring down much bigger prey but nature often takes the path of least resistance, and a discarded drumstick can't run very fast.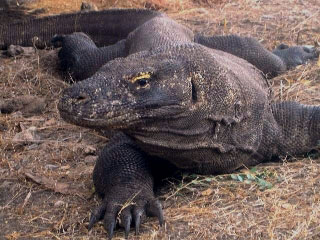 The dragons have no natural predator on the island other than themselves. Juveniles up to the age of around 5 years stay well away from their older relatives lest they end up as lunch. Given that their numbers have fallen from 3,336 in 1990 to around 1,100 today, perhaps some parental counseling might not go amiss.
Komodo and Rinca, both of which are home to the dragons, are the 2 main islands of Komodo National Park, and it was to Rinca we went for our dive that afternoon. We dived twice at Cannibal Rock and both dives were fantastic. This reef is flanked by Rinca and Nusa Kode and had incredibly prolific fish life. There were also sharks and marble rays to please the likes of me and a number of new nudibranchs to please the macro enthusiasts. Our safety stop was also an opportunity to interact with a green turtle, grazing on the reef as we hung in the blue. The dive was so rewarding we decided to return at night.
Over the course of the liveaboard trip we had many excellent dives and innumerable underwater encounters with marine life, both big and small, dramatic and cute. However, there were plenty of reminders of how delicate the marine eco-system is and how easily it can be damaged by those who think only of their own short-term interests. There was a fair amount of blast damage. Slowly, attitudes of local fishermen are changing, but it is not difficult to see how putting food on the table seems a much more pressing concern for them than protecting the reefs of the park.
We left Komodo with wonderful memories and spent a large part of the westward journey back to Bali admiring the photographs taken on our dives. The most notable thing for me was the sheer colour of the seascape at Komodo. I cannot remember seeing so many vibrant and intensely colourful coral reefs.
• Watch our Komodo diving video

The Return to Bali
Our final dive was back in Bali at the world-famous Liberty Wreck, a US supply vessel torpedoed during WWII. It was beached on the black volcanic sand in Tulamben before an eruption sent it back to a shallow watery grave, where it has become a refuge for all sorts of life. Just a few fin kicks from the shore and we dropped down onto the wreck, which supports an enormous population of fish life as well as being totally encrusted in sponges and coral. No wonder it is considered one of the best dive sites in Bali.
With that we were off the Mermaid I and back to our lives. Back to photocopiers and fax machines and office emergencies of an altogether more mundane variety. However we had all had a great diving safari and returned to the real world refreshed, relaxed and with unforgettable marine memories aplenty.
Written by Cormac Kavanagh, July 2004


---
CUSTOMER TESTIMONIALS OF DIVE THE WORLD
... A great experience and we will be back to you for other ideas soon. Very responsive and helpful. For example, advising us that the boat we were first on would be full of inexperienced divers and thus recommending a great alternative with experienced divers ... -- Michael Barrow, UK. [More customer reviews]