>
Dive Destinations
>
Indonesia
>
Bali
>
Lembongan & Nusa Penida
Bali Dive Sites
Lembongan Island and Nusa Penida
...Highlights: manta rays, schooling fish & big pelagics...
...Nusa Penida/Lembongan's diving environment: healthy reefs, drift diving, beginner and advanced divers, very popular...
Lying across the Badung Strait from Sanur is Bali's premiere scuba diving destination - the clear waters of Nusa Lembongan and Nusa Penida islands. With its adjacent deep water trenches, the main attraction of diving at Lembongan Island is the common encounters with the curious and otherwise very rare oceanic sunfish, or mola mola.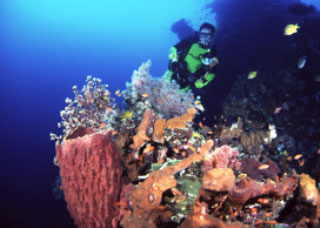 Sunfish are pelagic fish growing 2 metres long. They are found in tropical and temperate waters, feeding off large plankton and jellyfish. They have large, blunt heads, heavy bodies and stubbed tails, with elongated dorsal and ventral fins that can span 4 metres. You will never misidentify a sunfish! They can often be seen at cleaning stations with attendant cleaner wrasse. They are most often seen in this area from July to September.
Blue Corner at Lembongan Island can be one of the most exciting dives of your life but you will need to make sure that you listen very carefully to the advice you receive from your divemaster. When you descend to about 18 - 20 meters the current grabs you and you begin the natural rollercoaster ride of a lifetime. There is plenty to see as you race by, as the currents bring with them lots of food for the residents of the reef. The Nusa Lembongan currents also attract pelagic fish so keep an eye out in the deep blue for them and sunfish. Show more

Reef Summary: Sunfish and pelagic encounters
Depth: 8 - 40m
Visibility: 20 - 45m
Currents: Can be very strong
Surface conditions: Can be rough
Water temperature: 20 - 26°C
Experience level: Intermediate - advanced
Number of dive sites: 12
Diving season: All year round, but can be difficult June to September
Distance: ~35 km east of Kuta (2 hours)
Access: Lembongan Island daytrips and day trips from the Bali mainland

Useful References