>
Dive Trip Reports
>
Sampai Jumpa
Similan Islands Liveaboard Trip Report
Diving in Thailand with Sampai Jumpa
I was looking forward to this Thai liveaboard trip with Sampai Jumpa as it allowed me to dive the Similan Islands, which I not visited for nearly 2 years. That's a long time given that the Similans are my favourite dive destination.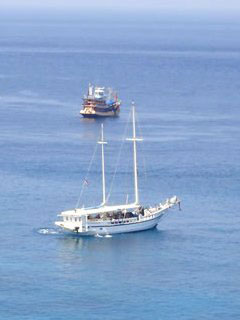 As I sat sipping a cold beer on the way home, thoughts ran through my mind of what I had seen: beautiful vibrant coral bommies, leopard sharks, turtles, all manner of bright and vivid reef fish ... and the king of the ocean, the mighty whale shark! It had been great to be back!
Departure
Sampai Jumpa is a wooden gaff-rigged Phinisi yacht which was built in Sulawesi, Indonesia. The boat has a length of 21 metres, accommodates up to 11 divers and is one of just a few liveaboards running 6 night trips to Similan and the Surin Islands when most other boats make only 4 nights.
The tour starts with a meeting at the operator office in Chalong. After all customers had arrived, from Germany, Finland and UK, and the paperwork (liabilities, certification, etc.) was sorted out, we made our way to the boat which is in Chalong Bay, just 2 minutes away. Sails up! After the welcome briefing the crew was setting the sails and we were heading for the jewel in the crown of Thailand diving - the Similan Islands.
The Diving
In general you can make 22 dives during a 6 night Similan Islands liveaboard cruise with Sampai Jumpa, with a maximum of 4 dives a day. The first dive is usually at 7 am, followed by a late morning dive around 10.30 am. In the afternoon another dive around 3 pm, followed by a sunset or night dive, depending on location.
The first morning began with a early wake up and a dive at Anita's Reef at Island No. 5. After the dive briefing from Brett our tour leader and divemaster we jumped off the dive platform into the warm, gin-clear water. Anita's Reef itself consists of a sandy slope with a few beautiful coral bommies and patches, made up of table corals and stag horn corals. On the gentle slopes you can see lionfish and the reclusive and beautiful clown triggerfish as well as many colourful Oriental sweetlips.
Dive No. 2 took place at North Point, the most northern site in Similan, a location dominated by huge granite boulders. At the sandy bottom at the deeper part of the dive site you find leopard sharks sleeping on the sand. The shallow zone has a coral garden where you always find turtles. An afternoon dive and a night dive completed the first day.
The second diving day of our cruise started with an easy dive at Breakfast Bend. After everyone was back onboard the sails went up and the boat was heading for Koh Bon Island, which lies an hour or so north of the Similan Islands. It's one of the best places in Thailand to see manta rays, but we were unlucky and saw no mantas. The dive itself was great anyway as the underwater scenery is beautiful and the fish life has plenty to offer with plenty of moray eels, octopus and titan trigger fish.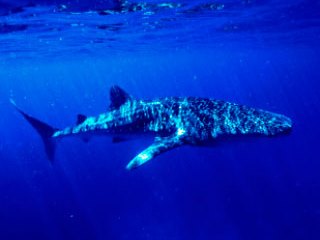 Our third dive that day was at Koh Tachai Plateau which lies southeast of Tachai Island, another great place for seeing manta rays. But unfortunately we missed them again; by only a few minutes we found out later as the boat went diving just before us saw one. The last dive of that day was at night at Turtle Ledge at Surin Island, which is an excellent site with a healthy and beautiful hard coral reef.
The next morning we were due to go to Richelieu Rock, a place famous for its whale shark sightings. Early morning the anchor went up and the liveaboard set sail but unfortunately the weather was not on our side, as a strong wind from northeast triggered big waves. So the crew decided to change the course and we went with the wind back to Koh Tachai Island which was fine by me since it is an excellent dive site that can be explored several times without getting bored.
We were certainly not bored when, during our second dive there, we heard a tank banger alerting us to the presence of a big whale shark! It was cruising along the reef straight towards me. As soon as the whale shark was close I followed it for a while, every time an amazing experience. Back on the boat everyone was excited as all of us saw it and Richelieu Rock was quickly forgotten.
• Watch our Similan Islands diving video

Service and facilities
What makes this liveaboard dive trip attractive is the combination of the cruise length, the limited number of divers on board, plus very good value-for-money. The divemasters were enthusiastic and the friendly Thai boat crew were always there when you needed them. Having a friendly crew is important on this boat as the boat has no staff area due to the limited space on board. This means you more or less live together with them for a few days.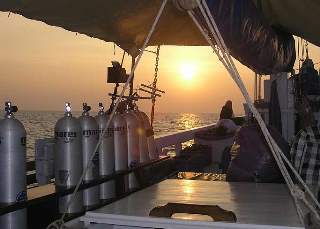 While you sleep in your cabin on the lower deck you will find them the Thai staff sleeping on the sundeck, which makes it difficult for you to sleep outside in case you want to. The cabins are basic, but have all you need. There are 3 Standard cabins on the lower deck and also 1 double bunk bed cabin and 1 twin bunk bed cabin, which are only separated by a curtain. The double bunk bed cabin has a full entertainment system of TV, DVD and music centre, complete with movie library.
On the main deck you find the dining area, which is small but adequate, sundeck with sun mats where you can work on your suntan, and the kit up area. There is no real dive deck due to the limited space on board, but as the group of divers is small this is not a big deal. The platform is on the port side of the boat and is big enough for 2-3 divers at a time.
Food
4 to 5 meals a day help you get the energy for the diving. I myself like to eat and I love Thai food. There was plenty of it with lots of good quality Thai dishes so I was a happy man. There was always something for everyone. There were 2 vegetarians on board and also they were happy as the cook always made special dishes for them. Another food highlight was the daily breakfast where fresh baked bread was always available.
Sampai Jumpa Trip Summary
All in all the tour was a very nice experience, but as all people is different not everyone might be happy on this boat. The space is limited so if you are like your privacy then you are on the wrong boat.
The only real negative on this trip was the inadequacy of the dive briefings. I know the sites well so it was no issue for me, but some divers like a lot of information and guidance and at least 1 diver skipped some dives because she felt under-informed.
There are many different types of liveaboard in Thailand. Some are large modern motor yachts that have a lot of space but maybe lack a little character. This boat has character but lacks space and to a certain extent, privacy. If you a social person and like to meet others than you are in the right place.
If there is one guest who irritates you it can be difficult to get away from them. However, for a group of good friends then this is perfect which makes Sampai Jumpa a great option for a full charter.
Written by Ingo Siewert, January 2009

---
CUSTOMER TESTIMONIALS OF DIVE THE WORLD
... First of all, Dive The World's strengths are courtesy, precision and detailed information. Answers to all questions so no 'surprises' found. In our case, also flexibility and help provided when needed. Thanks also to you we had a fantastic Christmas (we also saw several manta rays that day!). Hope to book another trip with you soon! ... -- Graziella Costarella, Italy. [More customer reviews]