>
Dive Trip Reports
>
Emperor Elite
Liveaboards in the Red Sea
Simply The Best Tour with Emperor Elite
Click on an image to enlarge

Being born and raised in Germany, I lived for most of my life close to the Red Sea, but somehow I never got around to diving there. What a mistake! After hearing numerous reports of silky sharks, hammerheads, guitar sharks and dugongs, I couldn't resist it anymore and planned a liveaboard trip to dive the Southern Red Sea on the MY Emperor Elite.
I certainly experienced a luxury cruise on what I discovered is the largest boat in the Emperor Fleet. We were spoilt with 2 divemasters, a very wide dive platform, comfortable shaded area on the middle deck and a jacuzzi on the sundeck. Add to that the professional service and informative dive briefings, and I came away believing that MY Emperor Elite is undoubtedly one of the best liveaboards in the Red Sea!
I was booked for an itinerary named 'Simply The Best' and was about to find out how apt the name is. Let the magic begin ...
The Diving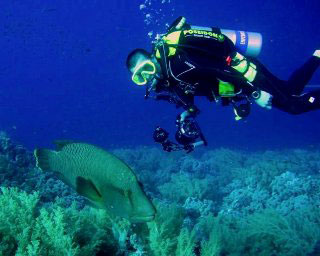 The first 2 dives took place at Marsa Mubarak and Ras Torombi, which are close to where this trip started at Port Ghalib, on the east coast of mainland Egypt. Relatively shallow and sheltered they proved to be ideal sites to get our gills wet while refreshing our buoyancy skills.
Despite the easy nature of these dives, they still provided plenty of marine life to marvel at. What I thought was a rock surprised me when it turned out to be an octopus shooting away at high speed. The endemic Moses sole also made an appearance, the myth being that when Moses parted the Red Sea this thin fish was sliced perfectly in half.
I must admit I am used to warmer climes so with a water temperature of 26-27°C, I was glad to have a 5 mm long wetsuit and a hoodie to keep me warm.
The Brother Islands
Our next stop was the famous Brother Islands, which are about 125 km (6:30 hrs) north of Marsa Alam and 150 km (8:00 hrs) south-east of Hurghada. This is an exceedingly popular dive site. We were advised to get an early start in order to avoid other scuba divers and thus get the best chance of seeing something truly spectacular. Needless to say, I was still sound asleep when they knocked on our door at 05:00 hrs! Coffee proved essential at the briefing at 05:30 hrs that morning.
Although shark sightings are common here we weren't lucky enough to spot any, but I was so mesmerised by the stunning soft coral coverage of the walls that fall so steeply into the abyss around the Brother Islands that I hardly noticed. On top of that we saw large schools of barracuda and Napoleon wrasse in visibility ranging from 20-30m. Ghost pipefish hovered close to the walls, while giant moray eels surprised us by appearing out of chasms as we finned past.
On the very first day at Big Brother we explored the coral encrusted Numidia Wreck which was amazing. This is a deep vertical wreck rising from >70m to 20m below the surface, and when the current is strong the dive dinghies drop you upcurrent where you need to descend to 30m as soon as possible and then drift onto the wreck. On our gradual ascent we got to penetrate the interior, investigating the boiler room and were sad to leave at 20m.
Over the next 2 days, we were to dive 6 times at the Big and Small Brothers; and every time was well worth the hour allotted in the dive plan.
Daedalus Reef
When I first heard it's possible to see oceanic whitetip sharks at Daedalus Reef, I wasn't sure if it was excitement or nerves making my heart race. By the time we arrived I had decided that I truly wanted to dive with them. One thing I learnt, if there are silky sharks around you won't see the oceanic whitetips and vice versa. We got to see a pair of very bulky silky sharks on each of the 3 dives there … and they are also pretty scary up close!
Apart from that I saw my first hammerhead shark and more grey reef sharks as well as lots of big tuna, barracuda and a turtle feeding on the house reef right at the pier.
There are lighthouses on both Daedalus and Big Brother Island, where you can climb up the stairwell and get a bird's eye view of the island, smoke a Shisha if you like, and buy T-shirts to remember your liveaboard trip.
Elphinstone
We did one dive at Elphinstone on the way back to the port and it is truly magnificent. The steep walls are covered in coral of all colours and I was lucky enough to find a stone fish amongst a group of nudibranchs and came away with a few great pictures (even if I say so myself!).
The last dive of the trip just before getting back into port was at Marsa Shuna where our' attention was split between a dugong, a guitar shark and a turtle. All this on one site and close to shore. Incredible!
• Watch our Red Sea diving video

The MY Emperor Elite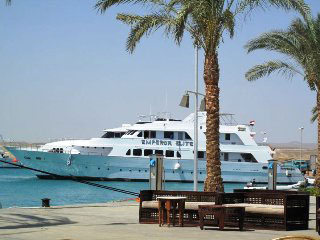 This is without a doubt one of the best liveaboard dive boats I have ever been on. I was welcomed aboard by the 2 tour leaders, Dan and Nasty, who also doubled as the dive guides and instructors. The furnishings and facilities on this ship are second to none and even with the full complement of 24 guests who were on board this trip, there was always enough space on one of the 2 uncrowded communal decks.
One thing that could be improved on is the fact that there are only 2 toilets on the dive deck. When everyone comes back at the same time feeling the effects of the relatively cool waters, nobody feels like queuing when all they need is a quick "splash and dash".
• Watch our Emperor Elite liveaboard video

The Diving Procedure
Dan and Nasty gave very practical briefings for each dive. Their thoroughness and knowledge of the sites was one of the stand-out features of this Red Sea liveaboard trip. The attendants' help with getting back on the boat and handling the equipment was also top notch. The dive deck is remarkably spacious. I especially found it convenient to have so many charging points for electrical equipment as well as storage areas for cameras and torches.
The dives were made from 2 Zodiacs, and the group of 24 guests was split into 2 smaller groups based on their experience level. Both groups got a chance to kit up and enter the water first on alternate days. Each group had 1 divemaster, which is pretty unusual as liveaboards in the Red Sea often have only 1 DM for the whole boat. This might sound strange, but everything the Red Sea has to offer is bigger and better: large pelagics, huge wrecks and splendid walls. So who needs a guide to point out the hammerhead as it materialises right next to you?
Guest Cabins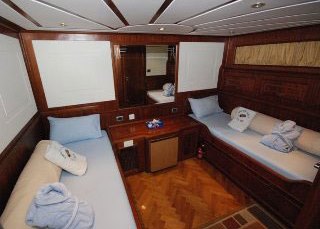 I shared one of the twin bed cabins on the lower deck and there was plenty of room, and even a widescreen TV set and minibar. The en-suite facilities and air-conditioning all worked like a charm and it never got too cold. There is plenty of storage space behind panels in the walls and on shelves. Bigger luggage will be stored in the bow of the boat on the second day after everyone has settled into their cabins and decided what they will need for the 7 night cruise.
Dining Arrangements
Let me start by saying the menu was simply fantastic - we even had turkey and cake! There certainly seemed to be enough variety at each sitting to satisfy most of the guests, with a meat and fish option plus various vegetable, salad and starch dishes, all served at lunch and dinner. Dinner was accompanied by a variety of soups and desserts as well as a complimentary glass of wine.
Breakfast is European style sliced meat cuts with cheese, yoghurt, croissants and toast. Vegetarians will find lots to eat even without asking for a special menu, although I would recommend letting the crew know your dietary requirements before the liveaboard leaves the harbour, just in case.
Communal Areas
The air-conditioned saloon is very roomy and leads right into the dining area, which makes it seem even larger. Plush seating is available for about 12-14 people, which means that during dive briefings with a full boat, some divers will need to stand or sit on the sideboards lining the walls of the saloon or on the floor.
I spent many a happy hour reviewing photos using the computer facilities and even mailing them to friends when the signal was good. There are plenty of electrical outlets to charge batteries and torches. The multimedia entertainment system includes a widescreen TV set in the lounge with 518 GB of movies and music, ensuring there is something for everyone's taste.
For those who fancy it, there is a jacuzzi on the sun deck and lots more space to work on that tan on the top deck or the flybridge. Shaded areas as well as sun loungers and mattresses are plentiful.
Getting to Marsa Alam
The Emperor Elite departed from Port Ghalib, which is only about 5 km away from Marsa Alam airport. There are often direct flights from Europe into Hurghada, as well as Sharm El Sheikh on the Sinai Peninsula where you can connect to Marsa Alam. From some countries like the UK and Belgium it is even possible to fly directly into Marsa Alam.
On our return to Port Ghalib we stepped straight from the boat into an air-conditioned minibus that took us on a 200 km (3:00 hr) scenic route along the sea coast to Hurghada. If flying out of Marsa Alam the journey is only a few minutes long.
A Trip that is Simply The Best ?
The number of large pelagics in the Southern Red Sea is definitely something to write home about and this turned out to be a trip of first time sightings for me, including silky sharks, a hammerhead and a guitar shark.
Terrific liveaboard diving combined with the hospitality of the tour leaders and the friendly, helpful nature of the boat crew, ensured this trip will be a favourite memory for a long time to come … and yes, Emperor Elite's cruise did live up to its name of being "Simply the Best"!
Written by Detlef Sarrazin, July 2010


---
CUSTOMER TESTIMONIALS OF DIVE THE WORLD
... I also wanted to thank you, Enrico and Dive The World for arranging the trip. It went off without any problems. I am already starting to plan my Burma diving trip for next year, so you will be hearing from me ... -- Daniel Stoughton, USA. [More customer reviews]