>
Dive Trip Reports
>
Palau Aggressor
Liveaboard Your Guide to Diving in Palau Trip Report
A Cruise to Around This Pacific Island Paradise
Click on an image to enlarge

Palau had always seemed like a remote possibility for me, like somewhere I would dive 'one day'. That day came in March 2015 as I touched down on my flight from Guam and was welcomed by the driver for the Palau Aggressor.
Looking back on the experience it seems incredible that one single destination can boast so many fascinating experiences. Palau's diving is very good with some sites being positively stunning! However, the non-diving activities really add to the vacation experience and it is this combination that really pushes Palau forward as a word-class liveaboard destination.
Snorkelling in Jellyfish Lake is unforgettable. Touring Peleliu and learning about one of WWII's most brutal battles is a moving experience. Then going beneath the waves where the US marines went ashore, means scuba diving among sunken pieces of amphibious vehicles, shells and ammunition which sit today where they sank in September 1944. Diving Japanese wrecks and learning how they met their watery fate is another equally fascinating aspect of a liveaboard trip in Palau.
I was delighted that those images of divers hooked on to a reef's edge as schools of fish swarmed around with sharks, tuna, Napolean wrasse and barracuda all jostling for attention, came true. Those classic Palau scuba images are a reality and they were great, but what I didn't expect was for my week long trip to include so many memorable moments beyond that, to give me so many reasons to recommend Palau as an awesome liveaboard destination.
The Diving in Palau
What best typifies scuba diving in Palau is clean, colourful walls, fields of healthy hard coral, drop-offs bursting with schools, sharks and pelagics, WWII wrecks to explore, and sandy channels to drift over. A lot of the species and topography will be familiar to those who have experience of diving in the Asia-Pacific region but Palau is so clean, so free of human degradation, that it almost seems like a destination that time forgot.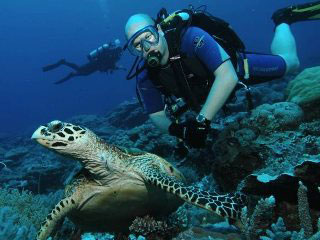 You won't see any plastic floating on the surface here, nor fishing nets or other human detritus choking up the reef, nor signs or sounds of fish-bombing. Palau's reefs are intact, pristine apart from a minor amount of bleaching effects from 1998. It is amazing to see such untarnished majesty.
There are a number of dive sites with big reputations that I was looking forward to. Some such as Blue Corner and Ulong Channel delivered on their promise with, respectively, an impressive show of marine biomass and variety, and pristine hard corals and an ever-changing topography. Others like German Channel were a little less than stellar although I appreciate that on another week (with diferent current conditions) I might be enthusing about this site above all. Some sites were crowded with daytrippers. Apparently daytrip customers are on the rise, which may make the Palau liveaboards seek out yet more remote and exclusive sites beyond the reach of these speedboats.
While the general reef diving impressed in terms of sharks, Napolean wrasse, dog-toothed tuna, Spanish mackerel, giant trevallies and more, the historical element to this liveaboard cruise will probably last longer in my memory. To learn about the WWII wartime activity in Palau and particularly Peleliu and then to tour that battle-scarred island and dive its shores was a fascinating experience.
Diving off Orange Beach and seeing where amphibious landing craft sank onto a beautiful reef, where live rounds and shells remain where they fell on the sea bed in 1944, was spellbinding. Inspecting sunken Japanese ships like Teshio Maru and Chuyo Maru, complete with deck guns long since consigned to a watery silence was impressive. There are plenty of books on board, detailing the events of March to September 1944, which will enrich how you experience the WWII history of Palau.
The final dive day of the trip is one of the most interesting days of the cruise and indeed of many people's travel adventures. It begins with a visit to Jellyfish Lake, before the hordes of tourists arrive. To swim around through thousands of these creatures is a rare and unusual moment in anyone's life. You can also snorkel around the edge of the lake to see the anemones and cardinalfish that represent the only predation to these lake-bound creatures.
In the afternoon having returned to port, there is a final excursion to Chandelier Caves. This involves exploring a series of caverns where you can surface 4 times in different pockets among the stalactites. You will only momentarily be at depth during swims between the air pockets so there is little time to build up nitrogen, making it a suitable activity for the last day of the cruise. Outside the cave entrance you can explore the shallow lagoon for critters in the substrate and watch out for the multi-coloured but shy mandarinfish that live here.
The Boat and Cabins
I had an eerie sense of deja-vu shortly after stepping on board the Palau Aggressor II as I began to think I had been on board before. As it turned out the Fiji Aggressor that I experienced several years earlier had become the Rock Islands Aggressor, also in Palau and is an identical ship to its sister. Now as then, I was struck that the ship could be described as robust and functional rather than elegant, something that is true for a lot of Aggressor boats. They can be big, sturdy and stable with outdoor areas with handrails and carpets that feel a little like more like a ferry than a deluxe yacht. Of course some would argue that to enjoy the elegant craftmanship of a wooden sailing yacht means sacrificing the space and stability of a catamaran such as this, which is true.
Some liveaboards boast an excessive amount of lounging space, both indoors and on the sundeck and in open air spaces. The Palau Aggressor has a small but comfortable lounge area in the saloon/dining room, some seating outside and a couple of hammocks on the sundeck. One great feature is that the bar in the upper deck saloon opens up to reveal indoor and outdoor seating which makes for a convivial atmosphere when evening drinks are in full flow.
Speaking of drinks, there is free flow wine (acceptable Californian red and white) and beer on tap (excellent local Red Rooster light, wheat, amber and stout). The reverse osmosis water we were provided with was a little on the funky side and had some guests drinking more soda than normal.
Cabins are relatively small, with 1 Queen bed with a single bunk above, all with ensuite bathroom. One cabin (No. 9) opens out onto the dive deck, unlike the rest which sit off the central corridor on the main deck. The beds are comfortable, the showers are hot and everyone seemed to sleep well each night.
As with all Aggressors, you can expect to be in the company of Americans. Everyone on board was from the U.S. except for 1 Canadian and myself. We had representatives from Washington, Ohio, Florida and Massachusetts, among others, so it was an interesting spread. It seemed that Palau was for most the furthest west they had been from the States. So I imagine the colour and marine life was especially impressive for those for whom places like the Caribbean, Florida (and Lake Michigan!) form part of their diving CV.
We had a pretty good bunch of divers, some vastly experienced and some for whom the dark, wreck-bound depths are more their home than sun-drenched coral shallows. We had the obligatory scuba diver with a camera which far outweighed his finning ability and who would leave a trail of cascading debris as he moved between photo opportunities along the wall. Disappointingly, I don't believe anyone in authority had a quiet word.
The Food
Breakfast is before dive 1 (unfortunately) and, with American clientele to satisfy, includes bacon, eggs to order, pancakes, bagels, hash browns, toast, oatmeal, fruit, tea, coffee and orange juice; sometimes all of the above. This feast is immediately followed by dive number 1, if you can manage to make it down the stairs to the dive deck. Dive 1 on a Palau liveaboard is important since it means beating the daytrip boats and normally visiting one of the big name sites. Personally, I prefer a post dive breakfast as acid reflux often follows a quick descent.
Lunch is also buffet-style with dinner a served affair. The food is varied and plentiful with enough choice that you can eat as healthily (or unhealthily) as you wish. In our group we had various dietary requirements including vegetarian, pescetarian and lactose intolerant. All were catered for, thanks to the imagination of the loquacious American chef and Peter Griffen lookalike, Cam.
In between dives hot chocolate is served on the dive deck and then you come upstairs to find snacks waiting for you. These are often, or perhaps always, sweet and sinful.
The Diving Procedure
Half of the diving days include 5 dives a day, which can lead to a more militaristic style than some people may be used to. A bell is rung to indicate gearing up time, and another for the dive briefing. Safety is an emphasis with all guests encouraged to dive with a Nautilus lifeline, safety sausage, reef hook, whistle, and diver alert to be attached to your low pressure inflator hose. A proper safety sausage, to be deployed at the start of a safety stop, is recommended since some sites do have a fair amount of overhead speedboat traffic.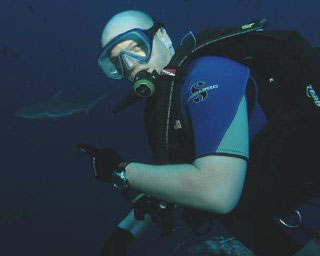 Divers enter the tender which is then lowered into the water by a hydraulic winch, which seems a little over-engineered but works very well and reduces a lot of pre-dive faffing. Tanks are filled in situ and gear such as fins, belt, and mask can be kept in your assigned station. Pre-dive defog and rinse water is provided, as are post-dive drinking water and towel.
The diving procedure all works very smoothly and is very efficiently run by the impressive dive crew. Wearing a shorty, unlike almost everyone else, I needed to get a foot on the bottom rung of the egress ladder rather than a tender, unpadded knee. Were I not such a finely-tuned athlete, this may have been a little tricky.
The Palau Aggressor II's dive guides are a friendly and approachable bunch, either local Palauans or Filipinos with many years' experience in Palauan waters. The dive deck is big and well laid out - scuba divers are not tripping over each other like they do on some boats. The 2 hot showers on the deck are much sought after, so securing a spot near the front of the dive tender (for speedy exit) on day 1 can be a bonus!
Conclusion
Although some of the big dive sites were not at their best during our liveaboard safari, we did have some excellent dives and some fascinating moments both underwater and on land. Palau really does have a number of selling points which, when viewed as a whole, make it a unique and impressive dive destination.
It boasts sites thronged with fish like Blue Corner, and with interesting topography like Ulong Channel. The reefs have suffered much less damage than most places in the Indo-Pacific region. There is little sign of rubbish or other indicators of man-made degradation and, as you cruise around the beautiful topside scenery and past uninhabited islands, you feel like you are far, far away. Those with an interest in history will love the experience of touring Peleliu and diving sites such as Orange Beach which brings the story of World War 2 alive in a very moving way. Jellyfish Lake will be the highlight for many, an experience which will live long in the memory.
Written by Gavin Macaulay, March 2015

---
CUSTOMER TESTIMONIALS OF DIVE THE WORLD
... The service was superb! Vic was wonderful, he did everything possible to try to help us find the perfect holiday. He went out of his way to send us every boat that met our requirements and was happy to keep looking. He was so prompt with his responses, so polite and so understanding despite all our requirements. It was truly a pleasure to deal with him ... -- Dana Aboul-Jabine, UAE. [More customer reviews]