>
Dive Trip Reports
>
Archipelago Adventurer II
Liveaboard Diving Trip Report in the Banda Islands
A Cruise to the Exotic Spice Islands from Ambon
Imagine a small group of remote, tropical islands, steeped in history and surrounded by healthy reefs and warm seas teeming with fish of every size and colour. Exceptional marine life diversity, huge schools of fish, constant pelagic action, sharks, rays, turtles and whales; imagine all that and more. This place is not a dream world or a figment of some diver's imagination, this place is the Banda Islands in eastern Indonesia.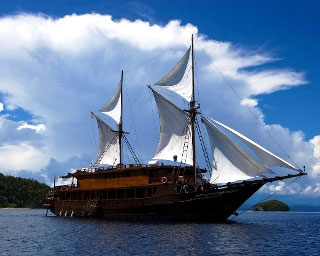 The Archipelago Adventurer II is the first Indonesian liveaboard to base itself in Ambon for part of the year, and runs regular dive safaris out to the Banda Islands. Shorter trips will allow you to sample the Banda Islands, and the renowned muck diving paradise of Ambon. Longer itineraries will take you to Koon Island and west Seram, and then for some excellent wall diving in the 7 islands of Lucipara, including Pulau Maisel where you'll find turtle nesting beaches, big tuna, pelagic fish and superb visibility frequently upto 40 metres.
If like most people, you're not familiar with this part of the world, the islands are located within the 'Coral Triangle' in the Banda Sea, roughly 300 kilometres west of New Guinea Island. The area is one of the largest open expanses of sea in Indonesia, so the islands are very remote and far from any significant human interference. However, diving can only be done in the calm between the monsoon seasons, so you must be prepared to visit in March, April, or from mid-September to mid-December, otherwise the seas are likely to be too rough.
As much as I was looking forward to scuba diving in the Banda Islands, renowned for their spectacular healthy reefs and large fish populations, I was also aware that I'd be missing my beloved Springboks play Tonga in the rugby world cup; such are the sacrifices that intrepid dive explorers have to make to bring you the latest in rave dive destinations.
I flew into Ambon to join the Archipelago Adventurer II liveaboard via Jakarta Airport. This is the only international airport that I know of where there are special rooms for non-smokers to go and practice their unsociable habit, such is the reality of a country where 90% of the male population still poison themselves with tobacco smoke. It's also possible to reach Ambon via Surabaya in Java or Makassar in Sulawesi, with connections from Manado and Bali. All these flights are available daily, though it will be necessary to overnight in either Jakarta or Bali on the night before the cruise. Dive The World can help you arrange both the flights and any necessary hotel reservations.
The Diving in Ambon
Collected from the airport, we were swiftly transferred to the boat, where we checked into our cabins and had a check out dive at the nearby muck site of Laha in Ambon Bay. Before the recently past civil war, Ambon was regarded as the world's premiere destination for muck diving, so to spend an hour here sorting out your buoyancy is certainly not time wasted. We saw devil scorpionfish, thorny seahorses, fingered dragonets, cockatoo waspfish and frogfish, as well as countless different types of moray eel.
Finally back on board, we settled excitedly back in anticipation of our overnight run to Run Island, the western extremity of the Banda Islands. We awoke on the first morning in the west Banda Islands at Nailaka, a tiny sandbar spit of an island to the north east of Run.
The Banda Islands Diving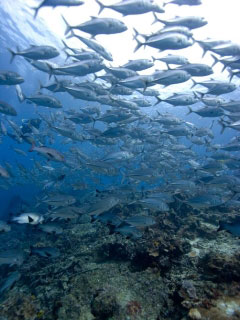 We dropped into the north side of the saddle, onto the top of a 45 metre wall with an incredible array of leather corals, yellow soft corals, huge sponges and massive table corals. Here lots of redtooth triggerfish and yellow chromis greeted us. We made our way in a northerly direction, into a slight head current, in the hope that we'd reach the point where stronger currents would attract larger concentrations of fish; we were not disappointed. A large school of bluedash fusiliers in their thousands swarmed all about us. They were being harried by unicornfish, rainbow runners and giant trevallies; what a dive for the opening morning of the cruise!
Later that morning we dived on the northwest coast of Run Island, which offers similar topography except that the wall is much deeper and has numerous overhangs and crevices which are home to whitespot soldierfish and a sleeping black cowtail ray.
We then picked up anchor and sailed over to Banda Neira Island for dive 3 at Malole. Upon entry, with low visibility and a patchy reef, I was convinced that this site was going to be a huge disappointment after that morning's fun and games; how wrong could I be! Malole turned out to be endless hunting action, inspired by the strong current at the point here. Masses of fusiliers of many species, redtooth triggerfish and surgeonfish were all fair game to 3 eagle rays, big dogtooth tunas, as well as midnight snappers and rainbow runners. The marine life was so dense that it seemed that I was in some false aquarium environment. Back on the reef, giant and honeycomb moray eels swam about freely, oblivious to the lack of a cover of darkness.
Moored in the bay that evening, we took a trip into Banda Neira village to walk through town and view the historical fort of Nassau. The Dutch colonial influence is still clearly visible in the majority of the buildings in the old town.
The following day we visited Karang Hatta, an atoll in the southeast of the Bandas. Its steep slopes and walls are another great place to watch big fish action. If I had imagined that the schools of yesterday were the largest we'd see, then I had another surprise in store. The schooling fusiliers were here in their tens of thousands. Great barracudas, eagle rays, dogtooth tuna, and schools of bigeye trevally and unicornfish were the predators this time.
Back on the reef we found green and hawksbill turtles and mobula rays. Indeed, dogtooth tuna, mobula rays, eagle rays, huge schools of fusiliers and redtooth triggerfish are the signature fish of the Banda Islands, and you can find them at practically every dive site.
In the afternoon we visited Gunung Api to see the famous 'Magic Reef'. Gunung Api volcano last exploded in 1988, wiping out the existing coral reef system. Since then the reef has grown back at such a pace that scientists are dumbfounded, and the current studies in to the catalysts for this growth could well hold the key for future reef conservation efforts. Now the hard corals at this site are so huge and tightly packed, there's hardly a bare space. The table corals are so big you could set an entire royal banquet on them. Definitely a unique site not to be missed.
Late afternoon we rode to Banda Besar to visit a nutmeg plantation and then to Banda Neira to visit Fort Belgica.
Days 4 and 5 followed a similar pattern - the morning spent at one of the outlying Banda Islands, such as Pulau Ai or Manukang, the afternoon spent diving back near the central islands, then dusk or night dives at Banda Neira, where you can see mandarinfish, snake eels, zebra crabs and all manner of shrimps. Day 6 saw us crossing the Banda Sea to visit the nearby picturesque island of Nusa Laut. This area is famous for its healthy hard corals and reef fish diversity. The fish action continues unabated, but worthy scuba highlights here were the massive gorgonian fans and sponges at Batu Kapal and the Napoleon wrasse and bumphead parrotfish at Pohon Miring.
If I was to rate the diving in the Banda Islands, I'd put it right up there with Raja Ampat and Komodo. If you've never been to either of those dive destinations then don't worry, it simply means that the diving here will be the best you have ever done. Raja Ampat and Komodo may trump Banda on macro life, but Banda certainly has bigger schools of fish and more pelagics; its fish and coral diversity are also (almost) on a par with Raja Ampat. However, even macro-buffs can enjoy these liveaboard trips as you will certainly be impressed by the muck diving in Ambon and Banda Neira.
• Watch our Banda Islands diving video

The Ups and Downs of the Archipelago Adventurer II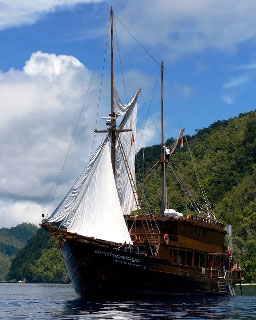 First of all, I'd like to say that the pros easily outweighed the cons, and I would recommend this boat and cruise to anyone that has a yearning to discover a new inspiring and spectacular dive destination, and to those that value high quality crew service, fine dining and home comforts.
Positives: The boat crew is 18 man strong is very professional, helpful and friendly, but without being intrusive. For example, if they saw you working hard on your computer, its quite likely one would approach you to ask if you'd like them to fetch you a drink; quite faultless.
The large size and design of the boat means that the common areas are very spacious and tastefully furnished. There are 4 sections: the main deck 36m2 air-conditioned saloon which is fitted with sofa-style seating and cushions, large non-slip tables, flat screen TV, DVD player, large movie catalogue, fish books, magazines, general reading library, and local maps; the upper deck air-conditioned Cinnamon Restaurant and Bar, replete with a boutique selling Indonesian curios and handmade jewellery; the large upper deck open-air shaded area at the rear of boat, again fitted with sofa-style seating and large non-slip tables - a perfect spot to relax between dives and soak in the view; and the top sun deck, well over 100m2, which has extra large sun loungers with covered mattresses.
The cabins are also a big plus on the Adventurer II. The deluxe cabins are the best because they are located on the upper deck, are slightly larger, and have expansive window sea views. However, the Superior and Standard rooms are also pretty good sizes and have the novel feature of separate toilet and shower cubicles in each cabin, a great feature if you're one of those people that never has enough time in the morning before the first dive. All the cabins are modern and well furnished, each with its own hot water shower.
The design of the 2 dive tenders has clearly been well thought through. They are rigid aluminium hull with twin nippy 40 HP engines. They each have 9 fitted wooden bench seats in the middle of the boat, each with its own tank housing. This is wonderful as it makes getting into your scuba equipment really quick and simple. There are steel ladders for getting out of the water, and the tenders carry drinking water for each diver.
One nice touch I was very pleased to see each day was the extra effort the dive crew puts into site selection. Before each dive they'd visit the potential site to check on currents and visibility, and alter the dive plan accordingly. This certainly helps cut out dud dives, and explains why we hit the sites at the best time with such regularity.
As for the food, all the other guests onboard indicated that the dining service was excellent, and the variety of meals and quantity of food was very good too. Here's a small sample of some of the dishes that were served that week:
Appetisers: Bruschetta, spring rolls, minestrone soup.
Main courses: Beef Lolita served with garlic potatoes, vegetables and corn sauce; 'Tuna mozzarella' - tuna fillet with mashed potato, sauté vegetables, and a tomato and bell pepper sauce; Cordon Bleu with garlic potatoes, mixed vegetables and a cream sauce.
Desserts: Chocolate cake with ice cream, apple crumble with ice cream and mango sauce, marinated mixed fruit with honey, biscuits, ice cream and fresh cream.
As a vegan I am obliged to comment on the vegan/vegetarian food. After a little early prompting the cooks generally did a good job They made good use of soy tempe and tofu, created a reasonable variety of quality dishes.
Samples: Tofu and tempe with green beans and gado-gado sauce, rice and sambal; water spinach with soya beans and chili; potato croquets, and Thai red curry with green salad and fruit salad; spaghetti with red peppers; Indonesian beansprout salad.
They did come unstuck on desserts, but I was pleasantly surprised to see that they have a large stock of various non-dairy creamers. Since the boat has its own icemaker, I'd recommend you bring a few of your favourite dessert recipes, and I'm sure the chefs would be more than happy to oblige.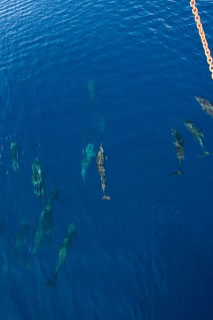 Now to the negatives, which are mainly insignificant: Although the in-water guiding and creature spotting was up to standard, the briefings and scheduling were less than ideal. Most briefings were completed within 30 seconds or so, hardly inspiring words to get one excited about the forthcoming dive; and no roll calls were made. Also the first dive of the day was usually scheduled late and after 08:30am, which meant that most divers were tired and skipped the final dive of the day (maybe a cunning plan by the divemasters?!)
As for the Archipelago Adventurer II itself, a problem that is common to many boats is that the ceilings, but particularly the doorways, are a little low, though I did manage to navigate my way through the whole week without banging my head.
I also felt that the boat layout was a little disjointed and illogical. Getting from one part of the boat to another felt like a flashback to my orienteering days. For example, to get from the dive deck to the shaded deck (the most common journey for everyone during the day), one had to pass through a doorway into the saloon, cross over the saloon and into a corridor, up the stairs, through another door into the indoor dining area, across the restaurant, out the other door, and finally take a well-earned rest in the shade. Not a huge problem admittedly, and no doubt it arises due to the extended width design of the upper deck to provide yet more indoor space.
On first impressions too, the liveaboard looks rather drab, decked out in its varnished brown colour. However, its sombre exterior belies a splendid interior as already explained above; just don't expect many of your boat photos to look that great!
Finally, a word about getting to Ambon. Flights in Indonesia are still an absolute nightmare. Mostly it's next to impossible to pay by credit card, connections never seem to fit, and flights are often cancelled or changed at the last minute. This can be extremely frustrating to people that are not used to dealing with this type of problem. However, I can say that the local dive operators are familiar with these problems and are always flexible around any last minute hiccups. Cruise departures can be delayed (within reason) to allow you to join, and will go the 'extra yard' to make sure you get to where you need to be wherever possible. And just think, if these problems did not exist, then everyone would want to come here, and it wouldn't be as much fun for you then.
The Hitchhikers Guide to the Banda Islands
As we completed our final dive at Akoon on Nusa Laut, and we made our way back to the Archipelago Adventurer in the dive tender, a pod of 50 or so spinner dolphins swam by and leapt through the small swells. Everyone onboard the tender stood and applauded. It was as if the dolphins were trying to say "So long and thanks for all the fish". Having reflected on this for a millisecond, I realised that they were echoing my sentiments entirely. Banda Islands - I will be back soon.
Written by Sheldon Hey, September 2007


---
CUSTOMER TESTIMONIALS OF DIVE THE WORLD
... Found everything easily on the website. Perfect communication via email with Enrico! The best parts of the service were the full service you provide and the early bird special 10% discount ... -- Volker Stahlschmidt, Germany. [More customer reviews]