>
Dive Destinations
>
Indonesia
>
Ambon
Your Guide to Diving in Ambon
Critter Heaven Scuba Adventure
...Highlights: great macro life/ marine diversity...
...Ambon's diving environment: advanced and beginner divers, off the beaten track...
Dutch Ichthyologist Peter Bleaker was probably the first to demonstrate that the diving in Ambon would be something very special when in 1863 he discovered 783 species of fish, just in Ambon Bay alone.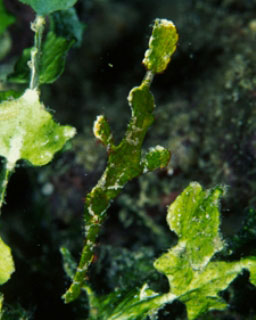 You can put this achievement into some kind of perspective when one compares that number with, for example, the less than 700 in the whole of Thailand. His technique of cataloguing fish species at that time was to catch them with a small net; if only he'd had scuba equipment or a liveaboard dive boat!
The bay of Ambon is 563 metres deep and 8 kilometres wide at its mouth, and cuts 23 kilometres back into the island. Modern history of the last century witnessed the battle of Ambon in 1942 between Japan and the Allied Forces.
Since that event, the local people used coral to rebuild roads thus destroying the fringing reefs, and later dredged the bay's shallows to allow bigger ships, so what is left in the bay now is just some world class muck diving.
The eponymous Ambon scorpionfish is one of the rare creatures that can be found by divers here with some frequency. This incredible critter comes in shades of pink, green, brown yellow or red, with variable skin flaps and filaments; but is characterised by its very long growths above each eye.
Also a rare find anywhere are Halimeda ghostpipefish. This cryptic creature has green-grey rounded fin lobes resembling leaf-like segments of Halimeda algae, where they shelter in pairs or solitarily. To spot this one, look closely at anything that resembles a twig!
Elsewhere along the outer coastline of this horseshoe shaped island, you'll find some colourful soft coral wall diving, with many overhangs and several caves to explore. There are plenty of the reef fish here that are synonymous with Indonesia and the sites are a pleasant break from the muck dives of the bay.
Dive Site Descriptions
Laha - About 3 kilometres inside the bay, on the northern coast, is the best macro dive site in Ambon called Laha. The reef here consists of a slope from 2 metres deep, overgrown with a few simple corals and rubble substrate, featherstars, fire urchins and sea squirts, on a sandy bed. The slope levels off a little at 12 metres before continuing down again into Ambon Bay's murky depths.
Show more
As you make your way into deeper water from the shallows, you'll see inquisitive black-saddled tobies considering your movements, and ringtail cardinalfish lurking motionless amongst the rubble. Small orange painted frogfish can be found perched on the coral branches, and shrimpfish and white cockatoo waspfish gently sway back and forth in the light water movement.

A little further into your dive, and you'll approach the nearby jetty, used by the local Ambon fishermen. Here you'll see loads of discarded rubbish and fish remnants from the fishing trawlers, scattered across the sea bed. This simple and accessible feast acts as an attraction for plenty of marine life. In this small area alone it's easy to spot up to 10 moray eel species - white eyed, snowflake, starry, undulated. you name it, it's here - and several species of lionfish and stonefish, including the evil looking spiny devilfish and spotted devilfish.

Glass bottles have become homes to striped fangblennies and catfish, fingered dragonets crawl across the sand, and sandperches squat on the rubble. Orbicular porcupinefish - the smallest species in its family - stare up at you with their innocent-looking eyes, and large trumpetfish stalk through this aquatic town. Take a close look at the spiny sponge branches in this section of the dive as you may be able to find pink thorny seahorses.

Then finally at a depth of around 10 metres and as dusk approaches, the waters of Ambon Bay come alive to the sight of mandarinfish performing their mating dance. These spectacularly coloured fish put on quite a show and, for most scuba divers, to witness this scene is worth the entrance money alone.
Rhino City - This site lies directly to the west of Laha and is an extension of the same sandy slope. It is named after the Rhinopias - a rare type of cryptic weedy scorpionfish that you can find here.
Show more
The slope is dotted with anemones - often carpet or bulb-tentacle varieties in Ambon. These are home to a delightful indigenous species of anemonefish which is black and white striped with pale yellow colouration on its belly. Divers should make a close examination of the anemones as they often house anemone shrimps and porcelain crabs, and ribbon eels are known to burrow close by too. Other types of brightly coloured crustaceans are common too, such as commensal and emperor shrimps, and arrow crabs. The very rare black razor shrimp has also been spotted here so ask your diving guide to show you one!

Other interesting critters to find on the slope include hairy crabs and orang-utan crabs. Jawfish burrow in the sand and can be spotted fastidiously cleaning out the debris from their holes. Check out any sea grasses for the chance to find robust ghost pipefish and short-snout pipefish.

The shallows is a great place to spend the majority of the dive. Here you can rummage around to your heart's content, searching for nudibranchs, moray eels and dragonets.
Silale - On the southern city side of Ambon Bay, close to the bay's entrance, is a small settlement called Silale. The area has 2 dive sites - one being a dark sandy rubble slope, the other being a steeper slope of predominantly elephant ear sponges.
Show more
The rubble slope is a renowned area to see many varieties of frogfish. Orange, black and grey frogfish are all commonly seen here, lying in wait to ambush prey, such as small reef reef or even a dwarf lionfish. Large stonefish and scorpionfish can also be spotted by keen-eyed divers.

Elsewhere on the slope, the spectacular wonderpus timidly ventures from one crevice to the next. Seahorses cling to branches and other debris on the sand, small schools of razorfish sway gently across the scene. The tiny Papuan cuttlefish is here in numbers; search near the foot of the mooring lines for these reclusive creatures.

The second dive site, a little further to the west, is more colourful and resplendent in yellow/green elephant ear sponges, often covered with small white sea cucumbers which feed on them. Look under the flaps of the sponges as giant green frogfish often lurk here. Leaffish seem to like this part of the bay too and you can find a variety of colours here - pink, cream, black, brown. Also in the area are cowfish, and twospot lizardfish - identifiable by the 2 'eyes' on their back behind their head.

Perhaps the highlight of this site are the many types of brilliantly coloured nudibranchs that live here. Ambon has a vast number of species for scuba divers to identify, including some huge blue dragons. Often found in the same habitat are pipefish and here you can find black ornate ghost pipefish, as well as the some of the more common types.

Often found in deeper water are flying gurnards, crawling across the sandy substrate. Back in the shallows, mantis shrimp scamper around the rubble.
How to Dive Ambon
Although there are some dive resorts on Ambon, we recommend you join a Banda Sea liveaboard trip. That way you can enjoy diving the Ambon region together with the amazing Banda Islands.
Set in splendid isolation in the heart of the Banda Sea, the Bandas are blessed with reefs bursting with life. Pelagics, huge schools of fish, and macro diversity are the main drawcards, including dogtooth tuna and mobula rays. At many sites you'll see enormous schools of fusiliers and thousands of redtooth tirggerfish. At the other end of the scale, there are native mandarinfish and Ambon scorpionfish.
For more information on the tour routes and durations, and all the other travel information you might need to visit Indonesia, check out our Ambon liveaboard section.
The Ambon Diving Season
Dive conditions in Ambon are good all year round but our Banda liveaboards season runs only in the months of February to April and during the September to November period. The island is more sheltered than other areas of the Banda Sea and can therefore be dived all year round.
Visibility is variable around Ambon and seldom exceeds 20m. At some of the muck dive sites it can be very low but, when the subjects you are viewing are only a few centimetres in front of your mask, that shouldn't be a problem.
During the dry season of October to April there is less rain and the likelihood of better visibility. During the wet season of May to September the area can experience heavy rainfall and even typhoons, although it is unlikely you will experience them if you visit during the times the Indonesian liveaboards visit there. Visit the Weather & Climate website

for more details on the climate of Ambon City.

Where is Ambon and How Do I Get There?
Review our maps below of Ambon and its host country Indonesia. Here, you will find information on how to get to Ambon.
Reef Summary
Depth: 5 - 35m
Visibility: 5 - 15m
Currents: Gentle but can be occasionally strong
Surface conditions: Calm
Water temperature: 26 - 29°C
Experience level: Beginner - advanced
Number of dive sites: ~20
Distance: ~200 km east north west of the Banda Islands (14 hours), 280 south west of Sorong (West Papua, 15 hours)
Recommended length of stay: 5 - 6 days
Useful References


---
CUSTOMER TESTIMONIALS OF DIVE THE WORLD
... Thanks for your great support, good follow-up and enthusiastic stories. After having gone over some alternatives I would like to confirm our reservations as suggested by you! ... -- Elco Schwartz, USA. [More customer reviews]