>
Dive Trip Reports
>
Blue Voyager
Maldives Liveaboard Diving Trip Report
MY Blue Voyager Dive Cruise in the Maldives
Click on an image to enlarge

I have always dreamed about visiting the Maldives one day, so the thought of travelling there for a 12 night "Maldives Central and Northern Atolls" scuba diving cruise onboard the MY Blue Voyager was really exciting! It certainly did not disappoint! All the guests on board had a great time cruising around the postcard perfect atolls of the Maldives.
I came away with some awesome memories of fantastic encounters with the marine life. I got up close to a juvenile whale shark and a pod of dolphins! Now that's the kind of thing I was hoping would happen - yes!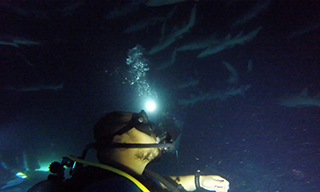 I loved the night dive with dozens of nurse sharks. They were everywhere! I didn't know which way to look and the experience of this at night under torch light was unforgettable.
One of the best sites we visited was Moofushi, well known for its manta rays . Well… not only did the mantas visit, but also juvenile eagle rays and a ton of sharks. This was an amazing experience for those who witnessed it - a bitter sweet moment for me as you will see below…
MY Blue Voyager Boat Features
The M/Y Blue Voyager (previously known as Maldives Master) is a large steel-hulled 37m/121 ft boat, with a full size dive boat that follows alongside. The mother ship holds up to 27 guests comfortably. I know this as my trip was a fully booked one, and there was still enough room, both on the dive boat and plenty of room on the main liveaboard to be comfortable, have a bit of space, and not get in other people's way.
There are 3 areas to hang out and socialise, including the dining hall which ends up being a great place to edit photos, videos, or do a bit of writing on your laptop when meals aren't in session. The upper deck is the covered lounge area with a hot tub on board, and the bar area is where you'll find comfortable sofas, a big TV, and plenty of movies and TV shows to keep you from getting bored even during downtimes.
It's thoughtful that there are plenty of ways to connect to the large flat panel screen in the saloon, and a hard drive full of movies and TV series to watch. There's even an Apple TV hooked up which lets anyone with an iPhone or a Mac broadcast their photos or movies onto the big screen. For Windows users, you can plug your laptop directly into the HDMI cable as well.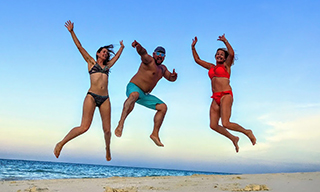 Even better is that every cabin has its own small flat panel TV with USB and HDMI inputs. That means that you can always escape to your room to watch movies or shows. As a tip, bring your own USB key filled with movies or TV series you want to watch as there'll be plenty of rest time between dives where you'll want to hang out and do so while recovering and relaxing. Bringing a paperback book or a kindle is also a great idea, as there are plenty of places both indoors and out to lounge and read.
There are sundecks on the front and the back of the boat on pretty much all 3 floors so there's always a place to sit and get some alone time if you want to escape for bit. The crew provides you with both a bath towel for showering, as well as a large towel for using on the sun loungers or bringing on the dive boat. During our trip the towels and sheets were changed every 3-4 days, which was perfect.
The boat crew did a really good job throughout the trip in being helpful, thoughtful and friendly. The other guests onboard can also influence one's enjoyment of a dive trip but from my experience, the type of people who come on liveaboards like this are generally well traveled, interesting, and aren't the party type, so you can expect early nights and plenty of quiet when you want to sleep. On this particular trip, divers came from a mix of different countries including England, Scotland, Ireland, Wales, Germany, USA, Canada, and even a guy originally from Zimbabwe that now lives in the UK. Everyone had interesting stories to share about their favorite dive spots around the world and where they plan on going next.
The Cabins
I stayed on the lower deck which has 8 shared standard twin bed cabins with smaller porthole style windows and an ensuite bathroom with shower, and I was completely happy with the room. It had a small flat panel LCD TV with a USB port to play your own movies, photo slideshows, or to borrow some movies from the sky lounge upstairs. All rooms have their own bathroom so there's no sharing needed aside from your roommate, and with 13 cabins total, 10 are twin shared and 3 are double rooms for couples.
Rooms were quiet, had their own air controls, and we all had no trouble sleeping like babies. There was plenty of headroom in the cabins and all floors to stand straight even if you're over 6 ft tall (185 cm), and overall I was extremely comfortable all across the boat.
The Dining Experience
Meals on the Blue Voyager are served in the dining hall with 2 large tables which each sit 15 people. There's always filtered water, both hot and cold, so make sure you bring your own refillable bottle if you don't want to carry cups to your room or waste disposable plastic bottles. There's also a decent tea selection with Earl Grey, Green, Lemon/Ginger Black Tea, Peppermint, as well as the standard Lipton. For coffee, there's instant Nescafe, as well as fresh brewed coffee, although if you wanted actual barista quality coffee, you'd have to go upstairs to the cash bar and order an espresso or cappuccino there.
Aside from bringing a water bottle, I think having a tea thermos and your own specialty tea bags is always a nice idea, especially to share with other guests.
A light breakfast is served every morning after wakeup and before the first dive, usually consisting of just coffee, tea, toast and cereal, while the main breakfast is served directly after the first dive.
The main breakfast is a buffet with daily items including Cornflakes, muesli, Coco puffs, cheese, toast, fresh fruit, bananas, yoghurt, fruit juice, tea & coffee, plus eggs to order. Also every day we have a few additions to the buffet ranging from roti tortillas with traditional Maldivian tuna salad or french toast, pancakes and crepes. Often we also have baked beans, roasted tomatoes, and chicken ham. Just don't expect bacon or pork sausages on board as it's forbidden as we're in a Muslim country.
Lunch is served after the second dive and is always a welcome treat as we're generally excited to eat after coming out of the water. It's never a light lunch and feels a bit like dinner as you'll get a full meal plus dessert. It's good news as the next meal doesn't come until 7 or 8 pm after the 3rd dive. In general the food on board has ranged from very good to excellent, with some of my favorite meals being the Maldivian traditional breakfast including tuna salad and rotis, the Peri-Peri Roast Chicken, Lasagna, and the Lentil Dahl with rice meals. There's also a lot of fresh caught fish and seafood served on board, often just hours out of the water as the crew uses sustainable and eco friendly lines and hooks to catch just enough fish for the boat.
Normally I'm not a huge fan of seafood or fish, but I took the opportunity of having fresh catch and ended up really enjoying some of the meals that I otherwise would never have ordered on my own. On board there were a few guests who either were vegetarian or didn't eat shellfish, and the chef was able to make them their own dishes without issue. If you're eating low carb, paleo or grain free, you'll be happy to know that every meal has plenty of options including salad, vegetables, fish and meat, to make it easy to cater for your own palate.
However most of us ended up throwing our diets out the window and eating all of the amazing dishes regardless.
The Diving Procedure
The really nice thing about the Blue Voyager is that even though you could easily dive off the back, they actually have a 20m (66 ft) dedicated dive boat named the Blue Shadow Dhoni where we keep all of our gear and it holds up to 30 divers comfortably. With warm showers on board in the back, full service tank refills, nitrox available, it was an easy and fantastic experience.
Each guest is issued with their own equipment bin under the seats in the kit up area, which works really well as it reduces dive gear clutter and keeps everything in tact. The deck also has 2 large rinse tanks for cameras and electronic equipment, and a seperate one for wetsuits and gear.
Guests are split into 2 groups for the duration of the trip and a divemaster leads each group with groups alternating who jumps first each day. We'd have 3 dives most days, with a few having a 4th night dive giving us a total of 34 possible dives. I personally skipped a few as it was nice to have the yacht to myself and relax during some afternoons off. Most others dived all 34 dives and were happy to do so, but a tip is to dive on nitrox so you can extend both your bottom time, as well as get less tired. The extra oxygen boost has helped the hard core divers stay fresh while some of us air folk took naps.
The Diving
Even though we were a bit unlucky with visibility on this trip, there were still some days with excellent visibility and some remarkable dives regardless. There were 34 dives on this trip total, in which I dived close to 30 of them, just taking a few off for extra rest. The 'not-to-miss' highlight dives are the Fish Tank, Manta Night Dive, and the Nurse Shark Night Dive.
The dive sites that could potentially be a 'not-to-miss' if you get lucky include the blue dives where we looked for hammerheads and the cleaning station dives such as the 2 on Moofushi where we hoped for reef mantas to arrive. The only dive I regret skipping was the second dive on Moofushi as even though the morning dive had mediocre visibility and nothing notable to see, the afternoon dive on the same dive site was incredible from what I heard and saw videos of. Not only did the mantas come to play, but also baby eagle rays and a ton of sharks as well!
What I really liked about the dives on this long 12 day liveaboard was the variety. From the wreck dive at Kuda Giri to the macro dive at Mathi Kolhu, or the high current reef hook dives we had where dozens of grey reefs, white tips, and black tip sharks swim by.
We also had some amazing snorkelling experiences where I got to swim with a juvenile whale shark as well as a pod of over 30 dolphins!
Getting There
What makes this particular trip easy is that it starts and ends at the main international airport in Maldives, Male, MLE. You can land anytime before the last afternoon pick up and be picked up and transferred to the liveaboard either at 12:30 pm or at 4 pm. There are direct flights to MLE from Moscow, Kuala Lumpur, Bangkok, Beijing, Frankfurt, Abu Dhabi, Seoul, Doha, Singapore, as well as other airports during high season, so getting a connection is easy regardless of where you're flying in from. The cheapest flight option, which is the one I took, is from Bangkok's DMK airport on Air Asia, which is a local low cost carrier.
Once landed, you can grab a SIM card at the airport to assure yourself a proper connection if needed, then meet the crew at the pick-up point for the boat transfer.
Summary
This was an amazing trip, and although originally I thought 12 days would be extremely long, it turned out to be a perfect length of time to have flexibility and variety. Coming to the Maldives to dive is normally an outrageously expensive trip with resort bungalows often costing a few hundred to a few thousand dollars a night on its own.
However the Blue Voyager liveaboard turned out to be great value with food, accommodation, transfer and diving included. I would highly recommend this trip, especially in January or February which are the 2 best months, but also anytime between December - April when the weather is great.
---
CUSTOMER TESTIMONIALS OF DIVE THE WORLD
... Excellent service by Dive The World's Pip Gower. She did excellent work for every trip I booked through her. ... -- Philipp Roedel, Germany. [More customer reviews]