>
Dive Trip Reports
>
Hallelujah
Thailand Liveaboard Diving Tour Report
A Big Cheer for the Hallelujah
Click on an image to enlarge

The day I had been waiting for finally arrived - the day I was going on my first ever liveaboard diving tour to the Similan Islands onboard the MV Hallelujah. I was so excited as having enjoyed many great day trips around Phuket Island, I knew that Similans diving could be excellent and I was really looking forward to a great trip.
I was picked up with my dive equipment right on time and transferred by air-conditioned minibus to the pier at Tab Lamu, just south of Khao Lak. From the moment I set foot on the minibus until I arrived back home I was treated to excellent, friendly service.
The MV Hallelujah is a beautiful Thailand liveaboard boat and the professional staff were fun, friendly and very accommodating. The diving operation was very well-run and by the end of my trip I was really sad to be going home and was already planning my next Thailand diving safari, as were many of the other guests.
There were several guests onboard who had been diving at some of the best spots in the world and all agreed our destination delivered some fantastic underwater sights. Over our meals we discussed each dive in excited tones and recounted the colourful, healthy reefs, turtles, ribbon eels, octopus, sting rays, sea horses, and the one I had particularly hoped for - the majestic manta ray! It's not surprising that the Similan Islands are such a popular scuba diving destination.
Diving in the Similans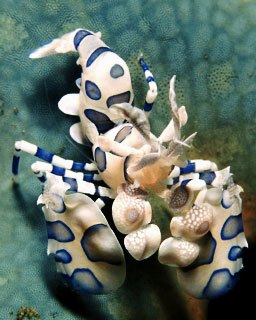 Our first Similans dive was at Anita's Reef, a very enjoyable and easy site where we had great visibility. We spotted 3 stingrays gliding together over the sands and they led us right to a patch of garden eels. There are healthy corals, sea fans and lots of rocks hiding masked porcupine fish and moray eels. Angelfish, butterflyfish, titan triggerfish and red-tooth triggerfish accompanied us as we explored the nooks and crannies.
For most of us, the highlights of the trip were Koh Bon and Richelieu Rock. At Koh Bon we did 2 dives, and both times we were treated to the awesome sight of a manta ray gliding effortlessly along. The visibility wasn't that great but ideal for mantas and the photographers among us were extremely happy! Octopus, a Napoleon wrasse and groups of very large Oriental sweetlips added to the excitement.
Richelieu Rock is a stunning site offering great quality diving and we were lucky enough to dive there several times. We enjoyed spotting smaller marine species such as a pineapple fish, harlequin shrimps, sea horses and tomato anemonefish as well as encounters with huge barracudas, tuna and giant trevallies as they darted in and out of the reef feeding on the masses of glassfish.
Another highlight for me was the Bunsoong Wreck not far from Tab Lamu pier. This is a stunning dive site. I have never seen so many lion-fish, honeycomb morays and puffer fish in one area! There were also huge schools of snappers, jacks and barracuda. So thrilling to be finning along right in the middle of the schools - it was easy to forget about the boat wreck itself! I was amazed to see how an old dredger from Phuket's tin mining days could now be home to so many and such a variety of marine life.
• Watch our Similans diving video

The Hallelujah Boat
MV Hallelujah is beautifully finished with wood-panelling throughout and it is clean and well-maintained. Even though we were near to the end of the season, the boat was in very good shape.
The communal areas are nice and spacious, particularly the huge sundeck on the upper deck. It was a little too hot for most guests to sunbathe but it was the perfect spot from which to watch the dolphins and the Minke whale, take photos and enjoy the picturesque scenery of the islands and turquoise sea. On the middle deck, the air-conditioned saloon/dining area is comfortable and is where guests gathered to look at their photos and videos. There is a TV, DVD player and movie library and several fish ID books which customers are welcome to browse.
One of the great things about this Thailand liveaboard is that all the cabins have en-suite bathrooms. I was lucky enough to stay in one of the 2 master cabins which has a double bed, large windows with views to the front of the boat, a cabinet, shelves and storage space. The twin cabins all have bunk beds but this means there is plenty of storage space and room to move.
The dive deck, although not huge, is comfortable with individual spaces for each diver and room to store your gear. There is a dive tender but during my trip we dived from the back of the main boat deck each time.
The Food, Praise the Lord!
The food onboard Hallelujah is excellent. When I'm diving I need good food and lots of it, and the cuisine on this cruise didn't disappoint.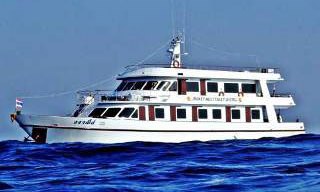 I am vegetarian, one third of the guests on my trip were too and we were thoroughly looked after. There was plenty of variety and during the 5 days not one dish either vegetarian or otherwise, was repeated. There were at least 3 dishes served at each meal - mostly Thai curries with rice or noodles but we also had potato and pasta dishes. Fresh salad accompanied both lunch and dinner along with a variety of vegetables and there was always fresh tropical fruit for dessert.
Breakfast consists of one Thai dish, eggs, bacon, sausages, baked beans, toast and jam along with fresh fruit and fruit juice. Cookies and sweets, tea, coffee and hot chocolate are available all day and in the afternoon we enjoyed delicious cakes after the 3rd dive.
Food is served buffet style in the open-air shaded area of the liveaboard and you can choose to eat there or in the air-conditioned saloon. The stewardess tops up the dishes, collects the plates and keeps the area tidy. Beers, soft drinks and wine are available for purchase at reasonable prices too.
The crew onboard Hallelujah
Steve the tour leader is very experienced and runs the boat in a professional manner while retaining a relaxed, fun atmosphere. Steve also gives the best and most detailed briefings I have ever heard - always presented with a pinch of humour too! As he talked about the various marine life that we would likely encounter, the other instructors came round and showed us photos from the fish ID book. I particularly enjoyed the animated hand signs for each animal!
When we arrived at the pier our bags and gear were taken care of by the staff - all we had to do was sit and relax, enjoy the freshly made spring rolls and chat to the other guests onboard. Steve then gave us a detailed introduction to the liveaboard and showed us to our cabins so we could make ourselves comfortable. Dinner followed which was a hearty meal and delicious - a good indication of what was to follow. We awoke the next morning in the Similans to flat calm seas and beautiful blue skies and I couldn't wait to get into the water!
The dive deck crew were excellent and very efficient. We never had to wait for or even ask for a new tank - it was all done, ready and waiting for us when we went down to the deck to kit-up after each briefing. The deck is kept clean and tidy and the crew are always on hand to help you into your gear.
The captain is an experienced and careful sailor. He showed great knowledge of the dive sites and always approached us in the water slowly and skillfully. He was even happy to indulge us by slowing down the boat and making a slight detour as we watched a minke whale on the surface between the Similans and Koh Bon. He did the same for us when we spotted dolphins on 2 other occasions.
Getting There
The minibus picked me up in Phuket exactly on time and the transfer to Tab Lamu pier took about 1½ hrs. We had a short stop half way into the journey to stretch our legs and use the loo, and we arrived at the boat just after dark.
We set off for the Similans after the traditional Thai good luck ritual of lighting a series of fire crackers at the front of the boat. Then we sat down for a delicious meal before retiring for the night. I woke up the next morning in the Similans close to our first dive site at Anita's Reef.
Conclusion
Would I go on a trip to dive the Similans onboard Hallelujah again? Yes, I'd love to. Overall this is a great value mid-range Thailand liveaboard and the en-suite cabins are a huge plus. All the guests left the boat on a high feeling that they had had a very positive diving safari experience.
If you're looking for decent accommodation, delicious food, an excellent crew and awesome Similan Islands diving at a value-for-money price then you cannot go wrong. I for one will definitely be back!.
Written by Sally Horn, April 2012


---
CUSTOMER TESTIMONIALS OF DIVE THE WORLD
... Thanks a lot for the information! Will definitely consider Dive-The-World again for my next trip. ... -- Kitty Yeung, Hong Kong. [More customer reviews]